Trump announces summit with N. Korean leader next month in Singapore
by
Kim Gamel
May 10, 2018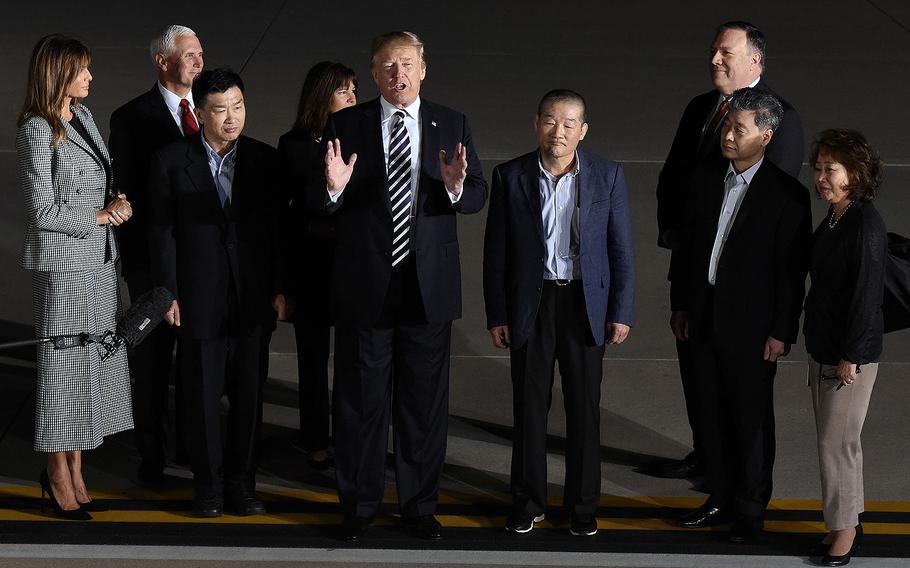 SEOUL, South Korea — President Donald Trump and North Korean leader Kim Jong Un will hold the first-ever U.S.-North Korean summit June 12 in Singapore, Trump said Thursday.
The announcement sets the stage for tough talks that will test recent diplomatic efforts at ending the crisis over the North's nuclear weapons program.
The details were revealed hours after three freed American detainees arrived home following more than a year in North Korean custody, clearing the last major hurdle for the historic meeting.
"The highly anticipated meeting between Kim Jong Un and myself will take place in Singapore on June 12th," he said in a tweet. "We will both try to make it a very special moment for World Peace!"
Trump agreed to meet with Kim in a surprise move after the reclusive leader expressed a willingness to discuss denuclearization.
But the lack of a date and venue raised speculation that the two sides were facing disagreements over key issues.
The choice of Singapore was widely expected after Trump ruled out plans to meet in the truce village of the Demilitarized Zone that divides the Korean Peninsula.
Singapore, a prosperous island city-state of 5.6 million people, is considered a neutral site for both countries. It maintains diplomatic relations with the North and is believed to be close enough that Kim may feel comfortable flying there on his aging Soviet-era plane.
Trump is hoping to build on the dramatic success of the April 27 summit between Kim and South Korean President Moon Jae-in, which was held in the DMZ
The two leaders appeared to foster a warm relationship and emerged with an agreement to try to formally end their 1950-53 war and to achieve the "complete denuclearization" of the peninsula.
But the deal was lacking in specific measures and experts warn the sides are likely to face sharp differences over the meaning of denuclearization.
The United States has demanded the verifiable dismantling of the North's nuclear weapons program, while Kim has called for a phased approach.
The Kim family that has ruled North Korea since it was founded in 1948 has long sought a meeting with a sitting U.S. president, and many observers have argued that Trump's agreement to hold the summit represented a victory in itself for Pyongyang.
Trump expressed optimism earlier Thursday after he greeted the three Korean-American men once held by North Korea with fanfare at Joint Base Andrews, Md.
He said it was a "great honor" to welcome the men home but stressed "the true honor is going to be if we have a victory in getting rid of nuclear weapons."
He thanked Kim for allowing the detainees to return with Secretary of State Mike Pompeo after his visit to Pyongyang.
"We're starting off on a new footing," Trump said. "This is a wonderful thing that he released the folks early. That was a big thing, very important to me, and I really think we have a very good chance of doing something very meaningful."
The North Korean leader also welcomed plans for the summit earlier Thursday in a report on the state-run Korean Central News Agency.
Kim said the summit would be an "excellent first step toward promotion of the positive situation development in the Korean peninsula and building of a good future," KCNA said in a report about Pompeo's visit.
Diplomatic momentum has been building since the North Korean leader agreed to join the Winter Olympics earlier this year.
The about-face has eased tensions after months of threats and personal insults, with Trump calling Kim "little rocket man" and threatening to "totally destroy" North Korea if forced to defend the United States and its allies.
Kim has suspended nuclear and missile tests, and agreed to close the North's main nuclear testing site.
But experts have raised skepticism that he's willing to completely abandon nuclear weapons after hard-won gains in developing intercontinental missiles and other capabilities.
"We should treat the summit as an opening of a longer process of negotiations with North Korea," said Adam Mount, a senior fellow at the Federation of American Scientists.
He said it would be "wishful thinking" to expect the two leaders to reach an ironclad denuclearization agreement.
"The Trump administration should impose a cap on North Korean nuclear programs and seek to limit the threat from North Korean ICBMs, but they shouldn't agree to stop there," he said in a telephone interview.
Mount also said Trump should keep U.S. troops based in South Korea off the table.
Some 28,500 U.S. service members are stationed in the South after the 1950-53 Korean War ended in an armistice instead of a peace treaty.
"It has been North Korea's consistent position for decades that U.S. Forces Korea should limit its activities and withdraw," Mount said. "Trump's comments during the campaign and his focus on burden-sharing I think has not done us any favors in that regard."
Past administrations have gained agreements from the North Koreans only to see the deals collapse amid allegations of cheating and distrust.
Trump and other administration officials have vowed to maintain Trump's maximum pressure campaign of punishing economic sanctions and efforts to isolate the regime and deprive it of much-needed foreign currency.