Travel to South Korea restricted for military, civilians because of coronavirus scare
---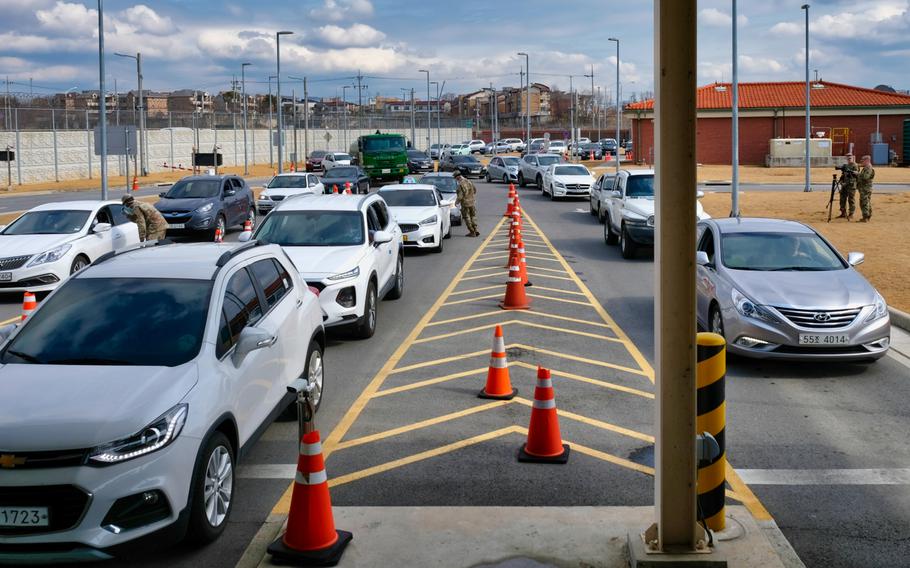 WASHINGTON — Travel to South Korea is being restricted immediately for all service members and civilians who are nonessential due to the growing cases of coronavirus in the country, the regional military combatant command announced Wednesday.
There are now 1,261 confirmed cases of coronavirus in South Korea, the largest outbreak of the virus outside of China, with 284 new cases reported as of Wednesday, according to the World Health Organization. So far, 12 people have died in the country.
A 23-year-old American soldier stationed at Camp Carroll in South Korea tested positive for coronavirus, the military reported Wednesday, the first U.S. service member to become infected. Earlier this week, the widow of a military retiree living in the nearby city of Daegu was also reported to have been infected.
U.S. Indo-Pacific Command's announcement Wednesday states they are following the U.S. Centers for Disease Control and Prevention's travel health notice to restrict nonessential Defense Department travel to South Korea in order to reduce the risk from the coronavirus. The travel restriction applies to all military, civilians, and contractors under their authority.
In late January, INDOPACOM restricted all active-duty troops and Defense Department civilians and contractors from nonessential travel to China, where the outbreak of the disease, formally known as COVID-19, originated.
It also ordered all defense personnel on temporary duty or leave in China to depart from there immediately.
On Monday during a news conference at the Pentagon with South Korean Defense Minister Jeong Kyeong-doo, Defense Secretary Mark Esper said military leaders from both countries were looking at scaling back an upcoming training exercise due to the coronavirus outbreak.
Thirteen South Korean soldiers have also been diagnosed with coronavirus, and travel has been restricted for military personnel in the country, Jeong told reporters.
"We do regard this situation as a serious one," he said.
Stars and Stripes staff writer Wyatt Olson contributed to this report.
---
---
---
---