Tradition goes unbroken: Zama American crowns its prom court despite pandemic measures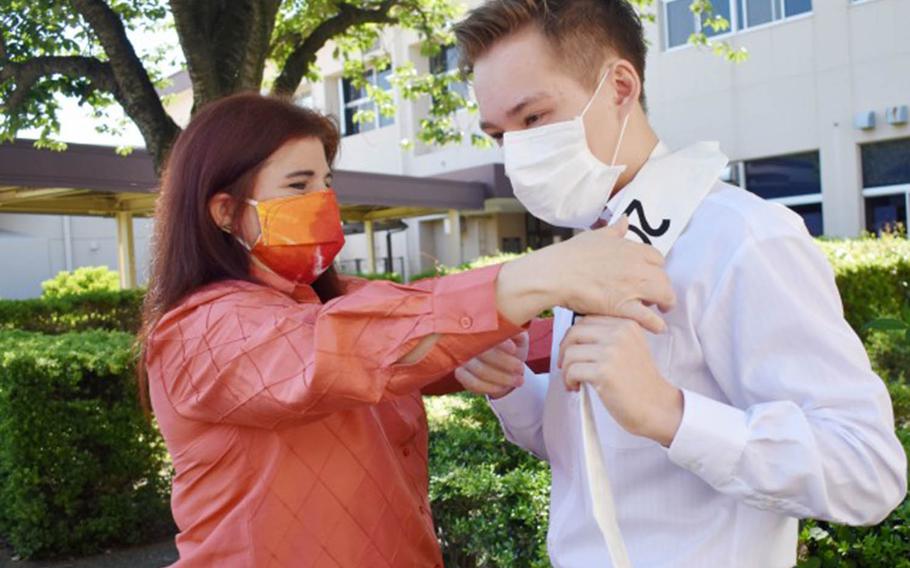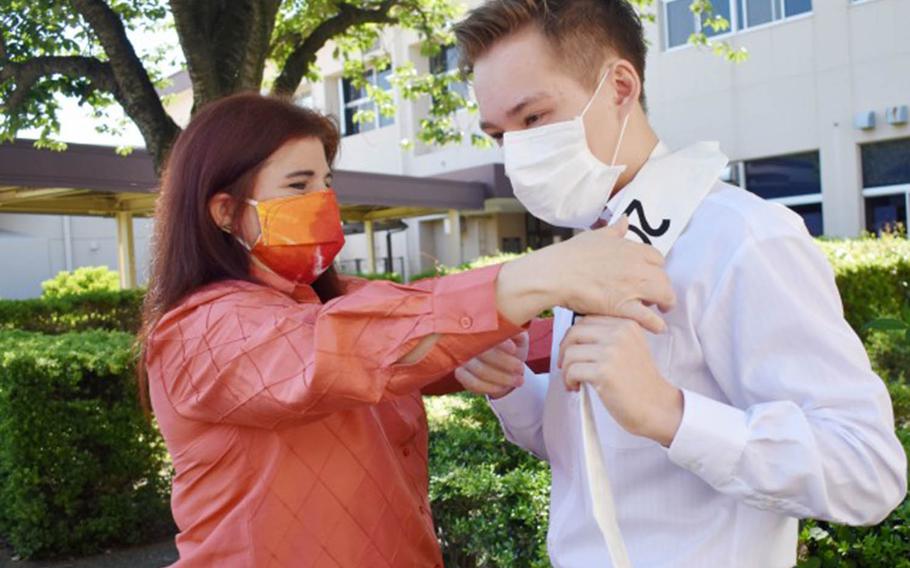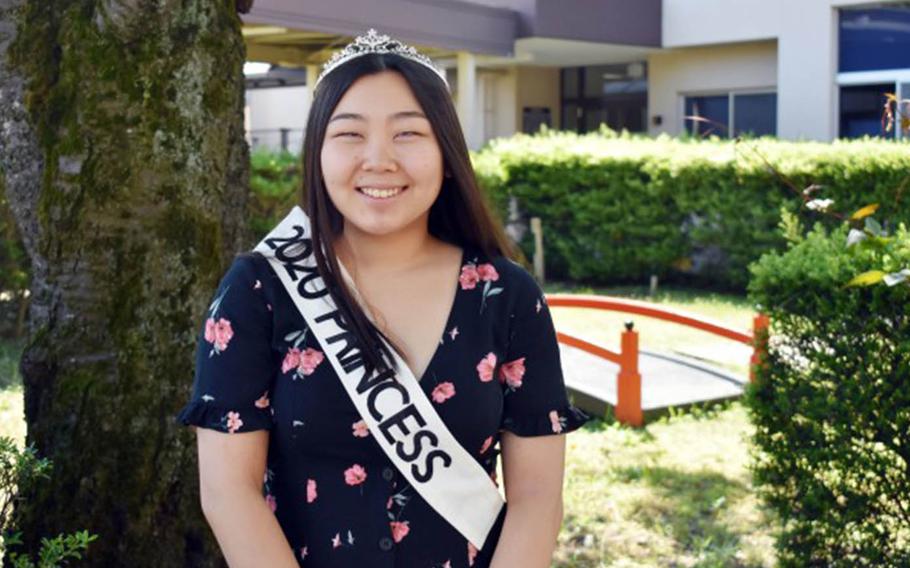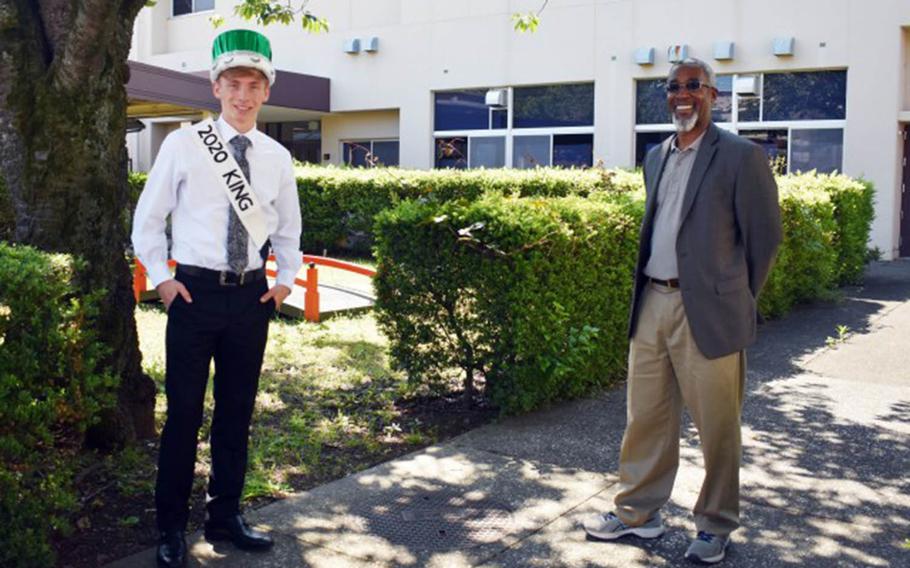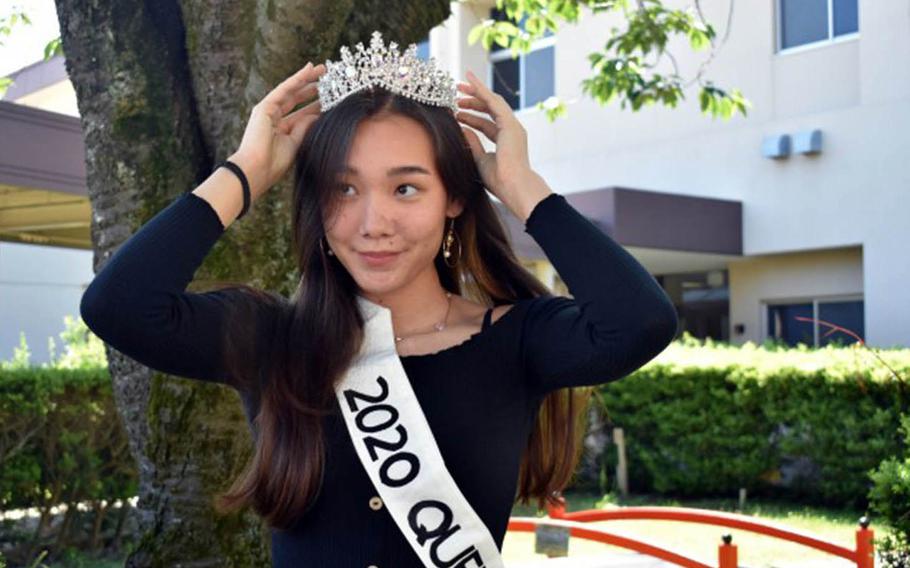 Stars and Stripes is making stories on the coronavirus pandemic available free of charge. See other free reports here. Sign up for our daily coronavirus newsletter here. Please support our journalism with a subscription.
TOKYO — The coronavirus pandemic could not deny royalty its rites at Zama American Middle/High School in Japan, where the prom court assumed its station Friday.
It was a downsized, socially distanced affair when Leah Sakamoto-Flack and James Giles, both seniors, were crowned queen and king during a small ceremony in a school garden, according to an announcement by the U.S. Army's Camp Zama on Monday.
"I think it's the best they could do under the circumstances, and I think it's still honoring the seniors because this is their last high school event," Sakamoto-Flack said. "They did a really good job with everything."
Aika Davis and Alexander Ala were named princess and prince. All four placed their own regalia atop their royal heads.
Of 138 eligible students, 100 voted for the prom court, said art teacher and event organizer Lauren Rosa, according to the announcement.
"What's going on doesn't have to per se define your whole academic career or your entire senior year," she said. "It stinks. It's not a great way to end, but something, in my book, is always better than nothing."
The prom court gathering was a small recompense for the lack of ceremony at the end of a peculiar school year. The event included party favors along with photos and videos, according to the announcement.
School liaison officer Lucinda Ward sewed and donated the sashes worn by the court.
"Our traditions do not have to stop based on a pandemic," she was quoted as saying. "They just need to be modified."
Sixty-four of the 66 members of Zama American class of 2020 are scheduled for commencement on Wednesday and Thursday in a prolonged ceremony also customized for the times. Six graduates at a time, plus family members, will meet in the school auditorium according to a schedule they chose. No more than 50 will be in the room at a time, said Principal Wayne Carter.
The graduates will walk the stage to receive their diplomas while everyone adheres to public health measures imposed by the base commander, Carter told Stars and Stripes on Monday. The ceremony runs 8 a.m. to 4 p.m. on both days, he said.
"We're doing it completely different than everybody else," Carter said.
---
---
---