Tours to DMZ village to resume on southern side of Korean border this week
by
Yoo Kyong Chang Kim Gamel
April 29, 2019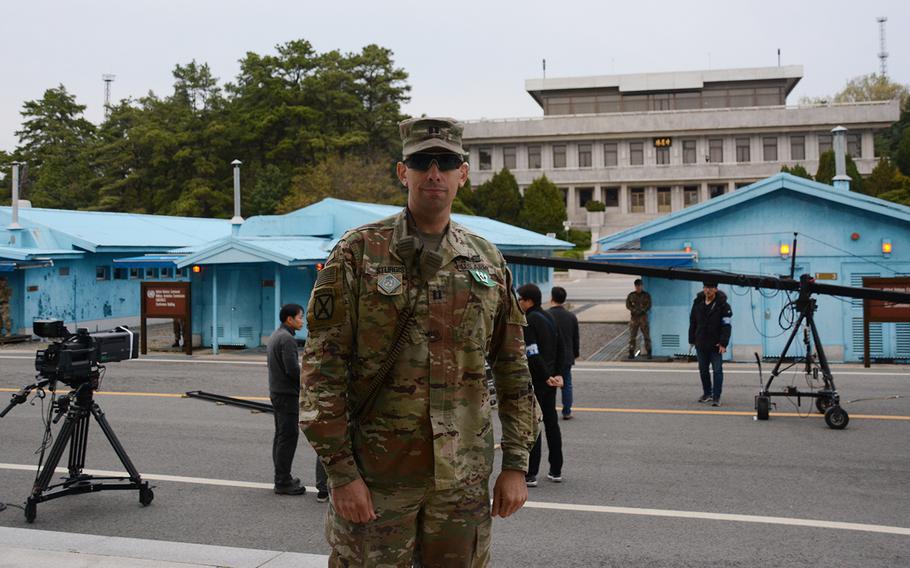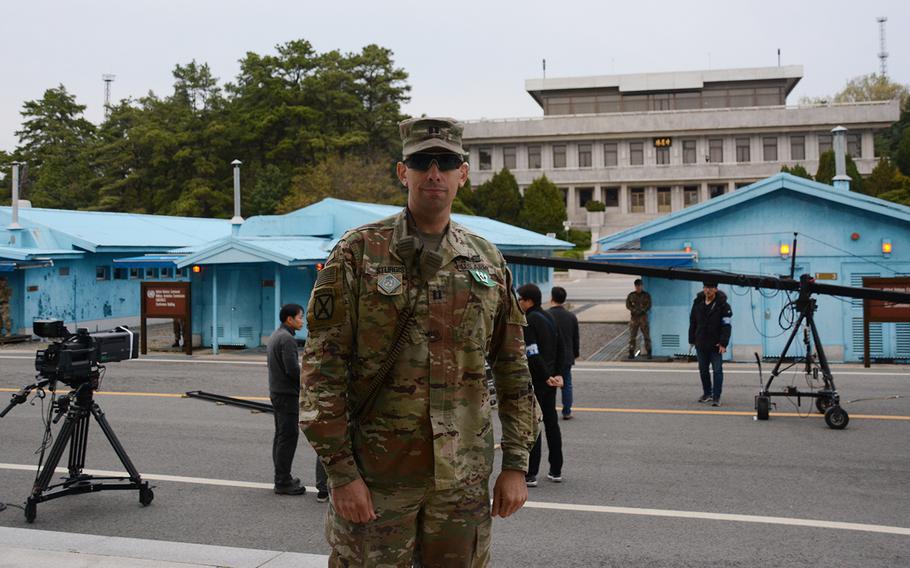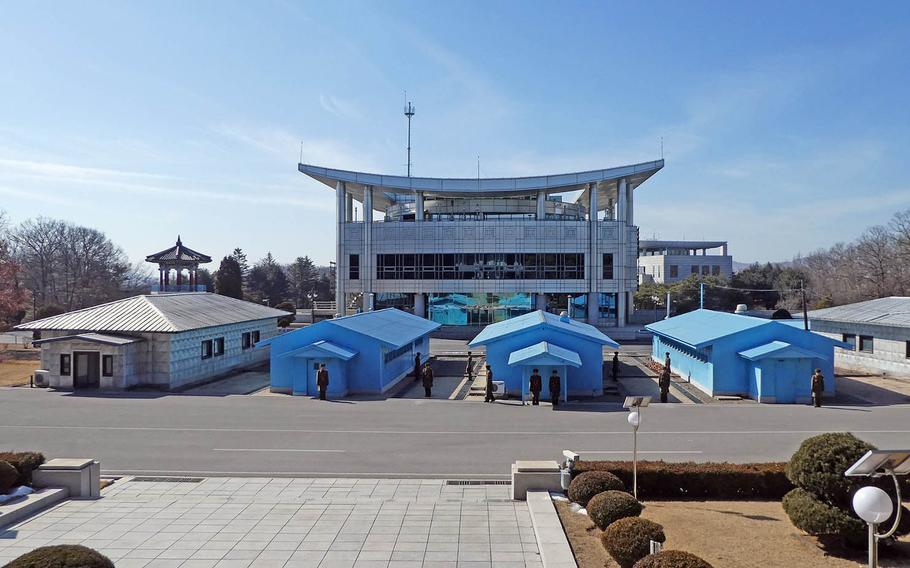 SEOUL, South Korea — Tours to the southern side of the truce village of Panmunjom will resume this week and visitors will be allowed to explore an expanded area, the South Korean defense ministry said Monday.
The popular tours to the Joint Security Area, which straddles the heavily fortified border, were suspended in October to facilitate efforts to demilitarize the buffer zone.
North and South Korea agreed during their historic April 27, 2018, summit in Panmunjom to allow visitors freedom of movement within the JSA from 9 a.m. to 5 p.m.
That plan has been delayed because the U.S.-led United Nations Command, which oversees the area, and the two Koreas have not agreed on a joint code of conduct deemed necessary for security purposes.
South Korea decided "to resume field trips on the southern side" beginning Wednesday to mark the summit's first anniversary, according to the defense ministry.
Past tours, which local officials have said drew some 100,000 visitors per year, were tightly controlled.
Visitors will now get to see more sites than had been previously allowed, including the blue footbridge where South Korean President Moon Jae-in and North Korean leader Kim Jong Un had a private chat and the pine tree that was planted to commemorate the meeting.
The partial opening was meant as a first step to advance efforts to promote free movement between the two Koreas, the ministry said in a press release.
It's unclear if North Korea also will resume tours on its side. Consultations are ongoing, said ministry spokeswoman Choi Hyun-soo.
South Korea has moved to improve relations with the North in tandem with a U.S. diplomatic offensive to persuade the communist state to abandon its nuclear weapons.
But Pyongyang has been giving Seoul the cold shoulder as its talks with Washington have stalled since a series of summits involving all sides last year.
The North did not participate in a ceremony Saturday on the southern side of Panmunjom to celebrate the first anniversary of the first of three Moon-Kim summits last year. The North Korean leader also met twice with President Donald Trump, although the Feb. 27-28 Hanoi summit ended without agreement.
Officials say the atmosphere in the area, which has been a flashpoint for past tensions, is noticeably calmer since the soldiers on both sides disarmed.
Army Capt. Matthew Sturgis, who has served with the U.N. Command Security Battalion since shortly before the first summit, said the changes have seemed surreal at times.
"When I first came up here, we didn't come out here without a sidearm. Now we come out here only completely disarmed, no weapons," he told Stars and Stripes on Saturday during a brief interview at the Joint Security Area during the summit anniversary celebration.
Sturgis, 30, of Garnet Valley, Pa., also has had several cordial interactions with North Koreans and even traveled to the other side to supervise mine-clearance operations.
He recalled a humorous exchange with his North Korean counterpart.
"We used to do armed cordons facing North Korea and when they would come out to film, I used to very deliberately stand between their camera and whatever they were trying to film," he said.
When he went to North Korea, he noticed his counterpart "started walking around in front of me doing the same thing," presumably mocking him.
"They try to stay emotionless, but he was smirking a little bit, so I got it. I appreciated that," he added.
Sturgis said his previous military assignment in South Korea included a missile launch that was a response to a North Korean provocation.
"To go from shooting live ammunition to being part of the peace process is amazing," he said.
The defense ministry outlined the steps taken to disarm the area, which is the only site in the 155-mile-long Demilitarized Zone where guards from both sides come face to face.
Land mines were removed from Oct. 1-20, guard posts and firearms were removed from Oct. 21-25 and the moves were verified on Oct. 26-27, it said. Surveillance equipment also was adjusted and verified on Nov. 12-13.
The South Korean government said it will organize the initial tours on a test basis mainly involving students, then will gradually expand them. Interested parties should apply via the National Intelligence Service website, while foreigners should go through authorized tour companies, according to the press release.
All activities within the buffer zone must be approved by the U.N. Command, which oversees implementation of the armistice agreement that ended the 1950-53 Korean War after the sides failed to reach a peace treaty.
The United States maintains some 28,500 troops in the South.
The area has seen past violence, including the ax killing of two U.S. officers during a clash over the cutting of a tree in 1976. More recently, a North Korean soldier was shot several times as he fled across the border to defect to the South as tensions were high amid a spate of missile and nuclear tests by the North.
gamel.kim@stripes.com Twitter: @kimgamel chang.kyong@stripes.com