Top US diplomat in Japan criticizes 'offensive' NHK depiction of black protesters
by
Caitlin Doornbos
June 9, 2020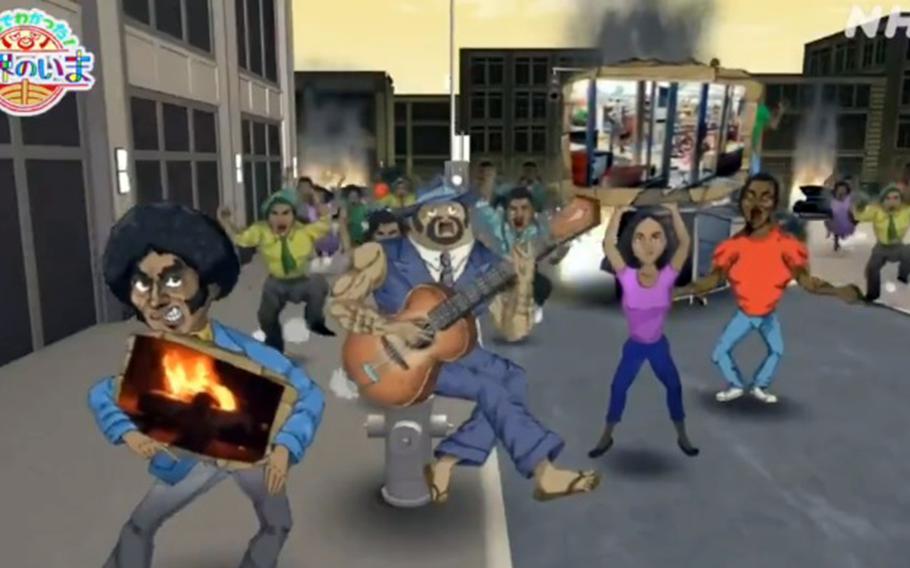 TOKYO — The ranking U.S. diplomat in Japan criticized public broadcaster NHK on Tuesday for its "offensive and insensitive" cartoon depiction of Black Lives Matter demonstrations in the United States.
NHK posted the 85-second promotional video, or teaser, for its weekly children's program "This Makes Me Understand! The World Now" on Sunday via Twitter.
Joseph M. Young, the chargé d'affaires ad interim for the U.S. Embassy in Tokyo, found fault with the video's depiction of black people and oversimplification of protests against racism and police brutality, often marked by rioting but later by peaceful demonstrations, that erupted after the May 25 killing of George Floyd in Minneapolis.
Floyd, a 46-year-old black man arrested on suspicion of using a counterfeit $20 bill to buy cigarettes at a convenience store, according to media reports, suffocated while a white police officer knelt on his neck.
"While we understand NHK's intent to address complex racial issues in the United States, it's unfortunate that more thought and care didn't go into this video," Young wrote on Twitter.
In NHK's cartoon video, a muscular black man yells at the audience throughout the clip, claiming that black people are angry because of "the disparity between the rich and the poor among the whites and blacks!"
"Yes, the whites have seven times the assets of blacks!" the cartoon man yells in Japanese.
The character then explains that the coronavirus pandemic further widened that disparity, leading to the riots.
"The people who suffered more from it are us, the black people!" he yells in Japanese at a cartoon Statue of Liberty. "So, I'm asking, how many black people either lost their jobs or their working hours were cut?"
The teaser ends with cartoon black people joining in the street, marching in anger past burning cars and buildings — some holding TVs.
NHK has since deleted the teaser and on Tuesday afternoon tweeted an apology.
"We received a lot of criticism and opinions about the video posted on Twitter, and we have stopped posting the video," according to a translation of the tweet. "We regret lacking proper consideration in carrying the clip, and apologize to everyone who was offended."
NHK said the teaser fell short of its purpose.
The promotional video "did not accurately describe the actual problem" the animated program was trying to address, NHK said, according to a translation of its statement Tuesday posted to its website.
The full 26-minute animated program ran on Sunday and addressed the anger at police killings, "the response of the Trump administration and criticism against it (and) the current state of division of American society," according to the translated NHK statement.
Young took charge of the U.S. Embassy in Tokyo in July following the resignation of Ambassador Bill Hagerty.
Stars and Stripes reporter Hana Kusumoto contributed to this report.
doornbos.caitlin@stripes.com Twitter: @CaitlinDoornbos