Top Chinese general visits Pentagon, says China is no threat to U.S.
by
Kevin Baron
May 18, 2011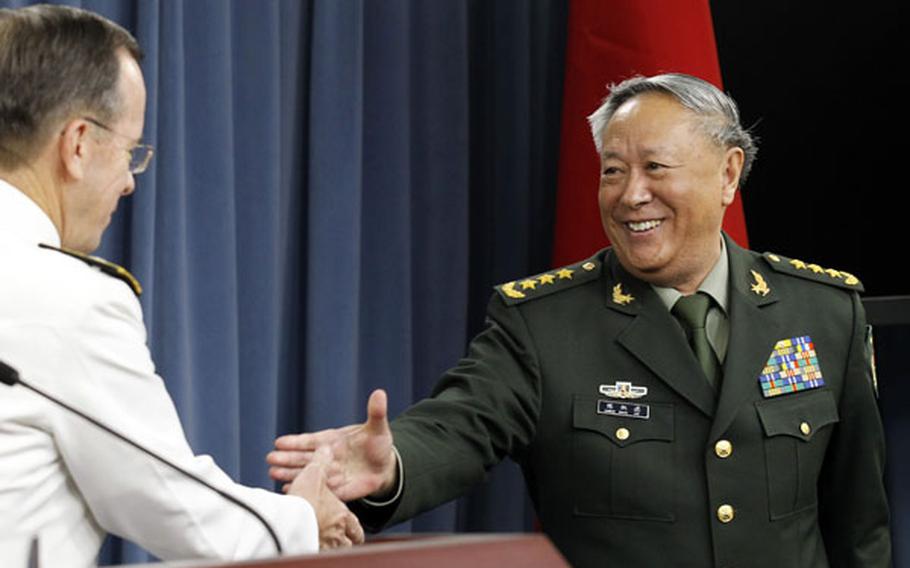 WASHINGTON — The first Chinese top military officer to visit Washington in seven years said on Wednesday the People's Liberation Army's homegrown weapons buildup is no threat to the U.S. and welcomed the continuing thaw in military relations.
"China does not have the capability to challenge the United States," Chief of the General Staff Gen. Chen Bingde said at the Pentagon, adding that the Chinese military has no intent to build or purchase weapons for the purpose of confronting the U.S.
Chen's visit is the latest event to carry out a commitment by President Barack Obama and Chinese President Hu Jintao to build more stable and regular military meetings and ensure that each side is better informed of the other's activities and intentions, particularly after a rocky 2010.
Chairman of the Joint Chiefs of Staff Adm. Mike Mullen, in a joint news conference, said the visit helped start the relationship-building necessary to keep military communications open through ongoing political differences and announced a series of joint military exchanges, exercises and agreements.
"I believe we have established a foundation upon which we can explain ourselves," Mullen said, "and that we can begin to look forward to mutual transparency about what we are doing, how much we are spending and where we are operating."
Said Chen: "We are ready to work with the American side."
There was no expectation that their meetings would solve any of the contentious military issues between the countries, including U.S. arms sales to Taiwan and coastal surveillance near China.
On Taiwan, Chen said some members of Congress this week told him it was time to revisit U.S. policy, which calls for arms sales that Beijing firmly opposes.
"Since it is part of China, why would it need the United States' weapons sales to guarantee its security?" Chen said.
But Secretary of State Hillary Clinton reiterated the policy to Chen during his visit, and Mullen said he did not think revisiting it was a high priority.
The parties agreed to make better use of a direct U.S.-China hotline, and to conduct more exchanges including a joint counterpiracy exercise in the Gulf of Aden and a humanitarian relief exercise next year.
Chinese military officials have tried to tamp down what they consider Western exaggerations of their military prowess or intent, offering similarly demurring self-assessments during Defense Secretary Robert Gates' visit to Beijing in January. At the time, China revealed its J-20 fighter, purported to have stealth technology, but Chen said the test's timing was coincidental and not intended as a provocation. Besides, he added, China's homegrown technology could not challenge the United States.
Gates' visit ended a chilly period for the militaries that began in February 2010 when China initiated a months-long radio silence with the U.S. military over the latest U.S. arms sale to Taiwan. The U.S. spent the rest of the year trying to win back China's trust while simultaneously scolding Beijing over its complacency toward North Korean aggression against South Korea. The U.S., meanwhile, complained about Chinese vessels harassing Navy ships and the secrecy clouding the PLA's growing military budget, which U.S. officials consider unnecessary.
In Washington, Chen also met Gates, National Security Advisor Tom Donilon and members of Congress. His delegation was scheduled to depart for several U.S. bases in the south and west, including Naval Station Norfolk, Va.; Fort Stewart, Ga.; Nellis Air Force Base, Nev.; and National Training Center and Fort Irwin, Calif.
Twitter: @StripesBaron