Three civilians detained at Joint Base Pearl Harbor-Hickam for possessing training mortar round
by
Wyatt Olson
January 15, 2020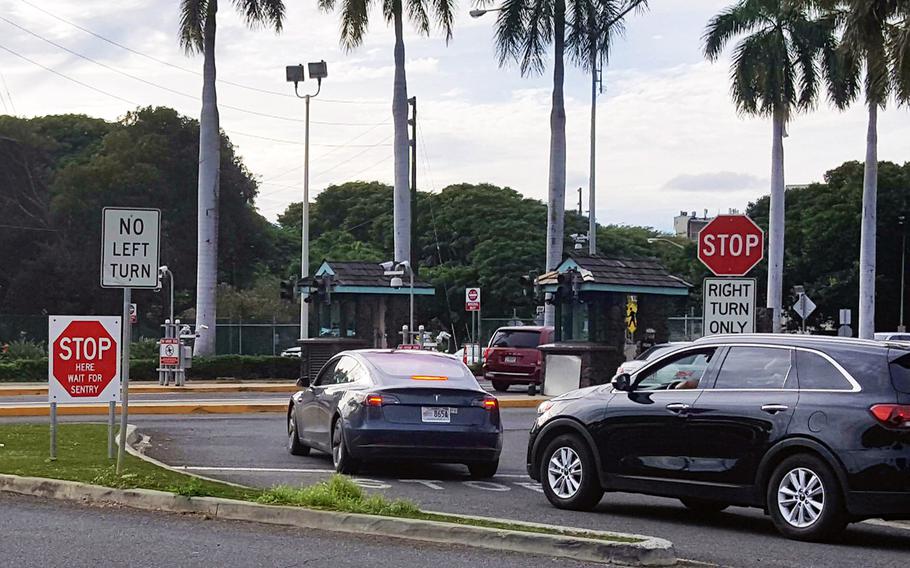 FORT SHAFTER, Hawaii — Three civilian men were taken into custody Tuesday evening after security personnel at the main gate of Joint Base Pearl Harbor-Hickam discovered a training mortar round in their car, base officials said. The mortar had a live fuse but contained no explosive, they said.
The men, who did not have authorized access to the base, attempted to enter Nimitz Gate at about 10:30 p.m., according to a base statement released Wednesday.
After ordering the vehicle to turn around and leave, the gate guard noticed the smell of marijuana coming from the vehicle and what appeared to be ordnance inside the car, according to the release.
Base security forces responded immediately, and an explosive ordnance disposal team was called to the scene.
No ordnance detonated during the encounter, and there were no injuries, according to the release.
Base spokesman Chuck Anthony said Wednesday that he had no further information on the three men involved.
"I just know the three occupants were taken into custody by [the Naval Criminal Investigative Service] for questioning," Anthony said. "I don't know where they are yet at this point. I only know that overnight they were still being questioned by NCIS."
All gates on the joint base were closed for about two hours, during which time no inbound or outbound traffic was allowed. Nimitz gate remained closed through the night.
All gates were opened as of Wednesday morning.
The joint base has been under heightened security since a sailor killed two civilian workers and himself at the base's shipyard on Dec. 4.
olson.wyatt@stripes.com Twitter: @WyattWOlson