'The hell we went through': Korean War vets who fought in bloody Chosin battle honored in Seoul
by
Matthew Keeler
September 29, 2019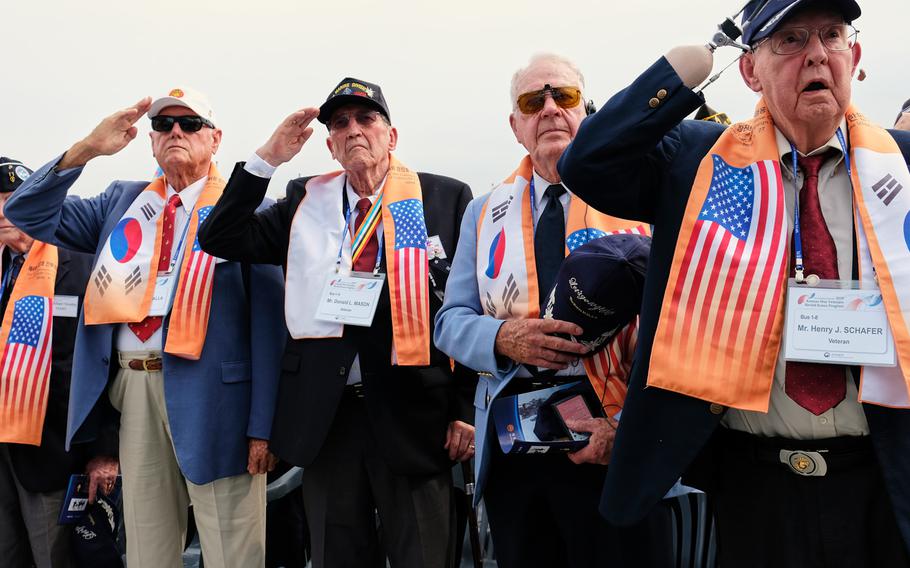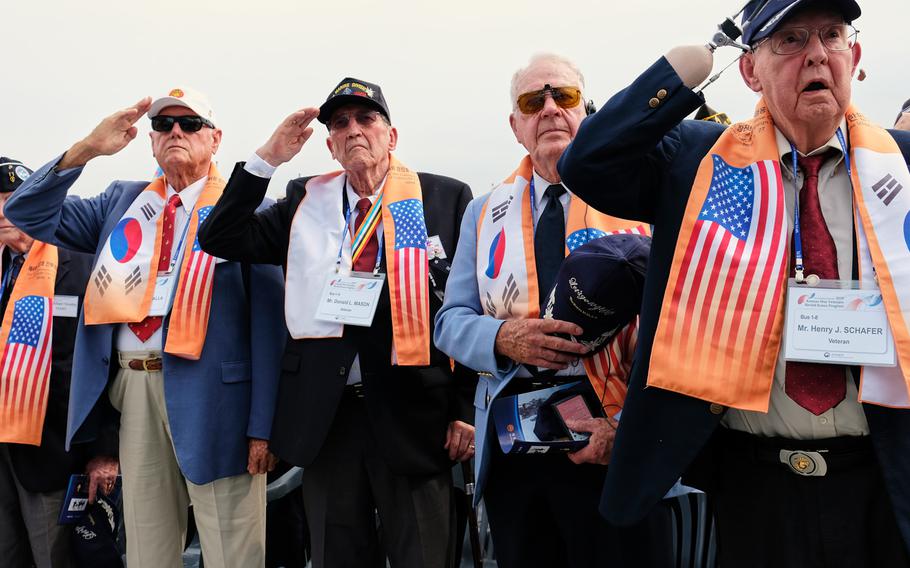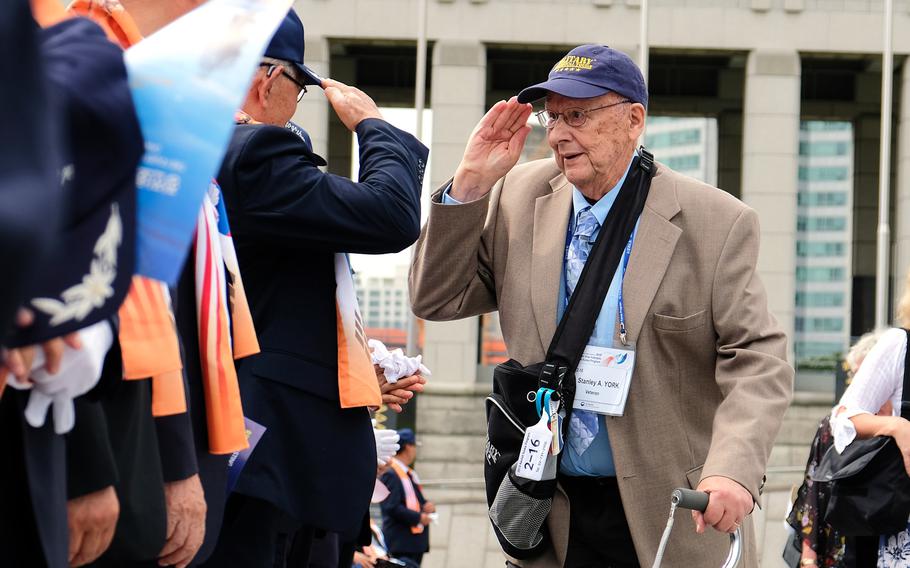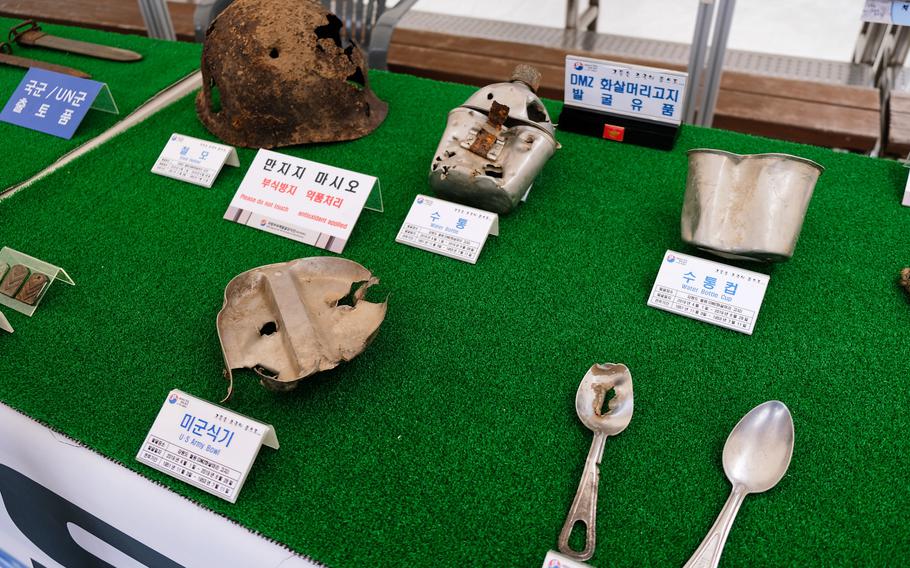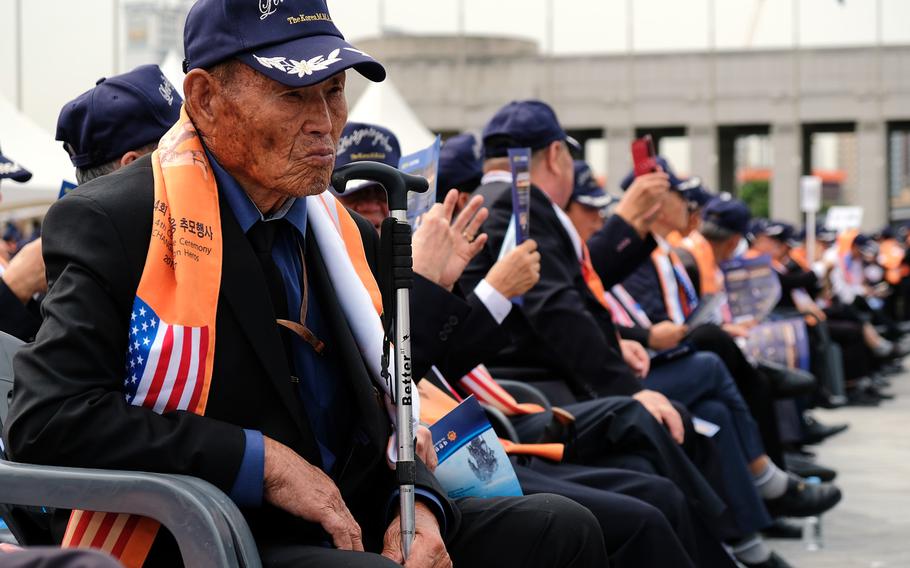 SEOUL, South Korea — Some two dozen American veterans received a standing ovation as they joined their South Korean counterparts in a ceremony marking the 69th anniversary of the Chosin Reservoir battle, one of the war's fiercest.
The Nov. 27-Dec. 13, 1950, battle, which is also known as the Changjin Campaign, pitted some 30,000 U.S.-led troops against an underestimated Chinese force of about 120,000 trying to prevent the allies from pushing north in a bid to unify the Korean Peninsula.
Americans and other troops fighting under the United Nations banner were forced to stage a tactical retreat. But the 1st Marine Division is credited with preventing the Chinese from advancing south and buying time for a mass evacuation.
"We often celebrate the accomplishments and successes of our past," Maj. Gen. Bradley James, commander of U.S. Marine Corps Forces Korea, told the crowd. "The Chosin campaign was not a military success as it is typically defined."
"However, while the primary objective was not met it is still celebrated as one of our most successful extractions of any military force in history, and a crucial event in the Korean War," James continued.
The ceremony was held Friday, two months before the actual anniversary to accommodate several American veterans who fought in the battle.
Accompanied by family members, 25 U.S. Korean War veterans attended the fourth Commemoration Ceremony of Changjin (Chosin) Campaign Heroes. Hundreds of South Korean veterans gave them a standing ovation as they entered the grounds, and several received a formal plaque of appreciation during the ceremony.
"U.S. veterans fought for Korea in a very harsh and severe environment, and that is why Korea stands where it does today," said the minister of patriots and veterans affairs, Park Sam-Duck.
South Korean musical performances and guest speakers paid tribute to all the veterans who endured the harsh winter campaign in rough mountainous terrain at temperatures estimated at 25 below zero.
Donald Mason, veteran and president of the Portland, Oregon-based Chapter of the Chosin Few, described his first views of South Korea after landing with the 1st Marine Division on Sept. 15.
"The roads were dirt, lined with shacks, huts and the ravages of the war," he said. "We set up our guns in your beautiful palace grounds to protect and defend Seoul. Next came a boat ride around the peninsula on the east coast into North Korea Changjin Reservoir area."
"You have done a wonderful job rebuilding your country; I thank you for that," Mason said. "It makes it a lot easier to come back after the hell we went through in service to your country and our nation."
Thousands were killed on both sides as troops engaged in hand-to-hand combat. Others perished from the bitter weather.
Then-commander Maj. Gen. Oliver Smith ordered a tactical retreat, but the Marines were able to secure the port of Hungnam, paving the way for a massive humanitarian operation.
"It's true it was a withdrawal," said Park Jongkil, president of the Korean Military Merit Awardees Association. "However, they enabled almost 100,000 Korean civilians to evacuate from North Korea to the South."
The parents of South Korean President Moon Jae-in were among them.
"It's very heroic that most of the Marines didn't know where Korea was located and they came and fought," Park said. "Securing the freedom and liberty, and more importantly, democracy."
The 1950-53 Korean War ended in an armistice instead of a peace treaty.
keeler.matthew@stripes.com Twitter: @MattKeeler1231
---
---
---