Thailand becomes first nation to buy Strykers from US
by
Wyatt Olson
September 13, 2019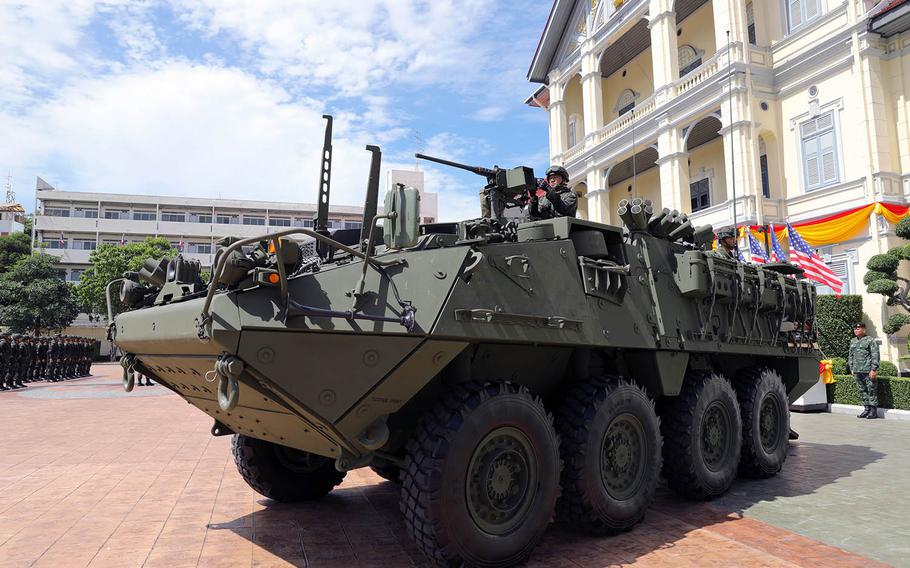 The Royal Thai Army took delivery Thursday of the first set of Stryker fighting vehicles purchased from the United States, the U.S. Army said in a statement.
Thailand is the first foreign country to purchase the American-made eight-wheeled vehicles, the statement said.
Gen. Robert Brown, commander of U.S. Army Pacific, participated in an official handover ceremony at Royal Thai Army headquarters in Bangkok. Accepting the vehicles was Gen. Apirat Kongsompong, commander-in-chief of the Royal Thai Army.
"The Stryker is so much more than a combat platform," Brown said during the ceremony, at which four of the Strykers were on display. "Its versatility and survivability make it the best vehicle a military could invest in."
Most of the vehicles they are buying will be refurbished. The purchase includes communication systems and spare parts, as well as training and logistic support, the statement said.
The ceremony marked the turnover of the first 10 Strykers, a U.S. Army Pacific spokesman told Stars and Stripes. The Thai Royal Army intends to eventually field a Stryker regiment, said spokesman Maj. Shea Asis.
Reuters reported last month that Apirat said Thailand would receive 70 Strykers by the end of 2019, with 50 more to arrive next year.
He said the vehicles would be deployed to a base east of Bangkok, according Reuters.
"These Strykers will not only enhance the RTA capacity but will also act as a tangible symbol of friendship, and a witness to the cordial relations between two countries," Apirat said during the Thursday ceremony, according to the U.S. Army statement.
Brown touted the convenience of having Strykers already in Thailand during bilateral exercises with the U.S., such as the annual Cobra Gold.
"Such exercises serve as visible symbols of our defense alliance and demonstrates our steadfast commitment to addressing the full spectrum of security challenges in the Indo-Pacific with our allies and partners," said Brown during the ceremony.
In 2014, a former Thai Royal Army commander-in-chief deposed the elected government in a coup, which led the United States to curtail its military support of the country to some degree.
The first elections since the coup were held this spring, but they were widely seen as unfair.
Human Rights Watch documented incidents of political repression, media censorship and interference by military-appointed members of the Thai Senate.
The U.S. State Department approved the sale of the Strykers to Thailand.
olson.wyatt@stripes.com Twitter: @WyattWOlson