Test to integrate Army's THAAD, Patriot missile-defense systems successful
by
Wyatt Olson
April 6, 2018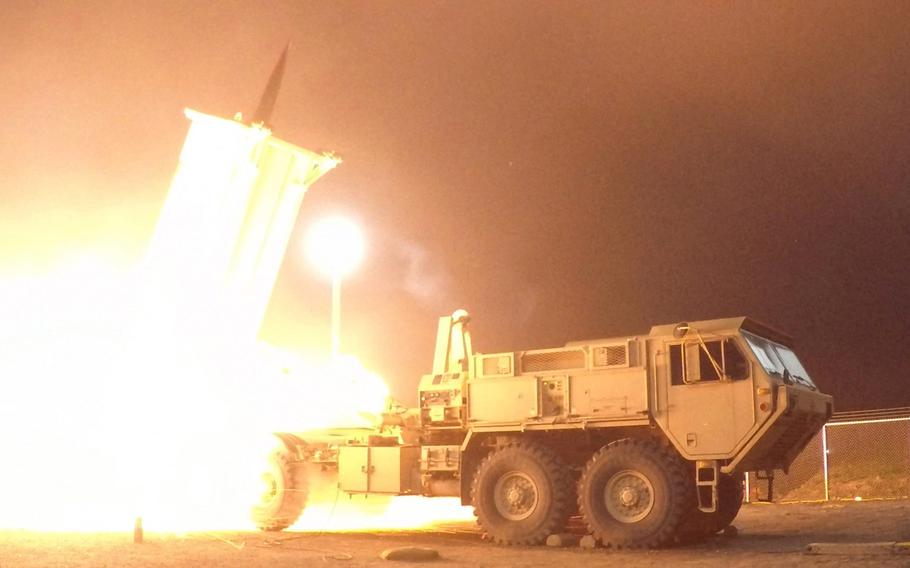 The Missile Defense Agency on Friday succeeded in its first step to integrate the Army's two linchpin missile-defense systems during testing of upgraded software at White Sands Missile Range, N.M.
The test demonstrated that the Terminal High Altitude Area Defense, or THAAD, and the Patriot weapons systems could communicate as an integrated system, the U.S. Missile Defense Agency said in a statement Friday.
The tracking exercise simulated engagement of a live, short-range Lynx missile target, MDA said.
That target was launched from the missile range and was detected and tracked by THAAD's Army-Navy/Transportable Surveillance Radar Model 2 and by Patriot, MDA said.
During that tracking, THAAD and Patriot exchanged messages through "tactical data links" and verified their mutual weapons systems, MDA said.
No live interceptors were launched during the test.
"These two weapon systems are vitally important as components of our layered ballistic missile defense system and it is critical that they are able to transmit data and communicate with one another," MDA Director Lt. Gen. Samuel Greaves said in the statement.
Friday's test was overseen by the Ballistic Missile Defense System Operational Test Agency, and soldiers with the 69th Air Defense Artillery Brigade from Fort Hood, Texas, also participated.
The soldiers operating the equipment were not privy to the actual target launch time, MDA said.
The Army plans to tie the systems together within the next two years
This test was among the requirements of the 2016 National Defense Authorization Act for the Army and MDA to test the integration of the two systems each year, MDA said.
The most crucial need for such an integrated system is in South Korea, where the Army operates both to defend against possible missile attacks by North Korea.
olson.wyatt@stripes.com Twitter: @WyattWOlson