Taiwan gets two mine-hunting ships from US
---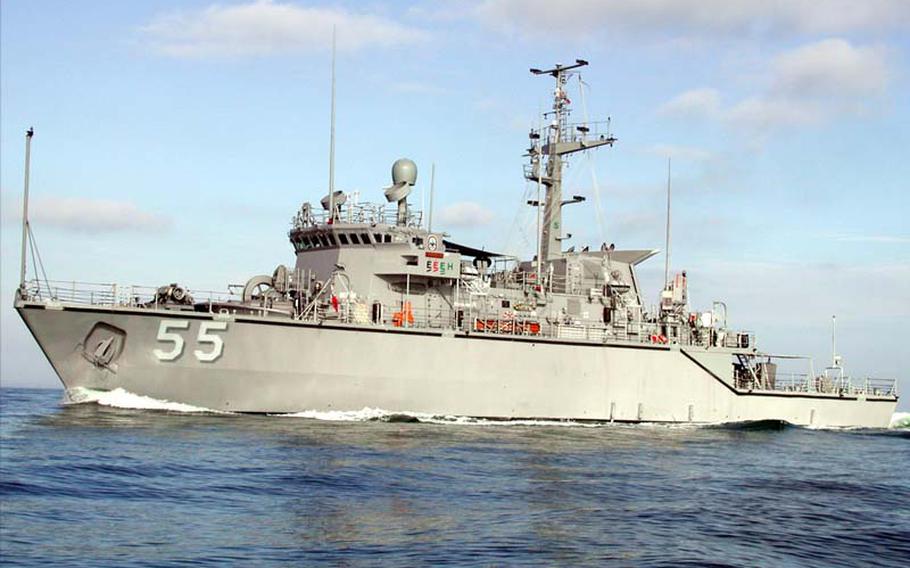 YOKOSUKA NAVAL BASE, Japan — Taiwan took possession of two former U.S. Navy mine hunter vessels last week, completing part of a $6.4 billion defense deal in 2010 that stoked tensions with China.
The Taiwanese Navy will hold a ceremony Friday in the southern port city of Kaohsiung to welcome the Osprey-class ships formerly known as the USS Oriole and USS Falcon, according to Taiwanese media reports.
Taiwan has been seeking them since 2001, according to an Aug. 3 report in The China Post. The island currently relies on eight minesweepers, half of which were decommissioned by the U.S. Navy nearly 20 years ago. The Oriole and Falcon were commissioned in 1995 and 1997 before being decommissioned in 2006 and 2007, along with the other 10 ships in the same classification.
The sale of the mine hunters, along with fighter jets and other hardware, led China to cancel nearly all military-to-military relations with the United States in 2010.
U.S. wargaming scenarios have long postulated that China would rely on its stockpile of mines to deny access to Taiwanese ports and nearby waters in the event of a military conflict between China and Taiwan.
China's inventory exceeds 50,000 naval mines and includes significant technological advances within the past 10 years, according to the 2012 annual report to Congress on China's military power.
An article in the Spring 2012 Naval War College Review confirmed a 2009 conclusion by the college's China Maritime Studies Institute that mines would be used to deter U.S. access into the region during a conflict.
"We think that China would rely heavily on offensive mining in any Taiwan scenario," according to Scott Truver, who wrote the article. "Were China able to employ these mines — and all think that it could — they would greatly hinder operations, for an extended time, in waters where the mines were even thought to have been laid."
The U.S. Navy maintains four Avenger-class mine countermeasures ships in Japan at Sasebo Naval Base, about 750 miles from Taiwan's capital.
China considers Taiwan a breakaway territory. Although China's 2005 anti-secession law states it will "do its utmost with maximum sincerity to achieve a peaceful reunification," the nation has not renounced the possibility of using force.
The United States accepts Beijing's view that there is only "one China," but it has sworn to defend Taiwan in the event of a conflict.
---
---
---
---