Support grows for expanded Japanese military role, poll finds
by
slavine@pstripes.osd.mil Erik Slavin
March 21, 2012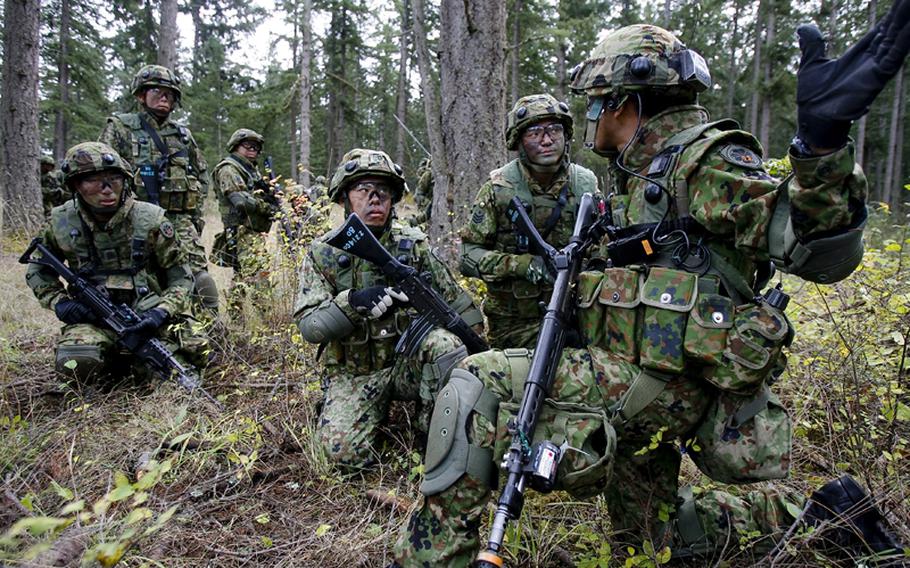 YOKOSUKA NAVAL BASE, Japan — A new poll suggests that the Japanese favor a more flexible role for their self-defense forces in foreign military operations, though they remain reluctant to repeal a constitutional provision that bans Japan from overseas conflict.
In a Yomiuri Shimbun poll released on its English website Tuesday, 39 percent of respondents said they favored revising Article 9 of the constitution, which preserves Japan's right to self-defense of its own ships and territory, yet bars the government from "collective defense" with other nations. The figure is up 7 percentage points from last year.
An additional 39 percent responded that Japan should handle "issues related to the article through interpretation and implementation."
Thirteen percent said that Article 9 should be strictly interpreted to prevent Japan from participating in all foreign military operations. The remainder said they did not know.
The Japanese constitution was written by the United States after WWII with an emphasis on curbing the nation's military ambition. It resulted in the creation of the Japan Self-Defense Force, which is structured like a military, despite the limitations on its use of force.
In recent years, Japan has expanded its interpretation of the article barring it from conflict, with U.S. encouragement. Japan has undertaken overseas refueling operations of U.S. ships headed to Iraq and Afghanistan, and also sent Self-Defense Force soldiers to Iraq in noncombatant roles. The U.S. military also closely trains with the Japan Self-Defense Force within Japan's territory.
"The alliance between the United States and Japan is the cornerstone of our relationship, but also for security in the Asia-Pacific region for a very long time," President Barack Obama said in November at the Asia-Pacific Economic Cooperation summit in Honolulu.
This month, the opposition Liberal Democratic Party drafted a slate of constitutional revisions that included deletion of Article 9's ban on collective defense, according to the Yomiuri Shimbun. In its place, Article 9 would contain language that the constitution "shall not prevent Japan from invoking the right to self-defense."
However, the ruling Democratic Party of Japan, whose power base includes support from left-wing groups opposed to broader war options, has not drafted any similar language.
The Yomiuri poll also reflected popular frustration with legislative gridlock between the two parties.
Fifty-six percent of respondents, the highest percentage since 2008, expressed negative opinions about Japan's divided government. The DPJ and Prime Minister Yoshihiko Noda control the lower house of the Japanese Diet, while the opposition LDP, which ruled Japan during most of its post-WWII history, controls the upper house.
---
---
---