Super Stallion crew ditches 'unstable' missile-system replica off Okinawa coast
by
Matthew M. Burke and Aya Ichihashi
February 26, 2020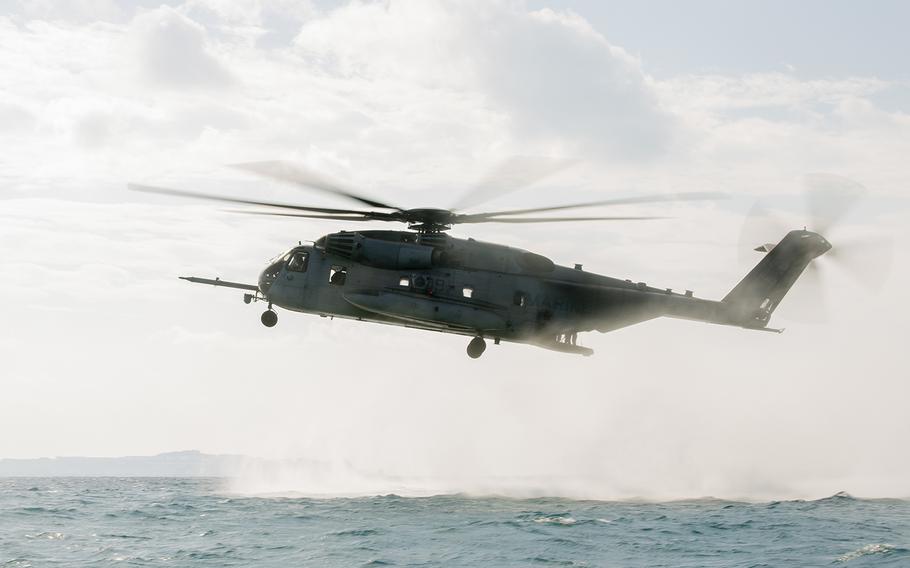 CAMP FOSTER, Okinawa — Marine officials are investigating what caused a 1st Marine Aircraft Wing CH-53E Super Stallion crew to ditch a steel target into the ocean off Okinawa after experiencing trouble in-flight.
The incident occurred at approximately 1:10 p.m. Tuesday about a mile west of the Army's Torii Station, when the crew from Marine Heavy Helicopter Squadron 466 intentionally released a full-scale replica of a surface-to-air missile system with three dummy missiles attached after the object became "unstable," wing spokesman Maj. Ken Kunze said in a statement Tuesday evening and in subsequent emails to Stars and Stripes.
The crew from Marine Corps Air Station Futenma had picked up the target at Torii Station and was carrying it slung beneath the aircraft to a military training range on the island.
No injuries or damage were reported and Marine officials said the target had to be ditched to "ensure the safety of the crew."
"1st MAW takes all aviation related events seriously and will conduct a thorough review to determine the cause of the incident," Kunze wrote. "Pending the outcome of that review, any further external transport of these structures has been suspended."
The target, which can be used in both aerial and ground live-fire training, was manufactured by the Indiana-based Patriot Products LLC, Kunze said. It is made from one-inch thick A-36 mild steel, according to the company website.
The targets are billed as environmentally friendly and recyclable; they contain no hazardous or dangerous chemicals or materials, according to Kunze and Patriot Products LLC's website.
The target ditched Tuesday belonged to the U.S. Air Force, Kunze said. It is unclear how much it cost or if it will be salvaged.
Okinawa officials were quick to denounce the incident as "extremely dangerous."
"This incident happened because we host the U.S. base and I am livid imagining if this had happened on the land and how bad the disaster would have been," Yomitan Mayor Denjitsu Ishimine said shortly after the incident, according to his spokesman. Yomitan is home to Torii Station and the headquarters for U.S. Army Garrison Okinawa.
"We are waiting for the further details from the military; however, this … should not have ever happened," he said.
The Okinawa Defense Bureau, which represents Japan's Ministry of Defense on the island, declined to comment Wednesday.
burke.matt@stripes.com Twitter: @MatthewMBurke1
ichihashi.aya@stripes.com Twitter: @AyaIchihashi