Super Galaxy brake failure prompts pre-takeoff evacuation at Yokota in western Tokyo
---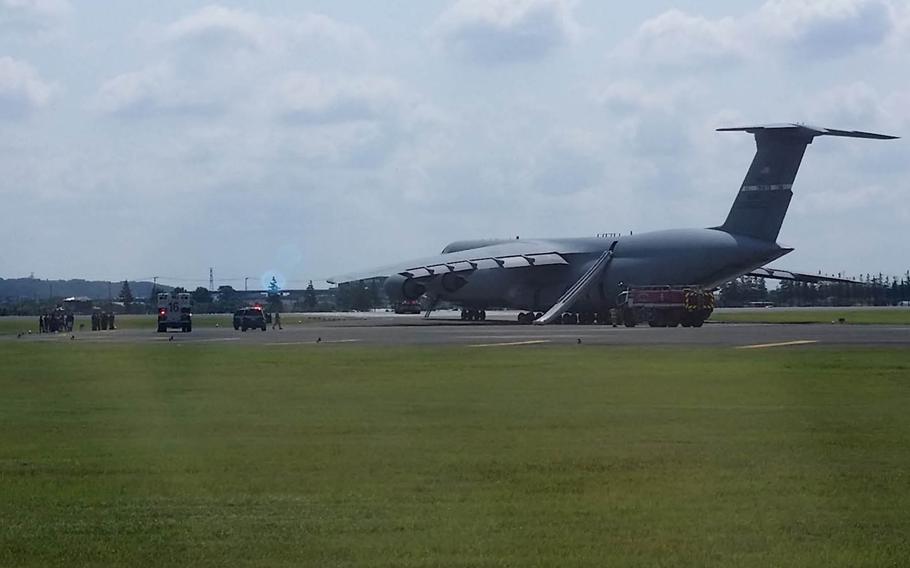 YOKOTA AIR BASE, Japan — Brake failure caused a C-5M Super Galaxy cargo plane to be evacuated just before takeoff Thursday at Yokota in western Tokyo, an Air Force spokesman said.
The plane's crew, assigned to the 60th Air Mobility Wing at Travis Air Force Base, Calif., noticed the failure while taxiing to the runway, the spokesman said. Emergency vehicles rushed to the colossal jet, and passengers and crew exited via an evacuation slide.
There were no injuries, and Yokota's north overrun – one of two points where vehicles can cross the base's active runway – was closed during the incident, the spokesman said.
The Super Galaxy, which was still at Yokota on Friday afternoon, will depart once the aircraft's safety is ensured, a 374th Airlift Wing spokeswoman told Stars and Stripes.
The incident comes just days after the Air Force grounded its C-5 Galaxy fleet at Dover Air Force Base after a second malfunction of a plane's nose landing gear in the past two months.
The stand-down of the Delaware base's C-5s was ordered Monday by Air Force Gen. Carlton Everhart II, commander of Air Mobility Command, who cited safety concerns. The order impacts only the 18 C-5 aircraft – twelve primary and six backup planes – based at Dover.
The Lockheed Martin-built C-5 is the largest airplane in the Air Force's inventory and among the most massive jets in the world. The 65-foot tall, 247-foot long aircraft can carry up to 270,000 pounds, according to an Air Force fact sheet.
The Super Galaxy is an upgraded version of the C-5, with newer engines and modernized avionics.
cook.leon@stripes.com Twitter: @LeonCook12
---
---
---
---