Sumo heavyweights introduce Okinawa middle-schoolers to their time-honored sport
by
Matthew M. Burke
December 16, 2019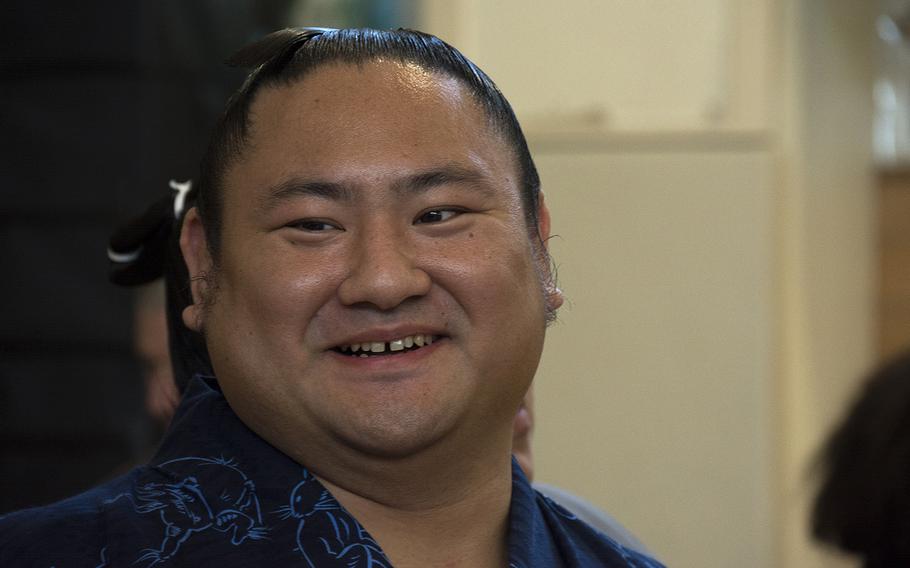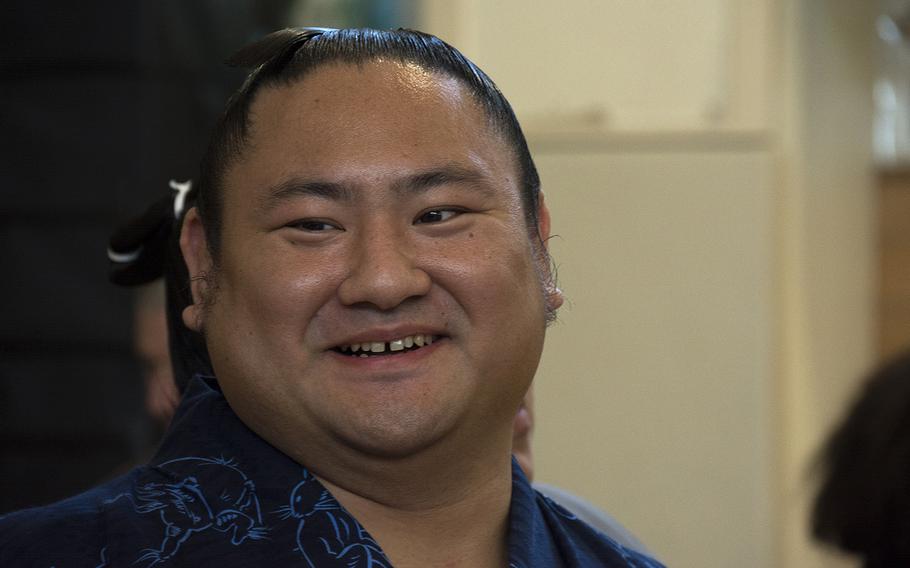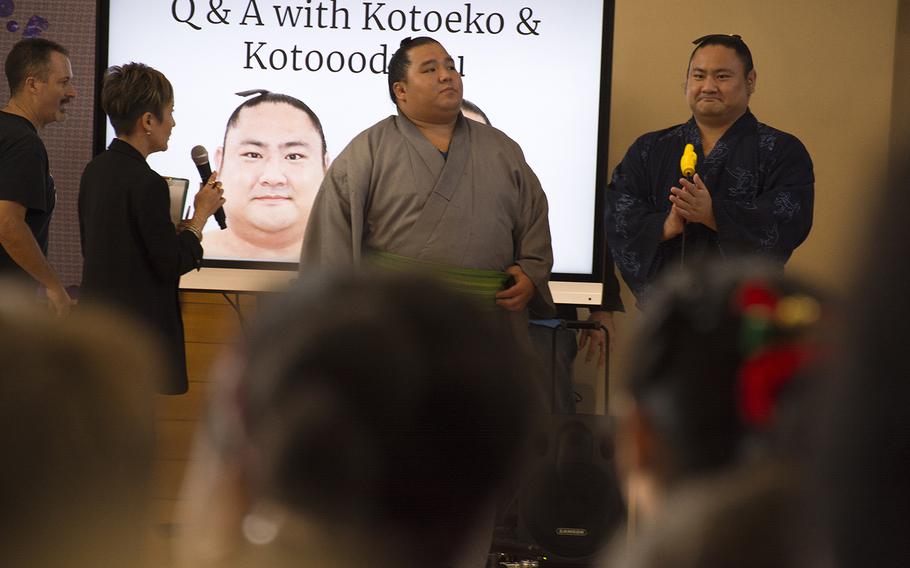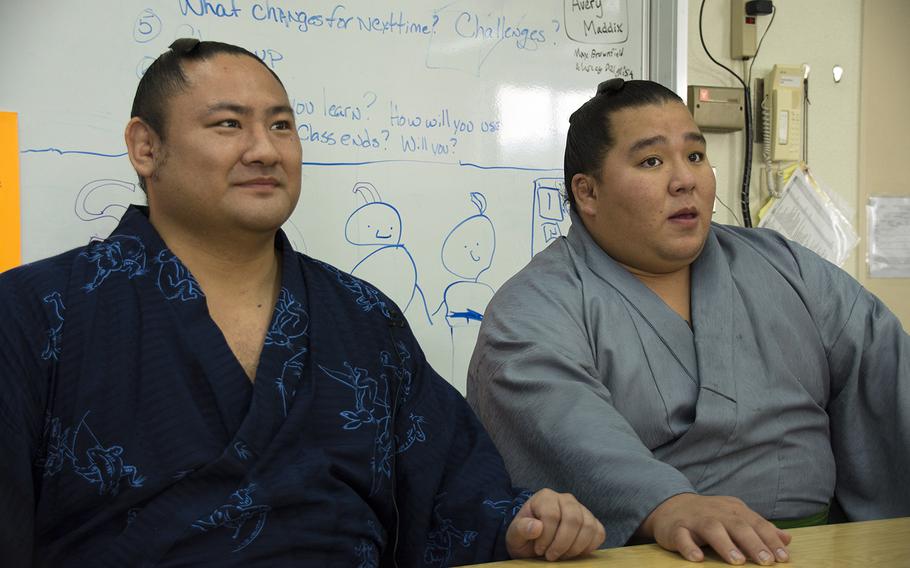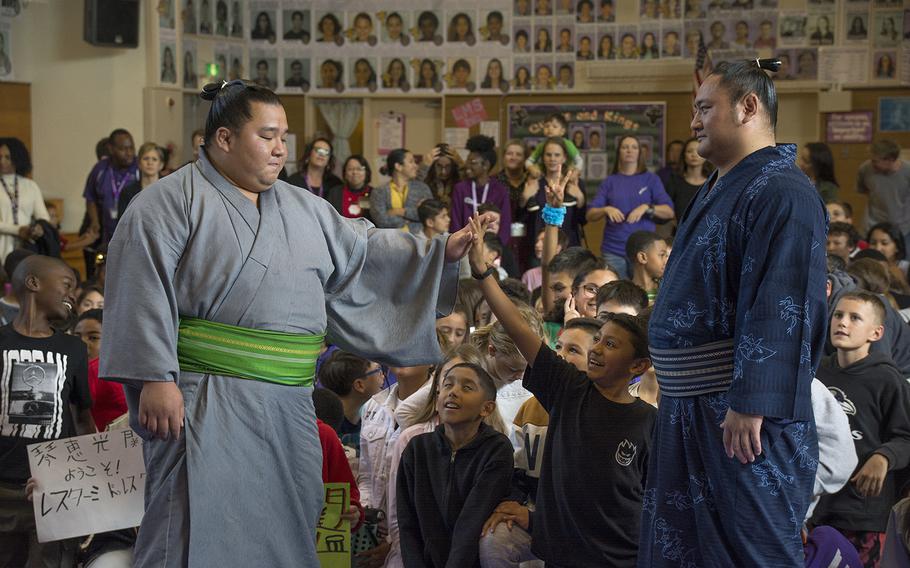 CAMP LESTER, Okinawa — Students at Lester Middle School received some larger than life guests Friday as two sumo wrestlers from the renowned Sadogatake stable in Kyushu stopped by to impart a little Japanese culture.
Kotoeko — a maegashira ranked seventh in Japan's top Makuuchi division — and his protégé, Kotooodutsu, were on Okinawa for Saturday and Sunday's Oozumou Okinawa Basho, or Grand Sumo Exhibition. Maegashira is the lowest of the five ranks in sumo's top division.
They answered students' questions, gave pointers on proper wrestling technique, refereed several matches between the school's teachers and chowed down on some Popeyes fried chicken in what overall turned out to be a raucous affair.
"Today, we got together with the children and taught them about sumo," Kotoeko said following the assembly in the school's gymnasium.
"Sumo always starts and ends with a bow. Regardless of whether you win or lose, the feeling that you have towards your opponent is important," he said. "We hope the children can learn the same, that regardless who your opponent is, that you respect them."
The wrestlers were brought to the school, part of the Department of Defense Education Activity, by teacher Kathleen Kalina, whose brother-in-law Akebono, a native of Hawaii, was the first non-Japanese yokozuna, sumo wrestling's highest rank.
"I love sumo and I just really wanted to show the kids what a great sport it is," Kalina said. "And they liked it."
Austin Martinez, a Lester eighth-grader, said it was exciting to have professional sumo wrestlers giving them pointers and telling them about their careers. Seeing his teachers battle one another in the ring was a special highlight.
During the teacher-on-teacher matches, the student body stood and cheered to a fever pitch and pounded the bleachers rhythmically to Queen's "We Will Rock You."
"It was really fun to interact with real sumo wrestlers," said Mackenzi Horton, a seventh-grader. Horton added that the pride associated with hosting the sumo wrestlers wouldn't wear off any time soon.
"It's pretty cool to see that," said fellow seventh-grader Brigham Beck. "In the states, you wouldn't be able to see that."
burke.matt@stripes.com Twitter: @MatthewMBurke1