Summit will look at servicemembers' misbehavior in Japan
by
Matthew M. Burke
November 28, 2012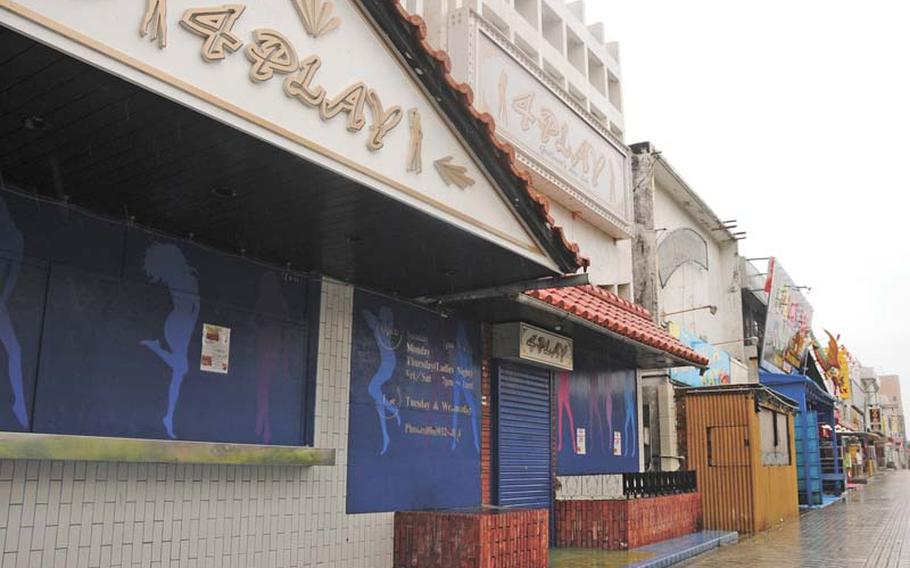 SASEBO NAVAL BASE, Japan — Navy restrictions on the liberty policy across Japan, tightened in the wake of a series of alleged criminal incidents committed by U.S. servicemembers in recent months, may soon be loosened, Navy officials signaled Tuesday.
The man behind the tighter liberty restrictions, Vice Adm. Scott Swift, commander of the U.S. Navy's 7th Fleet, said Tuesday that they are temporary and may last only a week. He plans to convene a Behavior Leadership Summit on Friday and Saturday in Yokosuka with all Task Force commanders and their senior enlisted advisers to seek a longer-term solution.
Naval Forces Japan leadership will be involved and will "most likely follow suit" with any changes to liberty policy, U.S. Naval Forces Japan spokesman Cmdr. Kenneth Marshall wrote in an email to Stars and Stripes.
More restrictions were pledged Wednesday by U.S. military and government officials on Okinawa during a working group meeting with their Japanese counterparts.
An 11 p.m.-5 a.m. curfew for all U.S. servicemembers in Japan, imposed last month after two sailors were accused of a brutal gang-rape on Okinawa, hasn't halted after-hours troop misbehavior, so Swift issued a new edict Monday: no sailor drinking after 10 p.m., even in quarters.
Swift said Tuesday that he won't rule out locking down bases in the future if the incidents continue, but that is something he hopes to avoid.
"We have to take ownership of these incidents, and it doesn't matter in my mind if it was a Marine or an airman or some other individual," Swift said. "The perception is, certainly here in Japan and in theater, that these are U.S. servicemembers that are not compliant with even basic standards, so we need to engage on it."
Swift said Tuesday that he felt compelled to act as he watched five high-profile incidents, — ranging from trespassing to assault — allegedly perpetrated by servicemembers from the Navy, Marine Corps and Air Force, occur despite the curfew. Most involved alcohol.
In addition to the new alcohol restriction, travel is being restricted and scrutinized. About 800 sailors with an alcohol-related incident in the past three years are being reviewed and restricted to base in a Class "Charlie" liberty restriction.
The increased restrictions apply to all sailors assigned to 7th Fleet units, including any ships, submarines, or squadrons operating in the 7th Fleet Area of Operations, said 7th Fleet spokesman Cmdr. Ron Steiner. It applies to only those Marines attached to 7th Fleet units.
The commander for Naval Forces Japan, Rear Adm. Dan Cloyd, applied Swift's restrictions to all sailors under his command.
At the U.S.-Japan working group meeting Wednesday afternoon aimed at preventing incidents involving servicemembers, U.S. military and government officials on Okinawa doubled down, pledging beefed up gate checks on Okinawa, expanded patrols, and a hotline where bar, club, and restaurant owners and their employees can report curfew violators, according to a spokesman from Japan's Ministry of Foreign Affairs Okinawa Liaison Office who asked not to be identified, as is customary in Japan.
Navy officials at the meeting also pledged that sailors would check in with their supervisors at 11 each night. The spokesman did not know if the pledge would affect sailors located off-island.
"We will closely watch how the measures will help to keep any further incidents from happening," said Yasushi Uchihara, director of military affairs office for Naha city.
Japanese officials also called for more transparency regarding the investigations and punishment of violators, the liaison office spokesman said.
Swift, who comes from a Navy family and spent part of his childhood in Japan, said he felt obligated to take a leadership role in making changes to shore up the curfew. He said the majority of sailors in Japan shared in the cleanup and heartache with the Japanese people after the March 11, 2011, earthquake and tsunami and now share the disgust over the steady stream of behavioral and criminal incidents, even if perpetrated by a tiny number of the servicemembers in Japan.
"We are a part of the community," Swift said. "These are attacks on our community as well. … This is defining all of us. I won't stand for it. They're defining who I am as a sailor."
As there were questions about enforcing the curfew, there have also been questions about enforcing the new restrictions. Do they go too far? Are adults being treated like children? Do they encourage binge drinking? Will sailors continue to drink in their homes past 10 p.m.?
Swift said there is a certain amount of personal responsibility that comes into play. Despite all that has happened, he remains confident his sailors will rise to the occasion and follow the rules. He also expects them to self-enforce.
"I trust them to do the right thing," he said. "This is about taking ownership of the problem and empowering the 99.9 percent of 7th Fleet sailors that do not want to be characterized by these activities."
Swift said that despite even the strictest of efforts, there will always be bad apples. He hopes for measures that leave at-risk sailors with little chance to offend.
"We can outlaw alcohol and we will [still] have people making bad decisions for a whole host of [other] reasons," he said. "Will there be another event? Yeah, it's a question of when. There are people out there who will just not follow the rules and we've got [the Uniform Code of Military Justice] in place, we've got good leadership in place, we've got good leadership tools. [But] something has to be done.
"I can't let these sailors that continue to break the rules continue to define the rest of sailors and 7th Fleet sailors and the good things they do day in and day out."
Over time, he hopes restrictions can be lifted. In the meantime, allies in the region remain committed, but he is "concerned" about their views of the American servicemember and military.
Stars and Stripes reporter Chiyomi Sumida contributed to this report.