video
Students at overseas military bases protest school shootings with walkouts
by
Kim Gamel Leon Cook Jennifer H. Svan
March 14, 2018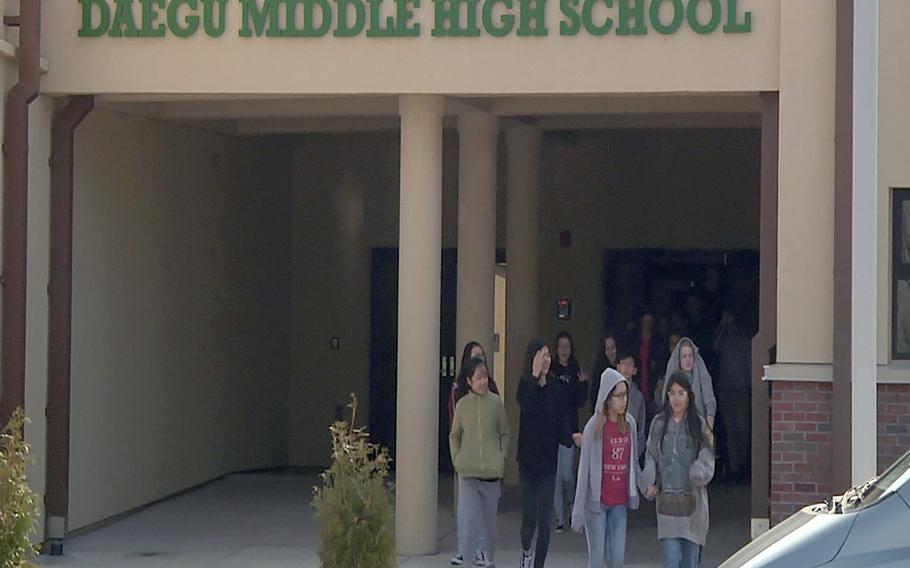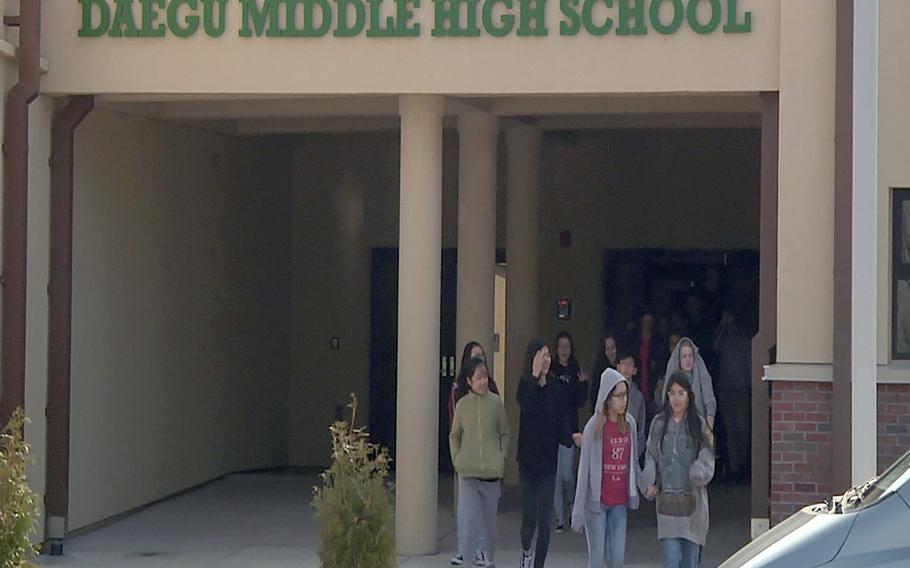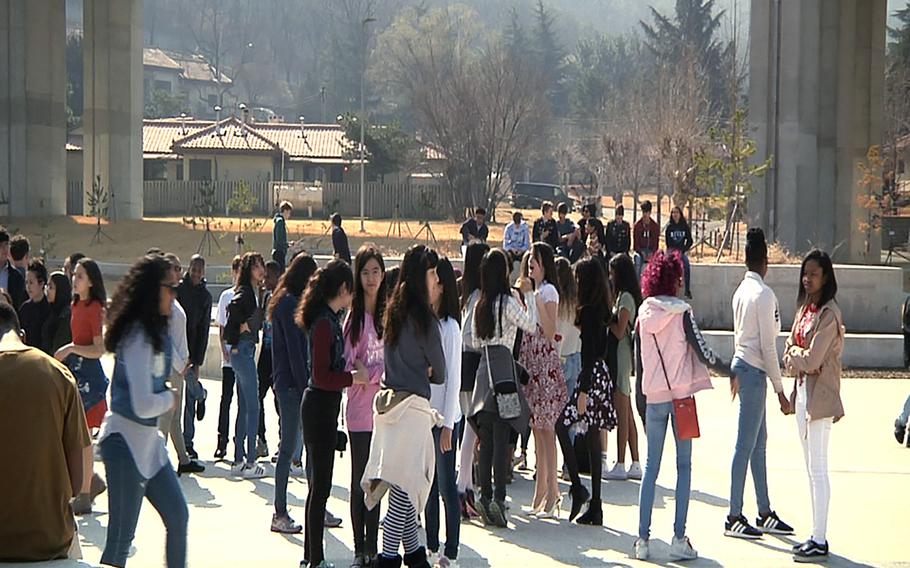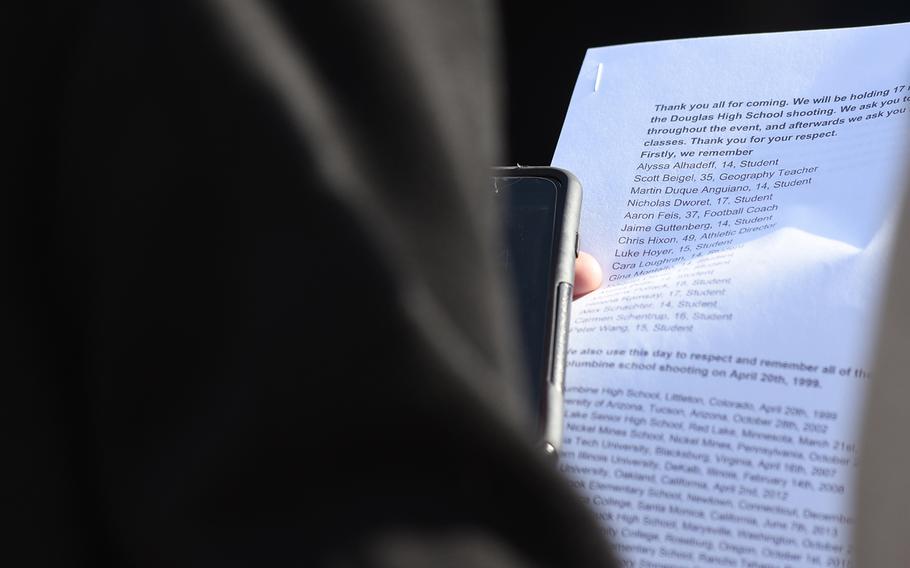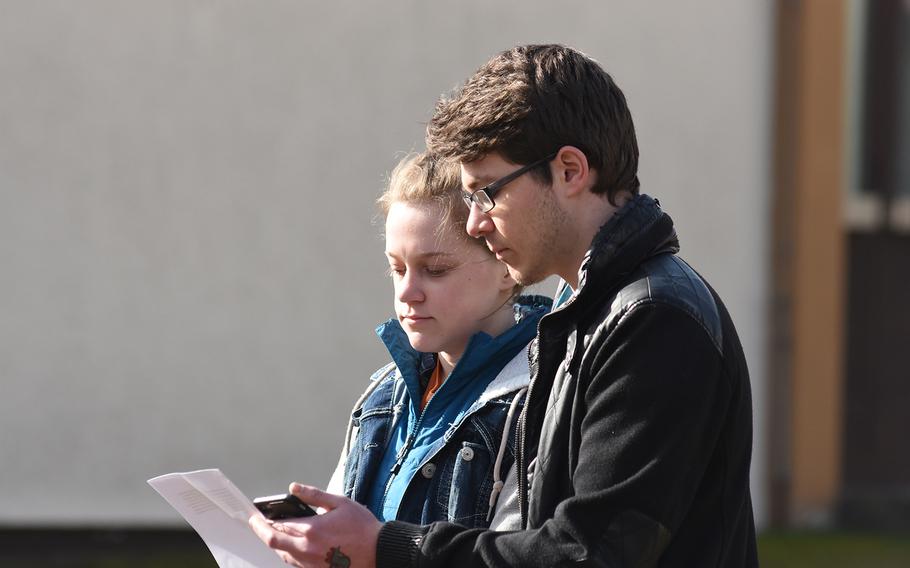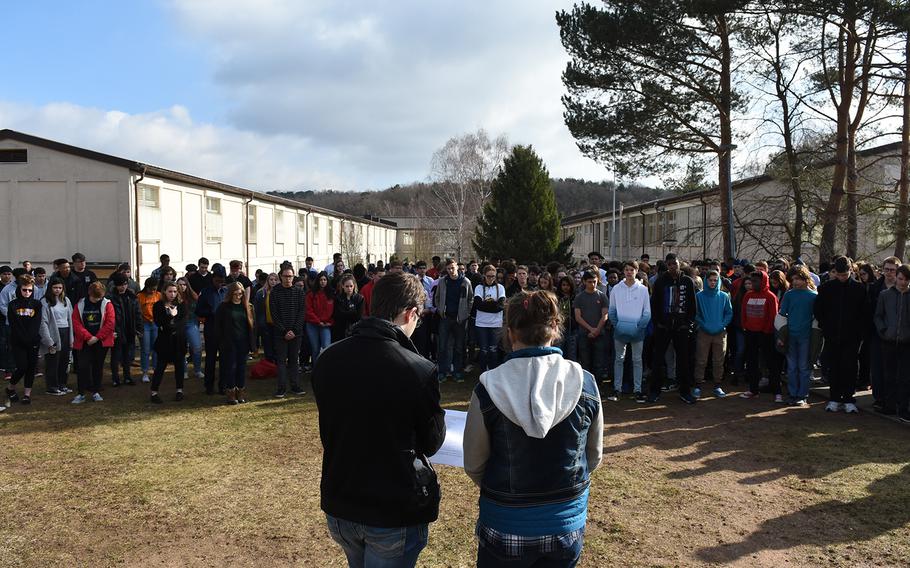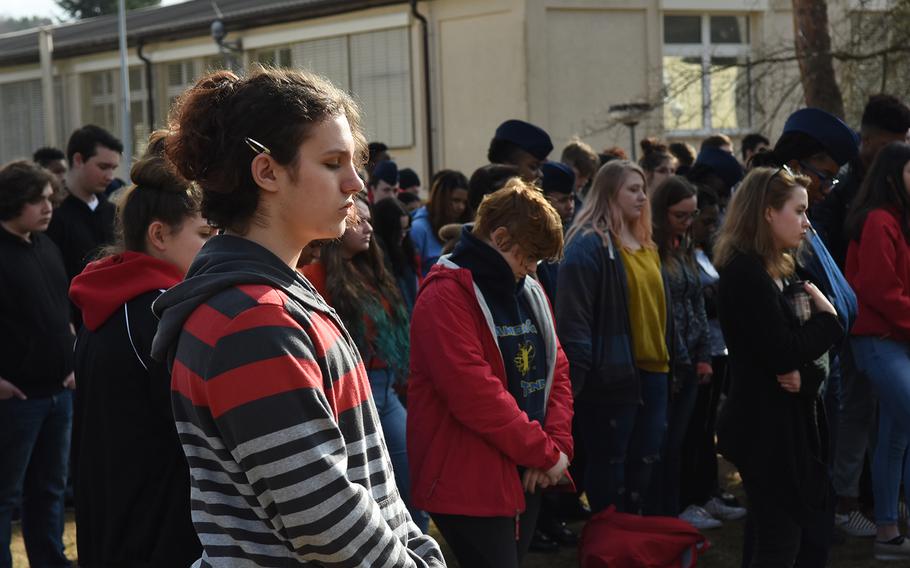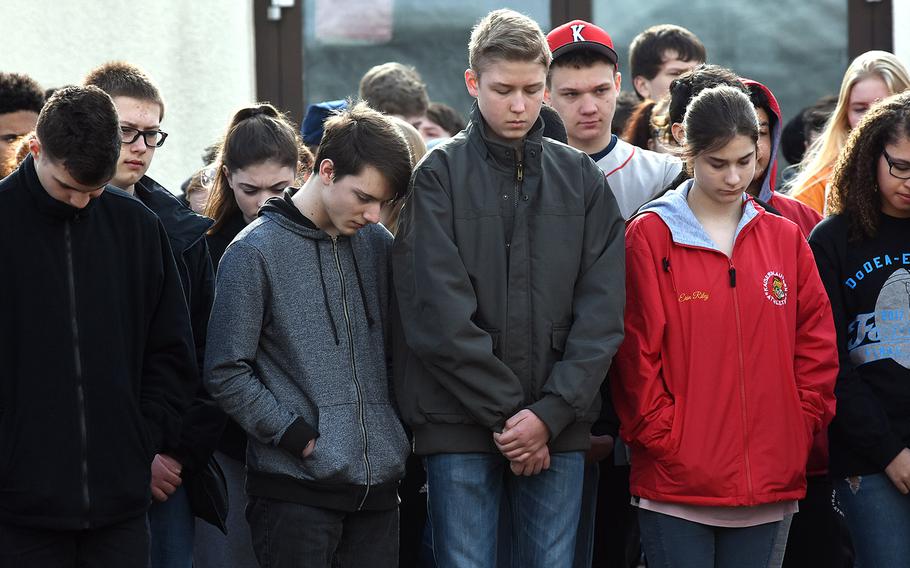 Middle and high school students at overseas military bases joined a national gun violence protest, walking out of class Wednesday in memory of peers and teachers killed by a former classmate in a Florida school shooting last month.
While some schools accommodated the demonstrators, one threatened students with potential punishment and referral to military police.
Organizers, who promoted the walkout on social media with the hashtag #EnoughisEnough, encouraged students to leave class at schools all over America for 17 minutes from 10 a.m. March 14.
Due to the time difference, students on U.S. installations in the Pacific were among the first to do so.
The goal was to highlight gun-safety issues following the Feb. 14 murder of 17 students and teachers in a school shooting at Marjory Stoneman Douglas High School in Parkland, Fla.
More than 2,500 walkouts were planned, according to organizers who disseminated their plans on Twitter.
Walkout participants want Congress to ban assault weapons, require universal background checks for gun purchases and allow courts to disarm gun owners who display warning signs of violent behavior.
An Instagram video shows kids from Yokota High School in Tokyo gathered on a football field during the protest.
"Seventeen minutes, 17 lives," said Kyle Moss, 17, who was among the group that walked out of class at Yokota. "This is only the beginning. Every week more lives are lost due to gun violence and our generation will be the one that stops it."
Another Yokota High student protester said: "It was cool to see so many people coming out for such a good cause."
At Kaiserslautern High School in Germany, more than 150 students crowded into a grassy courtyard to honor the Parkland victims. Organizers Madeline MacMillan and Zaccary O'Neil, both seniors, stood facing their classmates and read off 17 names, observing one minute of silence for each victim. Students remained solemn. Some bowed their heads and closed their eyes; others held hands.
"We wanted to show our support for our peers and friends in the States," MacMillan said.
The walkout at Kaiserslautern was among at least several planned at DODEA schools in Europe. About 150 students at Ramstein Middle School gathered by the flagpole to honor the Parkland victims "in a safe and respectful manner," said an email to parents from the school principal shortly after the event concluded.
Between 150-200 students at the high school on Camp Humphreys, the new Eighth Army headquarters in South Korea, held a 17-minute vigil by the flag, according to officials and witnesses. Teachers did not participate
About 100 students at Daegu Middle High School on Camp Walker in South Korea also walked out for 17 minutes. They held hands and gave speeches at a nearby amphitheater, but no teachers were present, according to the principal, Altorn Grade.
Seoul American High School at Yongsan Garrison in Seoul, however, warned students against participating in the walkout, citing U.S. Forces Korea policy that prohibits protests on military installations.
"Seoul American High School will maintain a roster of any student who walks out of class and will provide that list to the Yongsan Garrison Command Team to determine if any further steps are warranted," it said in a memo addressed to parents and sponsors.
"We would also like to note that any student who leaves campus during the walkout time will be dealt with by military police," it added.
The memo said the student council planned a separate memorial service to honor the 17 students killed in the Parkland school shooting in lieu of the walkout.
School officials did not immediately respond to a request for more details.
The Department of Defense Education Activity said it was working on a request for information about the extent of the protests at its schools.
"DODEA does respect the right for our students to engage in peaceful expressions of their opinions through speech and other ways as long as it is done respectfully, does not interfere with the rights of others, and does not disrupt learning in the school," it said.
O'Neil and MacMillan said they didn't face any opposition to organizing the walkout from Kaiserslautern school officials. DODEA sent out a newsletter giving students permission to participate in a similar event to the walkouts being held nationwide, O'Neil said, but without the political bent.
"We were specifically trying to make it nonpolitical," O'Neil said. "Due to the nature of laws on post … you can't really hold a political event.
"Nobody discouraged us, nobody really encouraged us," O'Neil said of teachers. "It was just 'we won't mark you absent.'"
Teachers at Ramstein High School were told this week that students participating in the walkout should not be advocating for or against guns.
But teachers could use the opportunity "to guide appropriate discussions before or after student-led events," said DODEA-Europe spokesman Will Griffin. "We encourage this critical thinking and the desire to shape positive outcomes in their future."
Students interviewed at Kaiserslautern were mixed on whether they wanted to see stricter gun laws in the States. But they all said they feel safer from gun violence attending school on a military post overseas. Still, school shootings, particularly Parkland since the student victims were of the same age, hit especially hard.
"It kind of hurts seeing kids our age not being able to live life like we are," said sophomore Kaleigh Nelson, 15.
O'Neil's mom, Kara O'Neil, said she feels that her children are safer attending schools overseas, but it doesn't erase the problem. "At any moment any child here can get a hold of a parent's weapon or engage in acts of violence," she said.
"Being in Europe does not distract violence. It might make it more difficult, but I do feel like the children are in a constant state of stress regardless of where they attend school and that in and of itself is a danger."Stars and Stripes intern Monique Wilson and reporter Marcus Fichtl contributed to this report.
cook.leon@stripes.comgamel.kim@stripes.comsvan.jennifer@stripes.com