Tropical Depression 28W (Fung-Wong), # 4 FINAL
by
Dave Ornauer
November 20, 2019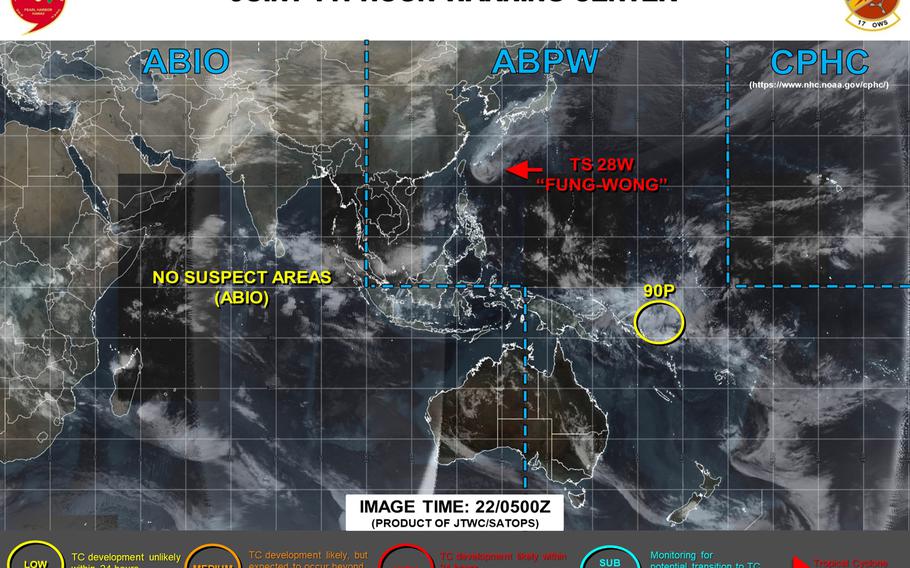 UPDATED 6:30 p.m. Saturday, Nov. 23, Japan time: Fung-Wong's forward movement suddenly ground to a near-halt on Saturday. It's still west-southwest of Okinawa and due to pass 140 miles west-northwest of the island at mid-afternoon Sunday. But it has nearly died out from a standpoint of strength and wind speed. 4 p.m. Saturday, Nov. 23, Japan time: Wow. What an awful lot of rain yesterday afternoon and especially last night, courtesy of Fung-Wong, which has been downgraded to a tropical depression and is moving northwest away from Okinawa. Low-lying areas, particularly the west and southwest side of Camp Foster, found themselves inundated around the late evening to early morning hours on Saturday. An official with Kadena Air Base's 18th Wing Weather Flight said they recorded 3.99 inches of rain in the 24-hour period ending at midnight. So one can safely say number increased past midnight. The good news? The rain gave a good bounce to the reservoir levels on island, which increased an average of 4.2 percent overnight. Nice! This concludes Storm Tracker's coverage of Fung-Wong.6:30 p.m. Friday, Nov. 22, Japan time: Fear not, folks, Fung-Wong is forecast to be far from a devastating system. But it appears to be doing its red-letter best to come as close to Okinawa as it possibly can, despite its diminishing status. At 3 p.m., Tropical Storm Fung-Wong was 237 miles southwest of Kadena Air Base, headed north-northeast at 14 mph, still packing 52-mph sustained winds and 63-mph gusts at center. U.S. bases on Okinawa remain in seasonal Tropical Cyclone Condition of Readiness 4. If Fung-Wong remains on its present heading, it's forecast to pass 105 miles west-northwest of Kadena at mid-morning Saturday, having dropped off to 35-mph sustained winds and 46-mph gusts. Local weather forecasts call for heavy rain overnight, with winds kicking up as Fung-Wong makes its closest point of approach, then clear off by mid- to late-afternoon Saturday.Kadena's weather forecast calls for sustained winds peaking at 17 mph with gusts up to 23 mph Saturday morning.6 p.m. Thursday, Nov. 21, Japan time: Fung-Wong enjoyed a brief status as a Category 1-equivalent typhoon at mid-day Thursday, then was quickly downgraded to a tropical storm again by the Joint Typhoon Warning Center late afternoon. Fung-Wong remains forecast to curve north, rapidly weakening as it skirts east of Ishigaki, passing 177 miles west-northwest of Kadena Air Base, Okinawa, at 3 p.m. Saturday as a tropical depression. Still no imminent threat, but something to keep an eye on.6:50 p.m. Wednesday, Nov. 20, Japan time: Tropical Storm Fung-Wong doesn't appear to be much of a threat, isn't forecast to become much more than a middling tropical storm and could even push west and die out over China in the next couple of days.
But the current Joint Typhoon Warning Center forecast track does indicate Fung-Wong moving northwest, weakening, then curving just off the coast of Taiwan , coming within 428 miles west-southwest of Kadena Air Base, Okinawa, at 3 p.m. Saturday as a tropical depression.
Again, that's not to say Okinawa is in any immediate danger; in fact, the weather is cool enough that it won't support a major storm at this time of year. And model guidance and the GFS and CMC ensembles each indicate a track west of Okinawa. Just something to keep an eye on.