Tropical Cyclone 26W (Seroja), # 1
by
Dave Ornauer
April 5, 2021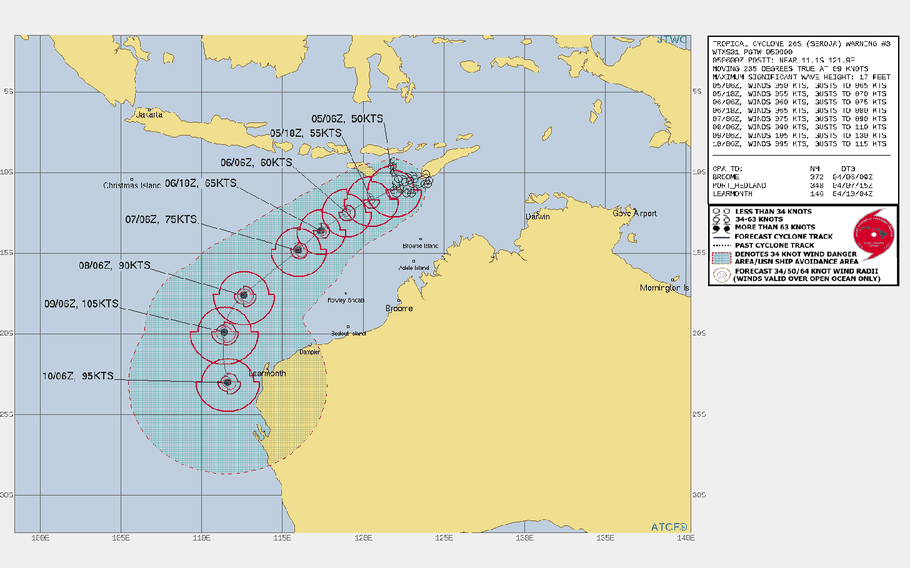 10:15 p.m. Monday, April 5, Australian Central Time: Tropical Cyclone Seroja should be well out of the way of the Marines deployed to Darwin in northwest Australia; Joint Typhoon Warning Center reports it was 625 miles west of Darwin at 10 p.m.
But the remote islands of East Indonesia and East Timor have gotten battered by the storm, and Seroja is forecast to remain in the area for the time being, according to the Associated Press.
At 3:30 p.m. Monday, it was packing 58-mph sustained winds and 75-mph gusts at center, just south of those remote islands.
More than 70 are dead and dozens are missing, with rescuers hampered by damaged bridges and road and a lack of heavy equipment following torrential rains in the area.
JTWC forecasts Seroja to track southwest, well off Australia's northwest coast, but then curve toward Learmonth, passing about 170 miles west-southwest at about 1:30 p.m. Saturday, peaking at 121-mph sustained winds and 150-mph gusts about a day earlier.
Too early to say where it might make landfall in the Land Down Under, but it should be along the west coast south of Learmonth over the weekend.