TCCOR All Clear issued Jan. 1 for Okinawa
by
Dave Ornauer
January 11, 2021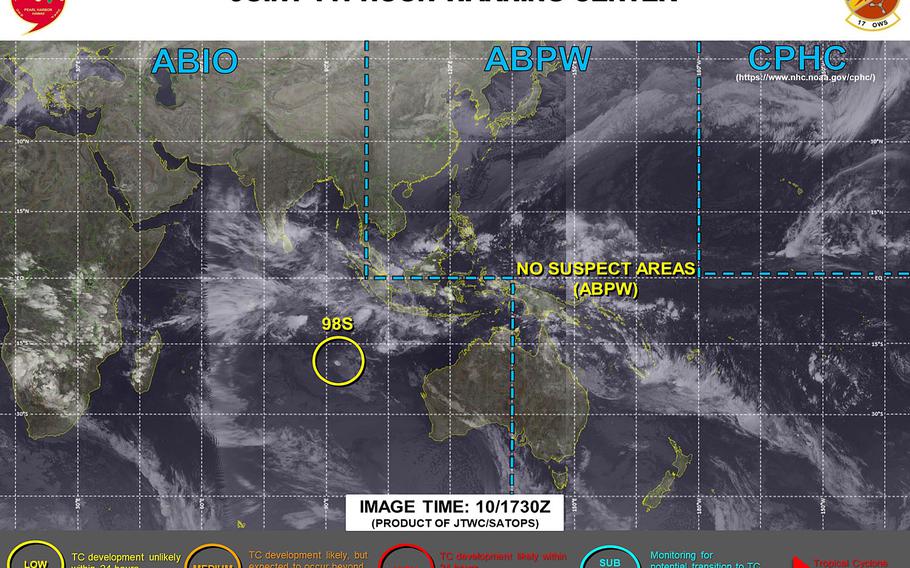 4 p.m. Monday, Jan. 11, Japan time: Per Kadena Air Base's 18th Wing Weather Flight, U.S. bases on Okinawa transitioned to Tropical Cyclone Condition of Readiness All Clear on Jan. 1 - a month later than usual.
Typically, the northwest Pacific's typhoon season runs from June 1 to November 30. But whether we remain in seasonal TCCOR 4 or TCCOR All Clear posture is at the discretion of the 18th Wing commanding officer, Brig. Gen. Joel Carey.
TCCOR All Clear (or seasonal TCCOR 5 in some locales) should remain in effect until May 31 in Japan, Korea and Okinawa. This is the time of year when tropical cyclones are least likely to occur at locales north of the Tropic of Cancer.
Simply put, the climate becomes too cool to sustain a tropical cyclone, which relies greatly on warm sea surface and ocean heat content to survive, especially during the winter months.
The 2020 season saw 27 numbered tropical cyclones, 10 typhoons and just two super typhoons, Haishen and Goni, in the northwest Pacific, as recorded by the Joint Typhoon Warning Center. That's below the average of 32 numbered cyclones for the northwest Pacific during a typical season.
The season was unusually quiet the first two months – so quiet that for the first time since records have been kept by Japan Meteorological Agency starting in 1951, no named storms were recorded in the month of July. But the northwest Pacific more than made up for it after that.
On the heels of the longest rainy season on record in South Korea, five tropical cyclones threatened or struck the peninsula – Hagupit, Jangmi, Bavi, Maysak and Haishen. That's a record for one season, according to JMA. Counting the four last year, that's a record nine in two years.
Okinawa took its share of wind and plenty of rain from Jangmi, Bavi, Maysak and Haishen, but nothing along the lines of Trami two years ago, the last severe typhoon to hit the island.
Later in the season, the Philippines took quite a pounding in October and November, headlined by Goni in early November. Nourished by the ultra-warm waters of the Philippines Sea east of Manila, Goni, at 195-mph sustained winds, equaled the record-intensity at landfall of Haiyan seven years earlier – and pretty much in the same area of the Philippines affected by Haiyan.
All that came after the Philippines got hit hard by Typhoons Saudel and Molave, and prior to the country taking more punishment from Vamco a couple of weeks after Goni.
The Southwestern Pacific saw plenty of rough weather.
Tropical Cyclone Yasa, the fifth of the season, formed in mid-December and peaked at Category 5-equivalent intensity: 160-mph sustained winds and 195-mph gusts – rivaling Tropical Cyclone Winston in 2016 as the Southern Hemisphere's most powerful ever recorded. Yasa made landfall in Fiji the afternoon of Dec. 17 as a Categtory 4-equivalent cyclone.