Fiji pounded by another tropical cyclone
by
Dave Ornauer
January 11, 2021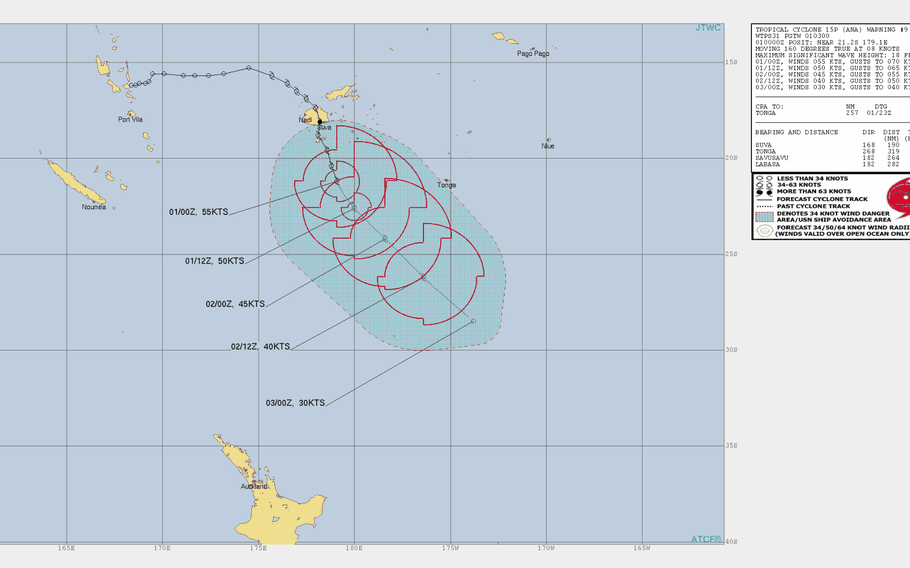 7 p.m. Monday, Feb. 1, Fiji time: Nearly two months after Severe Tropical Cyclone Yasa devastated the Fiji Islands, Tropical Cyclone Ana made its way over Viti Levu, Fiji's main island, causing flooding, killing at least one with five others missing according to The Associated Press.
In fact, it's quite busy in the South Pacific and eastern Indian Ocean at the moment. Four tropical cyclones are currently active, Ana, Lucas and Bina in the South Pacific east of Australia, and a new cyclone developing just offshore in northwest Australia, according to the Joint Typhoon Warning Center.
No American assets are endangered by any of the storms. This is the time of year that the Marine Rotational Force in Darwin, northwest Australia, and the Coast Guard outfit in American Samoa are on guard for possible cyclones to hit their areas.
So far, they've been unscathed. But all told, 18 numbered cyclones have been designated by JTWC thus far this season, with four months to go.
Yasa by far has been the strongest of the lot, 155-mph sustained winds and 190-mph gusts, the strongest in the South Pacific since Winston in 2016.
It was the fourth most intense cyclone on record in the basin and also the second Category 5-equivalent cyclone, after Harold, which caused widespread damage in the Solomon Islands, Fiji, Tonga and Vanatu last April.