95W Invest: TCFA canceled
by
Dave Ornauer
December 1, 2019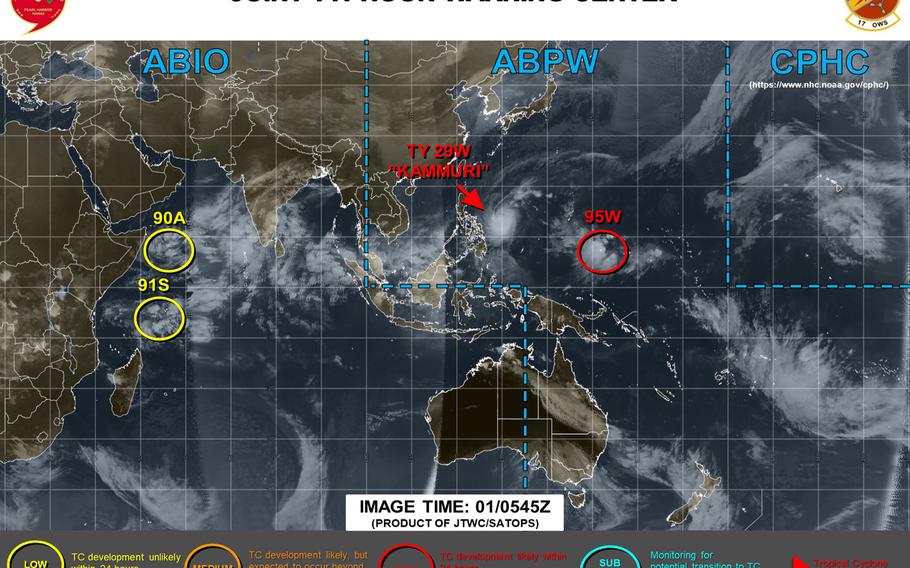 3 p.m. Monday, Dec. 2, Japan time: The tropical cyclone formation alert on the disturbance labeled 95W Invest has been canceled by the Joint Typhoon Warning Center. It reports that 95W is forecast to keep tracking west but with minimal development over the next few days and model track guidance and the GFS and CMC ensembles are in agreement. Storm Tracker will continue to monitor.6 p.m. Sunday, Dec. 1, Guam time: A new tropical disturbance, labeled 95W Invest, has formed southeast of Guam, but is forecast to pass well south-southwest of the island and become a tropical depression or perhaps a weak tropical storm in the coming days, according to the Joint Typhoon Warning Center.
JTWC issued a tropical cyclone formation alert on 95W at mid-day Sunday. At 5:30 p.m., 95W was about 755 miles southeast of Andersen Air Force Base, Guam, moving west-southwest at 7 mph and packing winds between 23 and 28 mph.
Model track guidance and the Global Forecast System and Canadian Meteorological Center forecasts each indicate tracks west-northwest, passing south of Guam, then curving northeast, passing between Okinawa and Iwo Jima.
U.S. bases on Guam remain in seasonal Condition of Readiness 4, while U.S. bases on Okinawa entered TCCOR All Clear at 1 minute past midnight Sunday.