Stationed in Japan? Here's how to find out your new COLA rate
by
Caitlin Doornbos
October 19, 2018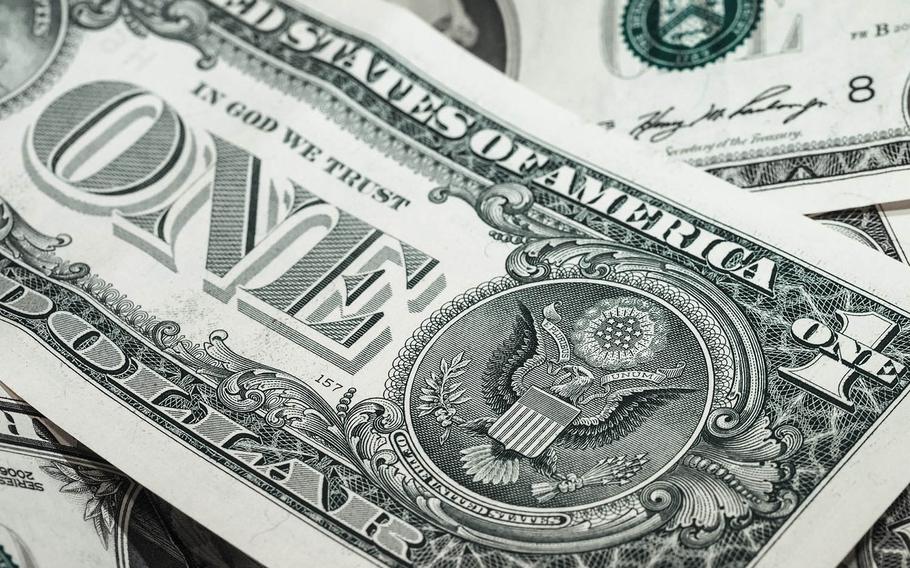 YOKOSUKA NAVAL BASE, Japan — Military personnel and their families across Japan will notice a change in their paychecks as soon as next month reflecting results from the 2018 living pattern survey administered last spring.
Chief Master Sgt. Terrence Greene of U.S. Forces Japan announced the new cost-of-living allowance rates for servicemembers in Japan on AFN Tokyo radio Friday — about two weeks ahead of when the numbers are to be published by the Defense Travel Management Office on Nov. 1.
COLA rates indicate how much more expensive it is to live in an area as compared to the United States. A baseline of 100 represents the cost of living in the U.S., so a COLA rate of 122 means an area's cost of living is 22 percent higher than back home.
Servicemembers at four installations — Marine Corps Air Station Iwakuni, Yokota Air Base, Misawa Air Base and Sasebo Naval Base — will see their COLA rates increase, Greene told listeners.
Iwakuni is seeing the greatest boost, up six points from 122 to 128. Yokota and Misawa's rates increased by four points from 118 to 122 and 124 to 128, respectively; and Sasebo increased by two points from 122 to 124.
Other bases saw a drop in COLA, with Camp Fuji's rate decreasing by six points from 124 to 118; Camp Zama by four points from 130 to 126; and Naval Air Facility Atsugi by two points from 124 to 122, Greene said. Those assigned to bases on Okinawa will see a two-point decrease, from 120 to 118.
COLA rates remain unchanged for those at Yokosuka Naval Base and Yokohama North Dock, he said. The new rates will be implemented for all bases by the end of the year, Greene told AFN's listeners.
"For those areas that will see an increase, it will be effective in your November paychecks," he said, adding that those experiencing a decrease will notice the changes in their December pay.
To help families find out what the new COLA rates will look like in dollar amounts, the Defense Travel Agency offers an online tool to calculate COLA based on pay grade, years of service, number of dependents and type of housing.
The changes in rates were the result of responses to the living patterns survey offered in April and May to military bases in Japan. The survey — which is offered every three years — asks servicemembers how and where they shop for goods and services, according to the DTA.
The responses are then used to determine how much military families overseas are paying for products compared to what they would if they lived stateside. The purpose of COLA is to compensate personnel for higher prices overseas, so COLA rates drop if results indicate prices have become more comparable to stateside rates.
This is the second time COLA rates have changed in Japan in 2018. In January, all but two U.S. bases — Atsugi and Camp Fuji — experienced COLA reductions based on the results from a 2017 market basket survey. The largest decreases came at Yokosuka, where servicemembers saw rates drop about 45 percent, and at Yokota, where they fell by about 30 percent.
Earlier this year, many military families and bases in Japan made a concerted effort to promote survey participation. Navy spouse Ellie Jackson created a campaign on the 5,500-member "Yokosuka Military Spouses" Facebook group to remind people to take the survey in hopes that more responses would raise the COLA rates.
Jackson said in April that when COLA rates dropped for Yokosuka earlier this year, some people had a perception that rates may increase if more people complete the living patterns survey. The market basket survey that determined the January COLA change had had a low response rate.
But then-Yokosuka Naval Base spokesman Sean Kelly warned that while it's important that the surveys are completed by as many people as possible for accuracy, COLA rates can rise or fall regardless of the number of survey respondents.
"But the more data you have, the more accurate the COLA information can be," Kelly said at the time.
doornbos.caitlin@stripes.com Twitter: @CaitlinDoornbos