State, DOD officials defend warming relations with Myanmar
---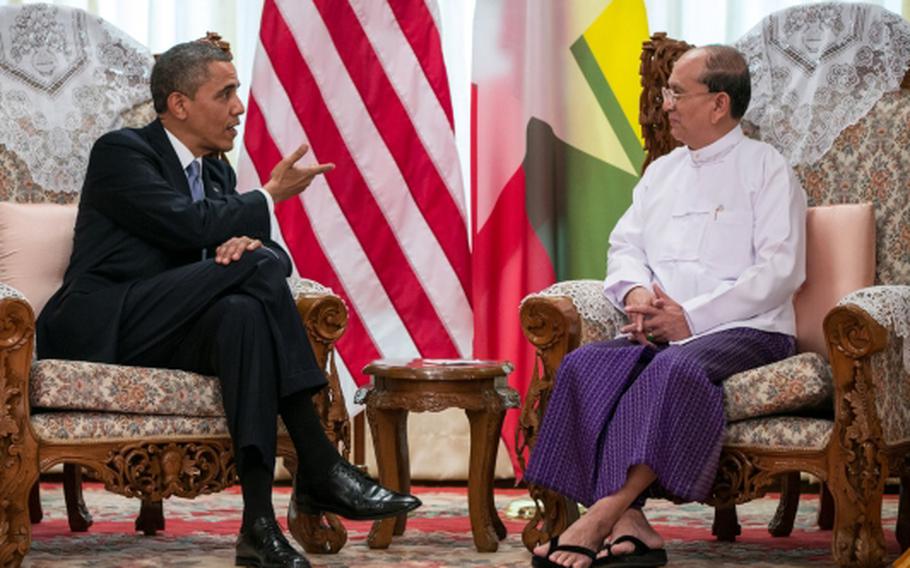 WASHINGTON — Two top officials on Wednesday defended the Obama administration's escalating involvement in Myanmar, arguing that the U.S. is seizing a historic opportunity to safeguard and promote democratic reforms in the war-torn Southeast Asian country.
Judith Cefkin, senior adviser for Myanmar for the Bureau of East Asia and the Pacific at the State Department, and Vikram Singh, deputy assistant secretary of defense for South and Southeast Asia, were called to Capitol Hill to appear before the Asia and Pacific Subcommittee of the House Foreign Affairs Committee. Several members of the Myanmar parliament also attended the hearing.
The 2014 fiscal year budget for U.S. involvement is $75 million, a relatively low figure which has allowed developments in the country to fly below the radar with far larger U.S. involvements ongoing in Iraq and Afghanistan. But since 2009, U.S. leaders have taken a more active interest in recognizing and working with the country's leaders, who are still engaged in one of the world's longest running civil wars. Myanmar's military junta was dissolved in 2011, and a civilian government is still taking hold. President Barack Obama visited Myanmar President Thein Sein in the capital, Yangon, in November 2012.
Subcommittee chairman Steve Chabot, R-Ohio, called Wednesday's hearing out of growing concern among congressional Republicans that U.S. involvement has been escalating with minimal input from Congress. In a statement before the hearing, Chabot said the decision abandons a bipartisan approach for a "forward-leaning engagement policy that sacrifices broad support." He singled out U.S. engagement with the Myanmar military as particularly ignorant and dangerous.
"It is time the administration justifies this significant policy development, and explains how its new approach will help foster reforms in an increasingly volatile on-the-ground situation," Chabot said.
But Cefkin and Singh said the four-year-old decision to open communications with Myanmar has largely paid off, as the government has taken several steps towards democratic reform. Those include agreeing to a cease fire with military opponents, easing media censorship, releasing political prisoners and allowing Myanmar's opposition leaders to participate in the country's parliamentary body.
Under questioning from members of the subcommittee, Singh emphasized that the U.S. has not provided weaponry to the Myanmar military, only advice regarding civilian control, legal issues and accountability for abuses.
Panel members closely queried Cefkin and Singh on the appropriateness of U.S. engagement with the Myanmar military, given reports of human rights abuses, especially rape, and military attacks on the country's Muslim population and rural tribes. Rep. Trent Franks, R-Ariz., called the military "one of the worst oppressors of human rights."
Cefkin and Singh noted that substantial economic sanctions remain in place against Myanmar, and that U.S. engagement is not being significantly broadened beyond assisting with military reforms.
"We maintain sanctions on areas of the military that concern us, particularly its outsized role in the economy — U.S. companies remain prohibited from investing in military-owned companies and from making payments in connection with the provision of security services to state or non-state armed groups, including the Burmese military," Cefkin said.
Other panel members questioned the ongoing U.S. policy of engagement with Myanmar in light of the country's close ties to North Korea. Singh said officials believe Myanmar has ended its military alliance with North Korea, although other ties remain.
He said officials share Congress' concern that benchmarks should be met before sanctions are lifted and the country receives more comprehensive U.S. support. He also said he understands that "considerable skepticism" remains, given the Myanmar military's checkered record of reform.
"We believe this kind of engagement is part of our principled stance with regard to reform and supporting democracy," Singh said. "We know there will be no guarantee that our engagement will bring about the changes we seek, but we do believe we have an opportunity to engage for the first time in decades with the military and government in Burma, (which is) open to implementing reforms and accepting U.S. advice to that end … There is an eagerness on their part, and we see that as an opportunity."
Rushing.jt@stripes.com Twitter: @jtr1
---
---
---
---