Spies? Saboteurs? Or just tailwatchers?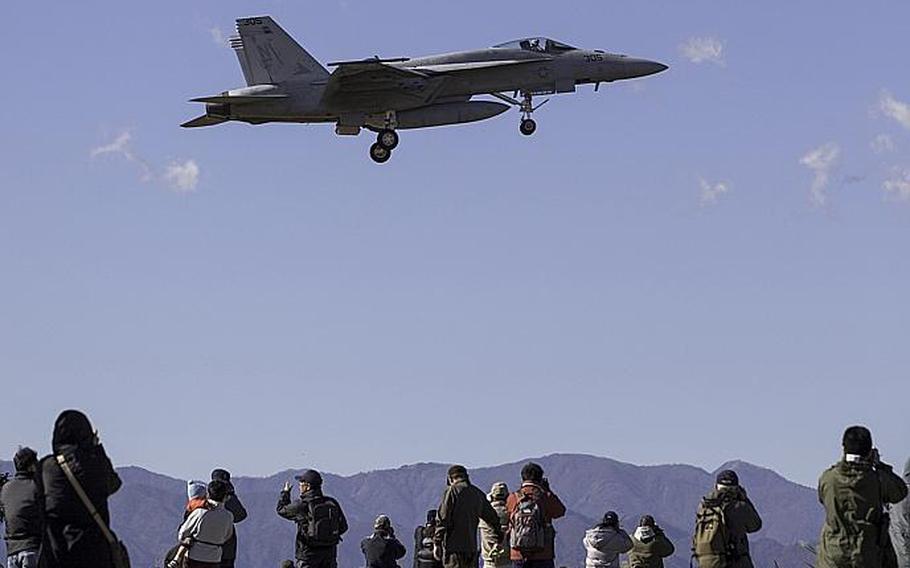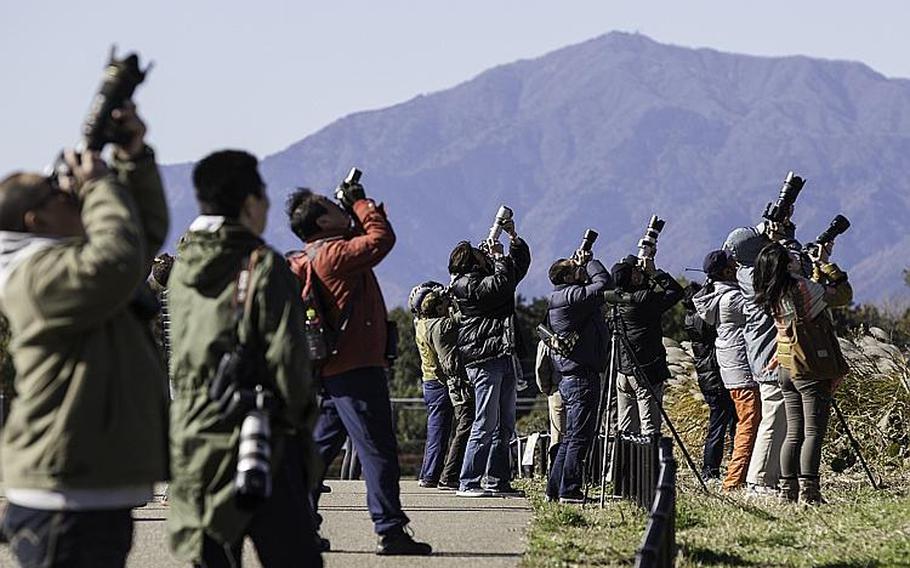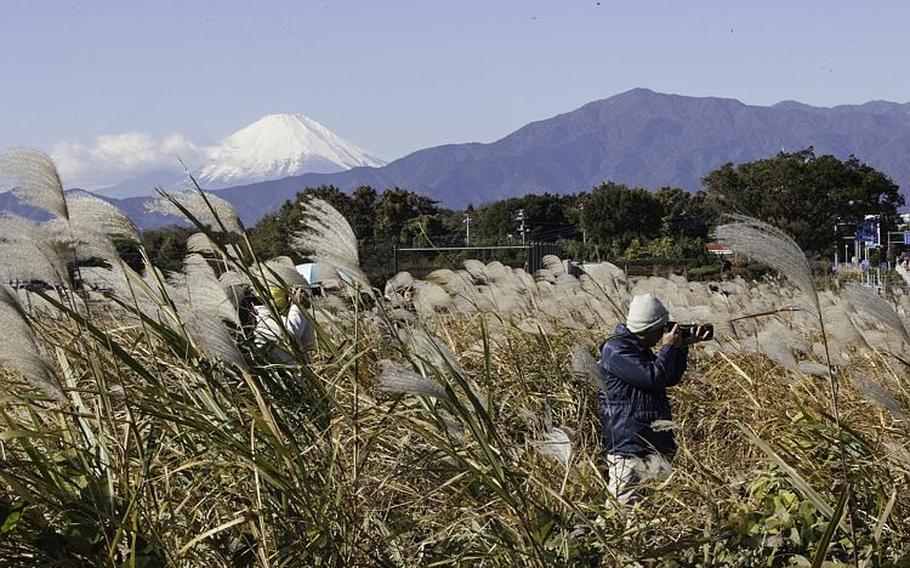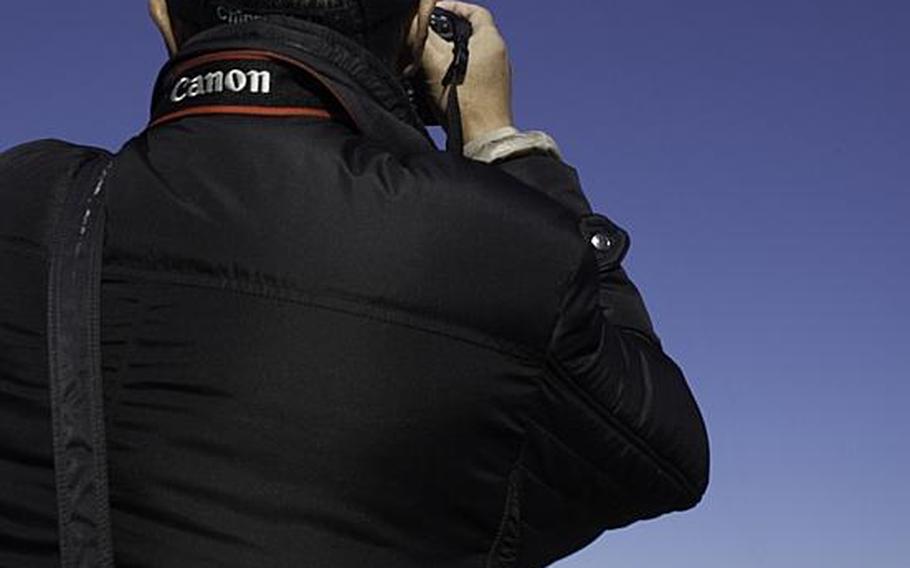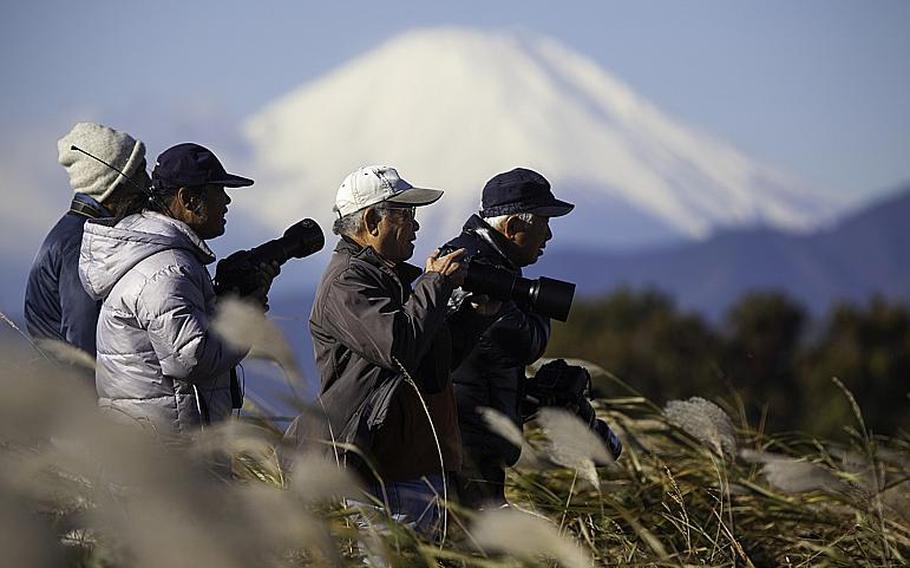 Satoru Kuba spends parts of most days — and many nights — peering through a telephoto lens atop a three-story building overlooking Kadena Air Base on Okinawa.
The goal of his sometimes-lonely vigil, through weather fair and foul? A photograph of an aircraft — any aircraft — that he has yet to capture on film. He spends so much time there that his young son thinks it's his profession.
Kuba insists he's not a spy. He's a plane spotter, a tail watcher — nicknames for aviation enthusiasts who post up outside Air Force bases around the world to shoot photos and record tail numbers.
Usually there are just a couple hanging around each base. But they show up by the dozens for special events or missions that draw unusual planes, pushing their lenses up to the gaps in chain-link fences topped by barbed wire or climbing stepladders for unobstructed views.
While U.S. Pacific Air Forces won't even discuss them, citing unspecified operational security issues, U.S. Forces Europe has embraced them as a source to spot something else – potential spies and saboteurs.
It's not difficult to see why spotters could be perceived as a concern. They publish their information online, tracking planes from base to base, country to country, continent to continent. Many spotter groups typically have at least one member who owns a frequency scanner that can pick up the base control tower chatter.
Such information became problematic in the U.K. during the Libya campaign in 2011 when British Tornado fighter planes were embarking on bombing sorties from their home bases, said Ben Vogel, an editor at Jane's Defence Weekly.
"The worry was that any Libyan intelligence officer could read these postings and know exactly how many Tornados were coming and pretty much exactly when they would arrive," Vogel told Stars and Stripes in an email.
Information posted by plane spotters also inadvertently exposed the CIA's extraordinary rendition program, according to a series of stories in London's The Guardian newspaper. The stories appeared in 2005-06, when the secret interrogation program became public.
There's a certain irony that, in an effort to be as open to host-nation residents as possible, flightlines often aren't blocked by barriers or lines of trees. Plane spotters can snap photos from outside the base fences that base residents are banned from shooting inside the gates. PACAF won't talk about the discrepancy.
"For operational security reasons, we simply cannot discuss the procedures we have in place," Maj. Alysia Harvey, PACAF spokeswoman, told Stars and Stripes by email.
"However, what I can tell you is that operational security is a priority in the U.S. Air Force," she said. "And military officials work very closely with their [host-nation] counterparts and local authorities to protect the assets, airmen and families at their locations."
Still, plane spotters stick out like sore thumbs to Americans who are inundated with "Eagle Eyes" messages from the Air Force imploring them to report suspicious behavior such as people hanging around outside the wire.
No matter how strange it might seem to others, it's just a hobby for most tail watchers.
"The vast majority of plane spotters are simply flight enthusiasts who enjoy seeing military aircraft not typically seen at commercial airfields," USAFE spokesman Capt. William Russell told Stars and Stripes in an email.
"Military officials have a great relationship with [host-nation] liaison officers and security personnel throughout" Europe, Russell said. "This relationship allows us to mitigate threats to DOD personnel and installations."
USAFE was eager to highlight a program it recently developed in England. It brings tail watchers into the op-sec fold at RAF Lakenheath, a U.S. fighter base outside Cambridge that is home to the 48th Fighter Wing and scores of F-15s.
The "Spotter Watch" program is a joint effort between the Air Force and the local civilian police, who do background checks on the plane spotters. A clean report, and the base issues them registration cards.
"This is an opportunity to build up our op-sec program and involve [the plane spotters] in it," Lakenheath spokesman Capt. James Nichols said.
The program encourages plane spotters — typically very tight-knit groups — to report dubious characters to the Suffolk Constabulary, which can investigate and inform the base if necessary, Nichols said.
Roughly 50 plane spotters have been vetted for Spotter Watch, which gives them VIP tours of the base and a chance to "pet the jets," Nichols said.
"It's better to co-opt [the plane spotters] into our program," Nichols said. "It's mutually beneficial; they get to see the things they love, and we get them to help us."
Jeremy Gunner, a former plane spotter who now works at Air Forces Monthly, a U.K.-based aviation magazine, says the symbiotic relationship is long overdue and should be copied across the Air Force, particularly in England and Japan, were the hobby is prolific.
"Most of us know each other," said Gunner, a retired Scotland Yard detective. "You notice someone who doesn't really fit in."
While sitting in a van outside RAF Alconbury — home to the U.S. 423rd Air Base Group — waiting to get a shot of a U-2 spy plane, Gunner and another tail watcher noticed a group of anti-base demonstrators cutting holes in the fence, ostensibly trying to break into the base to protest.
It was Easter Sunday about 20 years ago, Gunner said, and the demonstrators were in costume.
"We were sitting there having a cup of tea when all of sudden we see pink bunnies trying to cut through the fence," Gunner said. He and his cohort called the police "just like most other plane spotters would."
Maintaining the rights of plane spotters — who in many countries where the U.S. Air Force operates are legally permitted to congregate outside the bases and take photos — and the security concerns of the Air Force is a delicate balance, Gunner said.
"A lot of us have been accused of being terrorists," Gunner said. He was been arrested once — by Air Force Security Forces at Pope Air Force Base, S.C. — and has been "questioned lots of times," he said.
"But I know my rights," Gunner said. However, "you should just keep your nose clean and not be a nuisance." Climbing or cutting holes in the fence, for example, not only is poor form but also will attract the authorities, he said.
Still, Gunner said, the information plane spotters use and collect is all public. The UHF frequencies used by Air Force control towers and pilots are published by the U.S. Defense Department and broadcast openly.
"If they didn't want you to hear it, then you wouldn't," Gunner said.
In Japan, not all plane spotters are watching for fun.
Yoichi Endo for years has observed and photographed aircraft coming and going from Yokota Air Base, the suburban Tokyo installation that's home to U.S. Forces Japan and the only U.S. airlift hub in the Pacific.
Endo started in the 1970s while protesting the Vietnam War as a student in Fussa, one of the cities that surrounds the base. He and others participated in demonstrations outside Yokota and even flew kites near the flightline to interfere with the planes.
In 1996 Endo, who by then had been elected to Fussa's city assembly, founded an organization in conjunction with elected officials from other Japanese cities that host U.S. bases. They formed Rimpeace to inform the public about American military activities in their country, he said.
"We provide land and facilities to the U.S. forces and pay a sympathy budget [to the U.S.], which uses our taxes," said Endo, who was on the city council from 1979 to 2002. "We the taxpayers have the right to know" what's going on.
That has included watching controversial Osprey aircraft carrying out their first test flights recently at Marine Corps Air Station Iwakuni, said Rimpeace co-founder Jungen Tamura, who serves on the city assembly in Iwakuni.
While U.S. officials insist it's not slated to receive the Osprey despite Japanese media reports to the contrary, Naval Air Facility Atsugi near the country's capital is a popular destination for spotters.
Dozens gathered there on a sunny but cold November day for the return of the fighter jets from the USS George Washington, which have been deployed for months, last screeching over the skies near Atsugi in August, several spotters told Stars and Stripes.
The base "welcomes those with an interest in naval aviation," Atsugi spokesman Greg Kuntz said.
The Navy has no overarching policy on tail watchers, Naval Air Forces spokesman Cmdr. Kevin Stephens told Stars and Stripes in an email.
"We appreciate and share these individuals' love and enthusiasm for Naval aviation," Stephens said.
"So long as tail spotter activities are conducted in accordance with all applicable local laws and ordinances, and with the safety of themselves, the public and our air crews in mind, we are unconcerned with their activities."
Meanwhile, Endo and Tamura insist their group is not aimed at stoking the undercurrent of anti-U.S. military sentiment in Japan nor are they aimed at divulging U.S. military secrets. Rimpeace sources its posts on direct observations, U.S. military publications and media reports, all of which are public.
"Revealing secrets is something that other people can do," Endo said.
Stars and Stripes staffers Hana Kusumoto and Chiyomi Sumida contributed to this report.
---
---
---
---