Soviet symbols in skies over Guam designate Aggressors as the enemy during Cope North drills
by
Seth Robson
February 24, 2020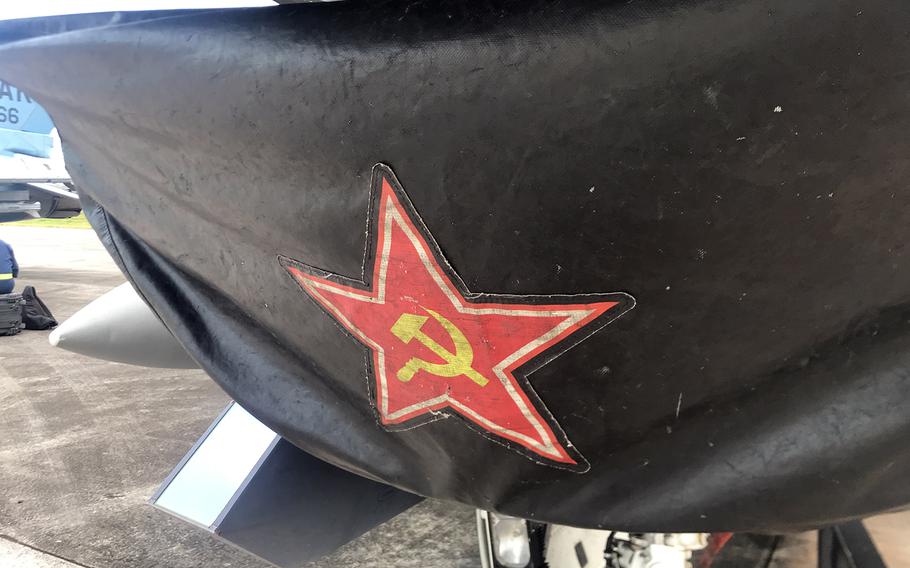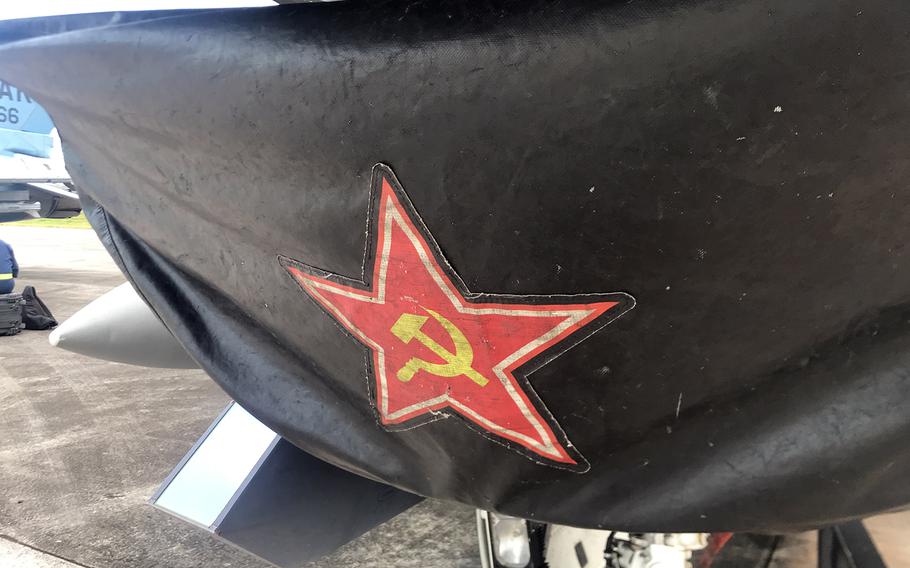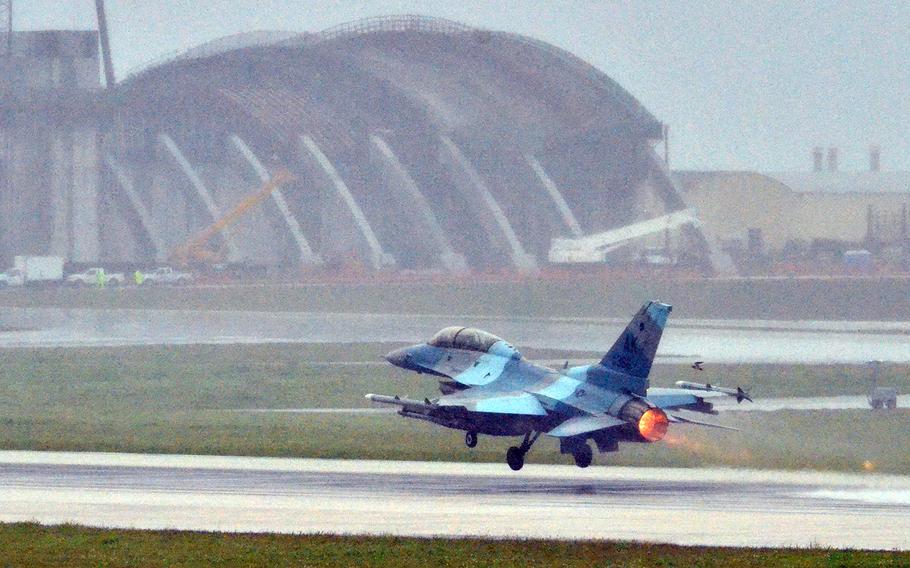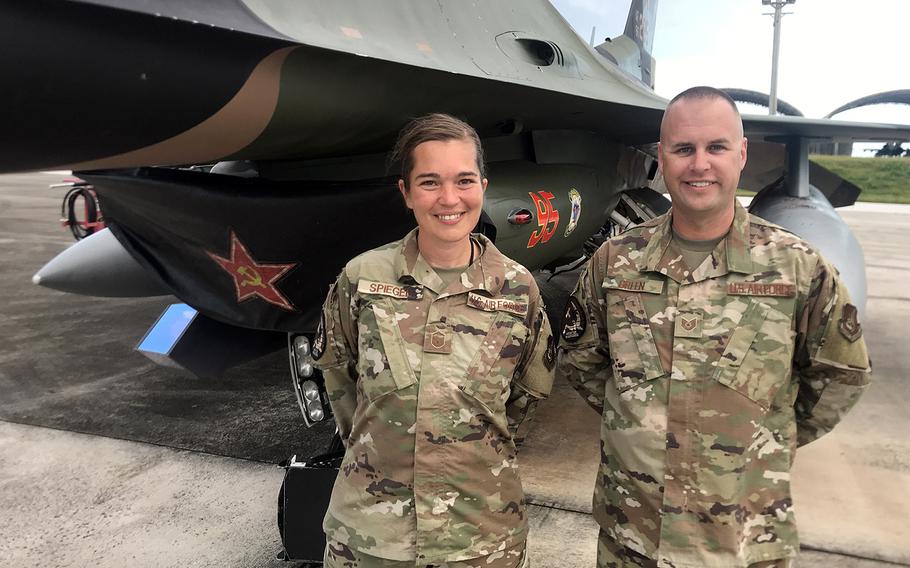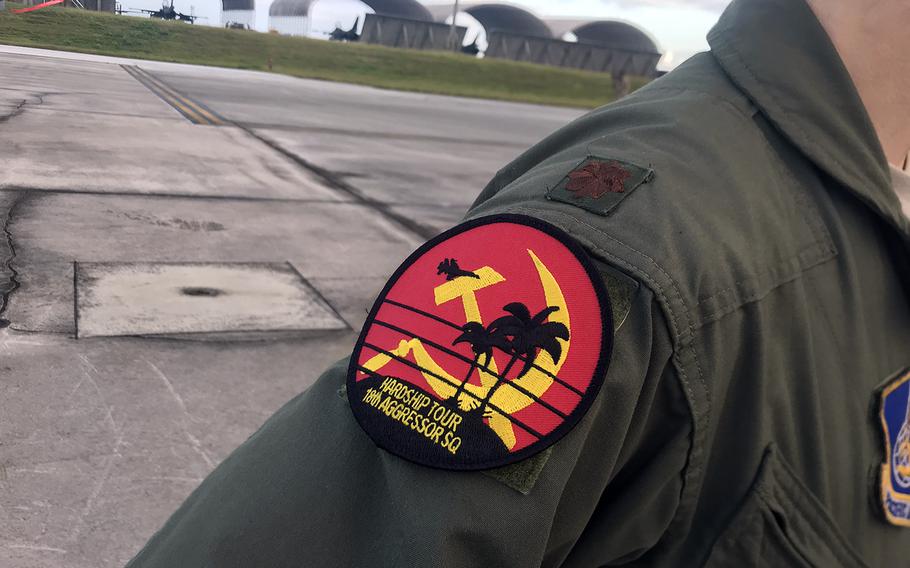 ANDERSEN AIR FORCE BASE, Guam — Card carrying communists may have once dreamed of the day when the hammer and sickle would be worn proudly by U.S. airmen.
That dream was reality at this month's Cope North exercise on Guam, with members of the 18th Aggressor Squadron rocking red and black Soviet-style patches in the skies over the Northern Marianas.
The squadron brought a dozen camouflaged F-16 Fighting Falcons from their home at Eielson Air Force Base, Alaska, to roleplay as the enemy during the drills.
This year's exercise involves more than 100 aircraft and 2,100 military personnel from the United States, Japan and Australia honing skills they'll need to engage a well-equipped enemy force.
Roleplaying as the enemy during aerial combat is the aggressors' mission, said one of their pilots, Maj. Melvin "Heist" Murphrey, 32, of Trenton, N.C.
The 18th is one of two aggressor squadrons in the Air Force charged with studying tactics used by potential adversaries and replicating them during exercises.
"Our role is to train partners and coalition forces and the U.S. Air Force," Murphrey said as he stood on a ramp at Andersen ahead of a Cope North drill involving 60 aircraft on Wednesday.
A patch on his shoulder incorporated the communist hammer-and-sickle logo along with an F-16 soaring over a coconut tree and the words "Hardship Tour."
The joke is that the aggressors were giving up sub-zero conditions in Alaska to train in the tropics, Murphrey said.
Guam's sunny weather might help pilots work on their suntans, but the humidity is a challenge for maintainers used to Alaska's drier conditions.
It's meant a little extra tinkering with some of the planes' electrical systems, according to another on the hardship tour, Master Sgt. Stephanie Spiegel, 39, of North Pole, Alaska, who oversees civilian contractors who maintain the aggressors' F-16s.
The Cope North exercise began Feb. 12 and concludes Friday. It's aim is to improve the skills of U.S., Australian and Japanese forces and to increase combat readiness in the region, officials said.
robson.seth@stripes.com Twitter: @SethRobson1