South Korean president vows to continue broadcasts across DMZ
By
Yoo-Kyong Chang Paul Alexander
January 13, 2016
---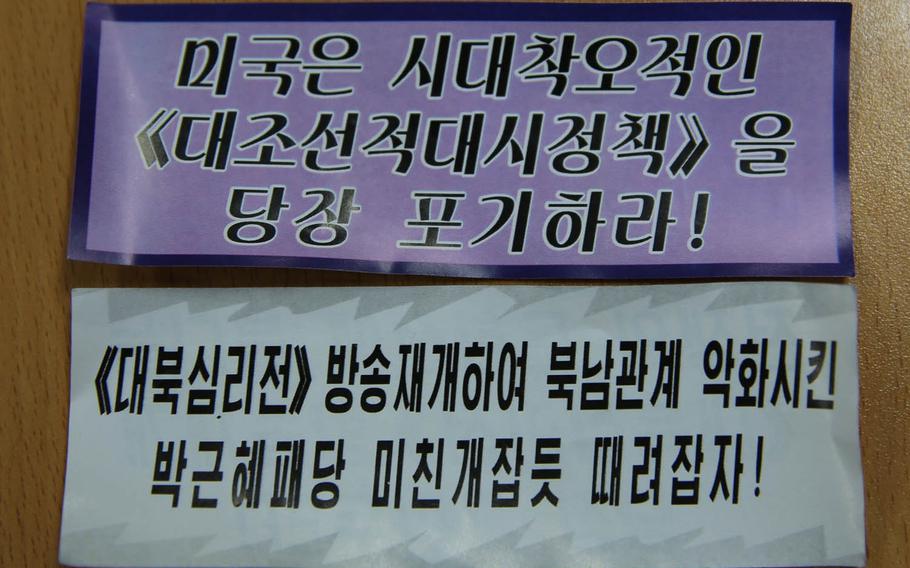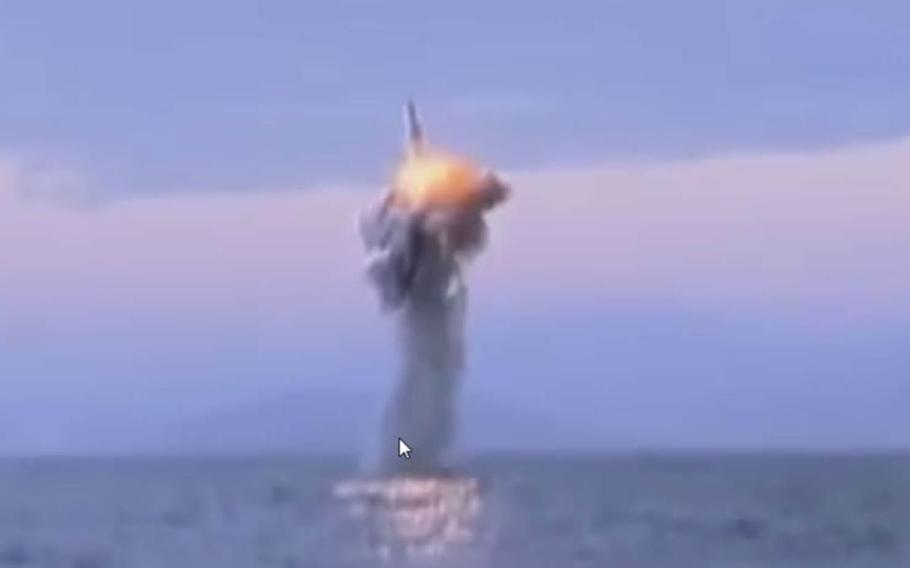 SEOUL, South Korea – President Park Geun-hye on Wednesday called North Korea's latest nuclear test "a serious threat to our people's survival and future" as experts questioned Pyongyang's claim to have successfully launched a ballistic missile from a submarine.
Park vowed Wednesday to continue loudspeaker broadcasts across the Demilitarized Zone that have angered the North, apparently rejecting Britain's call to halt the barrage of propaganda and pop music to avoid further escalating the latest crisis on the peninsula.
"This is the surest and most effective mean of psychological warfare against North Korea" now, Park said in a nationally televised address. "North Korea's nuclear test this time is the gravest provocation against our security,"
The North is blasting back its own propaganda, and South Korea's Newsis website reported the reclusive country also released 10 large balloons into South Korea on Wednesday that carried leaflets saying: "Let's knock down the gang of Park Geun-hye … as if we beat a mad dog!" and urging the U.S. to "Give up your anachronistic hostile policies against Chosun (North Korea) right now!"
Underscoring tensions at the DMZ, South Korean troops fired warning shots after an airborne object, believed to be a drone, was spotted approaching their territory from North Korea. The South's Joint Chiefs of Staff said the object turned around.
Park vowed all-out diplomatic efforts to support a strong U.N. Security Council resolution, including new sanctions, "which could get changes in North Korea's attitude. During this process, China's role is important."
The Security Council imposed sanctions for earlier developments in the North's nuclear and ballistic missile programs, but they have largely been ineffective, in part because of China's reluctance to crack down on its neighbor and ally. But there have been signs that Beijing is getting increasingly frustrated at the North's repeated provocations.
Park's speech came a week after the North carried out its fourth underground nuclear test, claiming it had successfully detonated a hydrogen bomb for the first time. If true, it would mark a major development in Pyongyang's nuclear program because such fusion weapons are potentially more powerful than the plutonium or enriched uranium fission weapons it has done before.
But experts are questioning the North's boast, saying early evidence suggests the blast, which caused a magnitude 5.1 earthquake, similar to its last test three years ago, wasn't caused by a hydrogen bomb. They also are saying video footage purportedly showing a ballistic missile being launched from a submarine last month does not appear to be authentic.
There has been widespread speculation that the North's current provocations are aimed at bolstering leader Kim Young Un's efforts to consolidate power four years after he took over following the death of his father and to rally public support for him in the impoverished country.
It wouldn't be the first time the North's claims have turned out to be fakes. Analysis of a missile shown in a military parade a few years ago indicated it likely was made of wood or cardboard, and the North's first claim of success in launching a missile from a submarine last May has been dismissed by U.S. military officials, who said it appeared to have been sent up from an underwater barge.
Experts also have cast doubts on Pyongyang's claim to have developed a nuclear weapon small enough to fit into a missile warhead, though the head of U.S. Forces Korea has said he has to prepare as though it has.
38 North, a website run by Johns Hopkins University's School of Advanced International Studies that monitors North Korean activities, said analysis of video of the launch and satellite imagery of the submarine and support vessels in port two days later "suggests that this test was probably conducted from a submerged barge" and appeared to have failed.
"The failed launch combined with testing from a barge shows that North Korea still has a long way to go to develop this system," said the analysis by John Schilling, an aerospace engineer who is a specialist in satellite and launch vehicle propulsion systems. "An initial operational capability of a North Korean ballistic-missile submarine is not expected before 2020.
"The North Koreans will presumably get it right eventually," Schilling wrote. "They know how to build missiles that work, they know how to build submarines that work, and Kim Jong Un seems particularly enthusiastic about both. We anticipate they will keep trying."
His analysis is echoed by the James Martin Center for Nonproliferation Studies (CNS), which cited two frames of video from North Korea's state media where flames engulf the missile and small parts of its body break away.
"The rocket ejected, began to light, and then failed catastrophically," Melissa Hanham, a senior research associate at the Middlebury Institute's CNS, told Reuters by email. "North Korea used heavy video editing to cover over this fact."
---
---
---
---