South Korean president calls for THAAD deployment to be suspended
by
Kim Gamel
June 7, 2017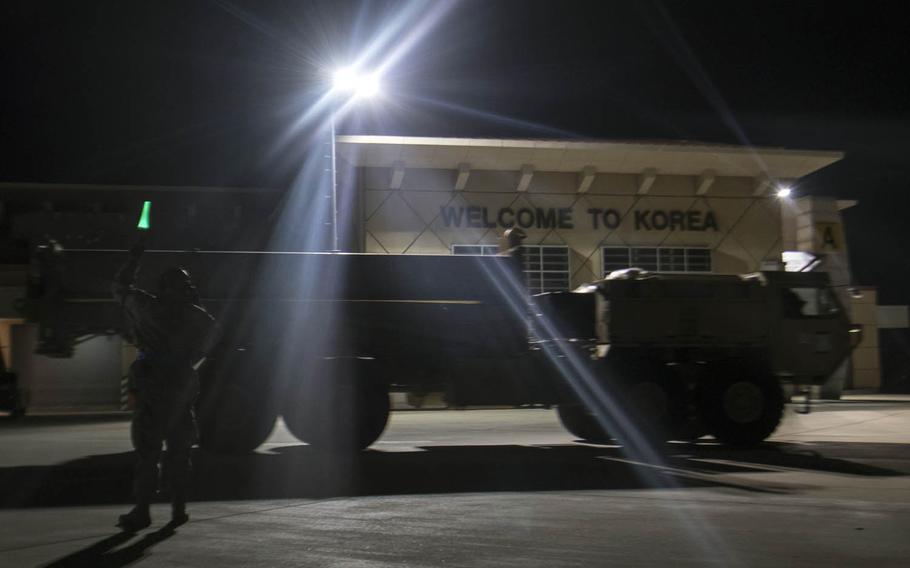 SEOUL, South Korea – The further deployment of a controversial U.S. anti-missile battery should be suspended pending an environmental impact assessment that could take more than a year, South Korean President Moon Jae-in's office said Wednesday.
Concerns about the Terminal High Altitude Area Defense system are a key issue threatening to put the new South Korean administration at odds with its longstanding U.S. ally.
The presidency stressed it wasn't calling for the withdrawal of two launchers and other equipment already positioned on a designated site in a remote southeastern area.
"But those that have yet to be deployed will have to wait," a senior administration official told reporters, according to the Yonhap news agency.
The launchers and radar for THAAD were deployed in the Seongju area in an overnight operation that critics said was aimed at getting it into place before May 9 snap elections that ushered Moon into office.
The government also has launched an investigation into whether the country's defense ministry kept secret the delivery of four additional launchers and sought to make the program appear smaller to legally avoid an all-out environmental impact evaluation.
The official with the Blue House, as the president's office is known, was quoted as saying the additional four will have to wait to be deployed in Seongju until the environmental impact evaluation is completed. The official acknowledged the assessment could take more than a year.
Most of the criticism has focused on South Korea's defense ministry, and Moon has sought to reassure U.S. Forces Korea of his commitment to the alliance between the countries. The United States has about 28,500 servicemembers stationed in South Korea.
USFK's public affairs office did not immediately respond to a request for comment about Wednesday's comments. But the Pentagon has insisted that the U.S. has been "completely transparent" in plans for THAAD's deployment.
Washington and Seoul agreed last year to bring THAAD to the divided peninsula to counter the growing nuclear and missile threat from North Korea.
U.S. military officials are eager to get THAAD into place and operational as Pyongyang has stepped up the pace of its missile-testing program.
But many Seongju residents and other South Koreans opposed the decision, which was made by ex-President Park Geun-hye's administration.
They fear negative economic and environmental effects, and many say the system is primarily meant to protect U.S. forces in southern areas since its reach would not cover the bulk of the population in Seoul.
Critics also suspect the North Koreans would be able to overwhelm the system with a massive barrage.
China fears THAAD's powerful radar could be used against its military, despite insistence by U.S. and South Korean military officials that it is solely aimed at the North.
Military officials counter that THAAD is meant to work as part of a layered defense system that includes Patriot missiles already in place to protect the capital.
Gen. Vincent Brooks, who commands USFK, defended the system in a speech at a security forum last month, saying its deployment provides an unprecedented area defense against missiles from the North.
"This is all about North Korean missiles and the threat that North Korean missiles pose to (South Korea), and it's for the defense of (South Korea) and nothing else," he was quoted as saying.
Moon was elected about two months after Park was ousted and jailed over an influence-peddling and corruption scandal.
As a candidate, he never specifically opposed THAAD but said its deployment should be reviewed by the new administration.
His liberal administration already has moved to adopt a more moderate approach toward North Korea, calling for dialogue and approving contacts with the North in addition to punishing economic sanctions.
gamel.kim@stripes.com Twitter: @kimgamel