South Korean foreign minister thanks US troops during visit to Army base
---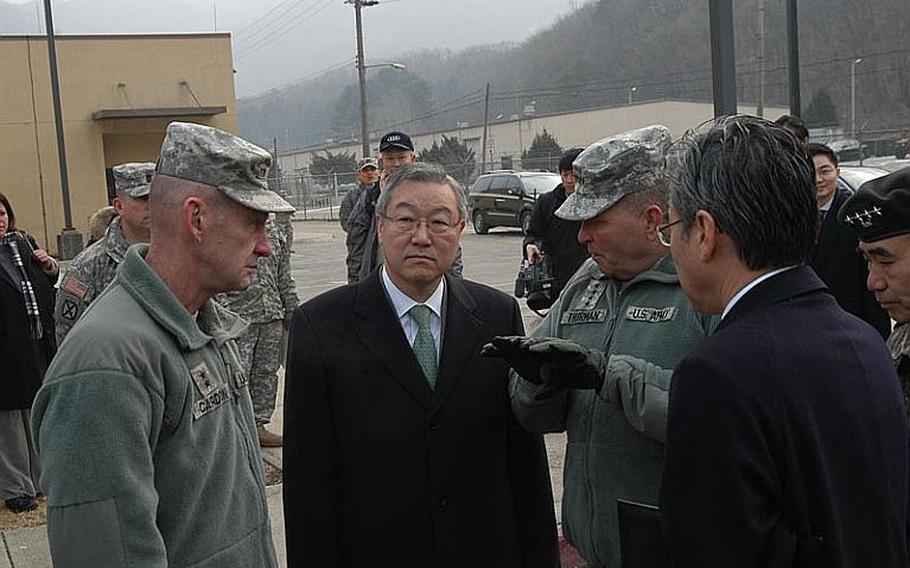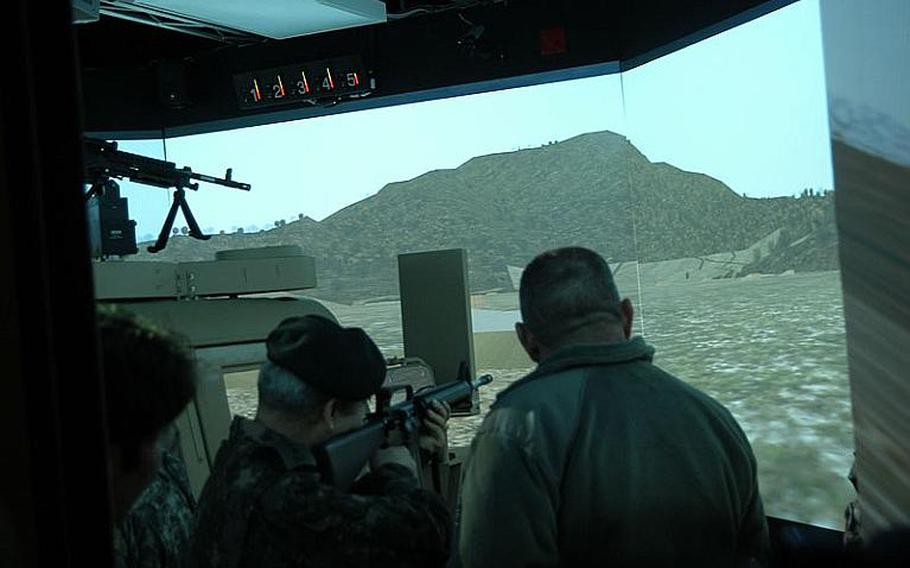 CAMP CASEY, South Korea — South Korea's foreign minister visited one of the U.S. military's northernmost bases here Friday to thank the 2nd Infantry Division for being "the spearhead of our combined defense posture" against North Korea.
During his brief remarks to an audience that included U.S. Ambassador to South Korea Sung Y. Kim, U.S. Forces Korea commander Gen. James Thurman and about 30 2ID leaders, Kim Sung-hwan also praised the Obama administration for last week making it "clear that the U.S. will be strengthening its presence in the Asia-Pacific region, including the Korean peninsula, despite fiscal constraints."
President Barack Obama and Defense Secretary Leon Panetta announced last week that despite pending cuts in the overall size of America's fighting force, the U.S. is committed to beefing up its strength in the Pacific.
"As allies, our two countries stand side by side at all levels," Kim Sung-hwan said. "We have successfully overcome various issues involving our combined defense, from responding to North Korea's provocations to base relocations.
"However, the most important foundation of our rock-solid combined defense is the hard work and dedication of front-line servicemembers like you. I'm counting on you to be ready to 'fight tonight,' " he said, invoking an oft-used slogan used by 2ID, a division with almost 10,000 troops based almost entirely in the region north of Seoul.
Kim Sung-hwan said his visit to Camp Casey had nothing to do with recent events in North Korea, where Kim Jong Un ascended to power last month following the death of his father, Kim Jong Il.
"This has nothing to do with that," he said.
In fact, the defense minister quipped, he was more than a year late in delivering on a 2011 New Year's resolution to visit the 2ID base.
"I came here … to convey the gratitude of the Korean people to American soldiers who are here to defend Korea, and … the peace and security of the peninsula," Kim said.
During his two-hour visit, he was shown how several U.S. military vehicles operate, and how troops are taught to handle battlefield situations in Camp Casey's Close Combat Tactical Trainer facility.
Maj. Gen. Edward C. Cardon, the 2ID commander, told the foreign minister, "What I want you to take away from here is that we are, first, ready.
"Second, we are completely linked in with the Republic of Korea army," he continued. "Third … we're going to continue to build on what we've done so far … and that's not just with the army, but within the communities that we live."
---
---
---
---