South Korean engineering firm fined $68.4 million in US military fraud case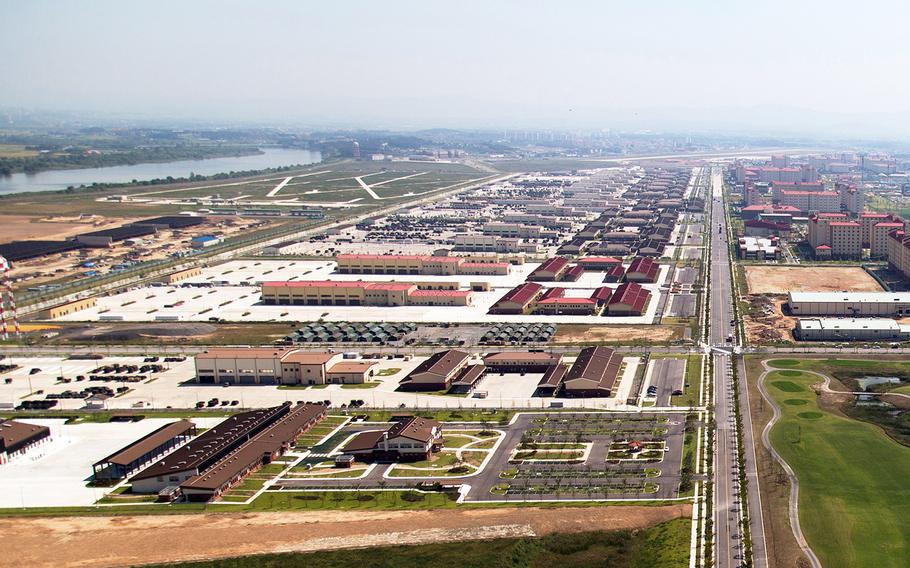 SEOUL, South Korea — SK Engineering & Construction Co. Ltd., one of South Korea's largest engineering companies, has been fined $68.4 million in a U.S. military bribery and fraud case involving a multimillion-dollar contract at Camp Humphreys, the Justice Department said.
The company pleaded guilty Wednesday in the Western District of Tennessee to one count of wire fraud and was sentenced to pay $60.6 million in criminal fines — the largest such fine ever imposed by the federal district court — and $2.6 million in restitution to the Army, according to a statement.
SK E&C also must pay $5.2 million in civil penalties to the United States as part of a separate False Claims Act settlement, which the Justice Department said it credited against the criminal fine.
In 2008, the company won a major contract for land and infrastructure development, including water and sewage systems, at Camp Humphreys, as the former remote outpost was being transformed into the U.S. military's flagship base on the divided peninsula.
Citing plea documents, the Justice Department said SK paid about $2.6 million to a fake construction company that subsequently funneled the money to a contracting official with the Army Corps of Engineers. It then submitted false documents to the Army to cover up the fraud, the government said.
SK E&C also admitted that employees had obstructed or tried to obstruct federal investigations into the scheme by withholding requested documents and information, burning documents and trying to persuade an individual not to cooperate with U.S. authorities, according to the statement.
As part of the plea agreement, SK E&C agreed to cooperate fully in all matters relating to the misconduct and to implement a compliance and ethics program to prevent future violations of U.S. federal law throughout its operations, the Justice Department said.
"Today's guilty plea and substantial criminal penalty sends a clear message: companies who voluntarily self-disclose misconduct, cooperate, and remediate will receive appropriate credit for their efforts," said Assistant Attorney General Brian Benczkowski of the Justice Department's Criminal Division.
"But companies like SK — which withheld and destroyed documents, attempted to persuade a witness not to cooperate, and failed to discipline any responsible employees — will pay a price," he added.
SK E&C, which could not immediately be reached for further comment, also agreed not to pursue U.S. federal government contracts during a three-year probation period. The Army already had suspended SK from future contracting in an order dated Nov. 17, 2017, the Justice Department said.