South Korea suffers seventh day of triple digit coronavirus increases; USFK reports three more cases
by
Kim Gamel
August 20, 2020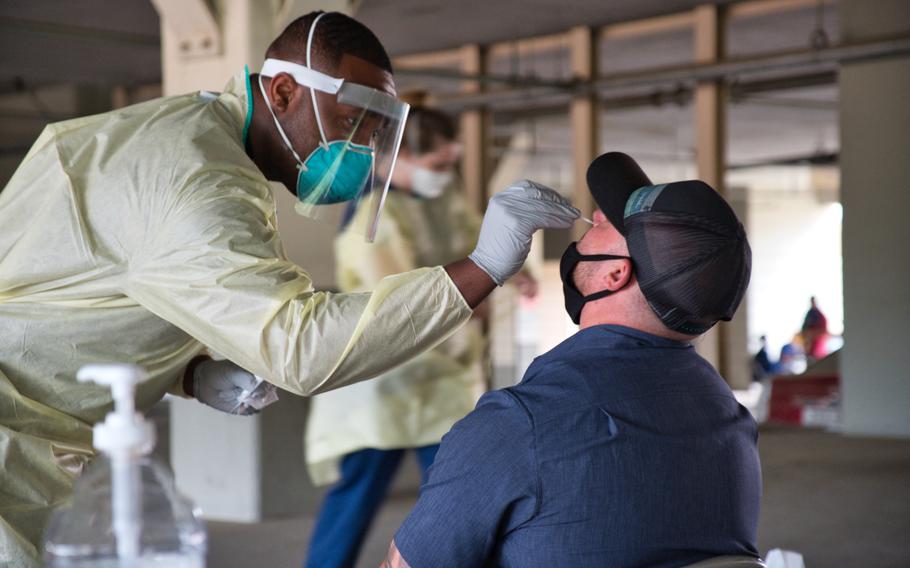 Stars and Stripes is making stories on the coronavirus pandemic available free of charge. See other free reports here. Sign up for our daily coronavirus newsletter here. Please support our journalism with a subscription.
SEOUL, South Korea — South Korea marked a seventh day of triple digit increases in coronavirus cases, with 288 reported Thursday, while U.S. Forces Korea said two American troops and a civilian defense contractor recently tested positive after traveling to the divided peninsula from the United States.
South Korean health authorities have struggled to contain the latest outbreak, which has largely been tied to church services in Seoul and surrounding areas, raising fears that they may not be able to stamp it out as they have done with previous clusters of infections.
The Korean Centers for Disease Control said the 288 new cases confirmed through midnight Wednesday, which included 135 in Seoul and 81 in nearby Gyeonggi province, raised the total to 16,346 since the first case was reported on Jan. 20. The death toll increased by one to 307.
Meanwhile, 14,063 people were released after fully recovering from the respiratory disease caused by the virus, and 1,976 remained in isolation, according to the agency.
In all, 1,576 cases have been confirmed since the latest outbreak began last Friday, including more than 40% linked to the conservative Sarang Jeil church in northern Seoul.
USFK also said two more American troops and a civilian contractor had tested positive after landing at Incheon International Airport on commercial flights on Aug. 8, 11 and 13.
That raised to 160 the total number of cases affiliated with the military since late February, although only 24 of those were local transmissions.
The command insists the cases from abroad don't pose a risk to the broader community because of a strict testing and two-week quarantine program that catches them as soon as they arrive.
One of the latest individuals received positive results on their first mandatory coronavirus test prior to entering quarantine, while another initially tested negative but later developed symptoms and tested positive. The third individual was positive on the second test required to exit the quarantine, USFK said.
All three have been transferred to isolation facilities on Camp Humphreys or Osan Air Base, and any transportation or quarantine facilities used by them have been cleaned, it said.
South Korean officials have sought to avoid blanket lockdowns but tightened coronavirus restrictions in the Seoul area, including limiting gatherings to a maximum of 50 people indoors and 100 people outdoors, no spectators at sports venues, closure of high-risk facilities like bars and karaoke rooms and calls for people to stay home as much as possible.
The KCDC also urged people who attended a large weekend anti-government rally in Seoul led by the church's pastor, a fierce opponent of President Moon Jae-in, to get tested regardless of symptoms. The pastor, Jun Kwang-hun, was hospitalized earlier this week after testing positive for the virus.
Kwon Jun-wook, deputy director of the agency, said next week would be a test for the government's efforts to slow the spread of the virus.
"The worst-case scenario is a large-scale outbreak in the metropolitan area and infections spreading in other parts of the country," Kwon told reporters. "If we fail to track down these patients our situation could become similar to those seen in other countries like the United States and Europe."
gamel.kim@stripes.com Twitter: @kimgamel