South Korea reports first virus death as Daegu struggles to contain outbreak
By
Yoo Kyong Chang Kim Gamel
February 20, 2020
---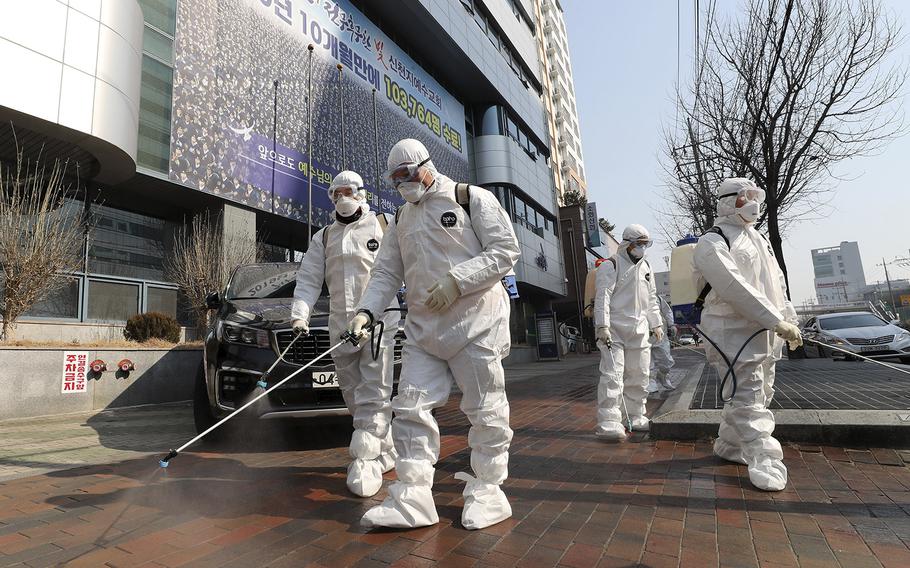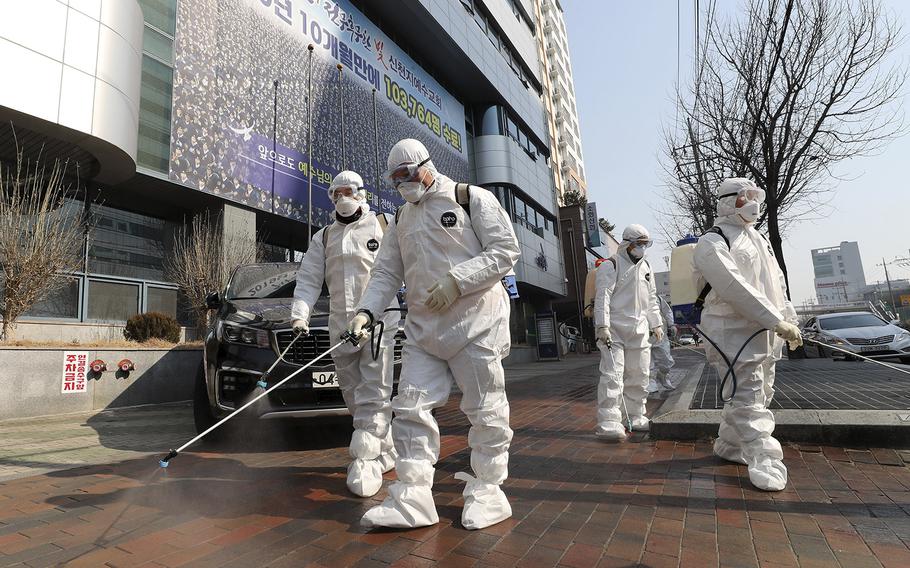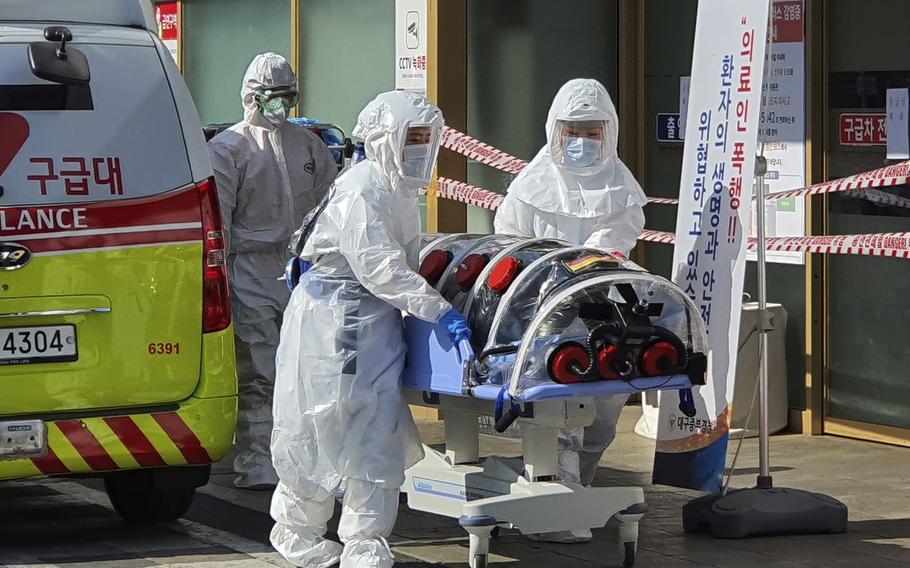 SEOUL, South Korea — South Korea reported its first coronavirus-linked death Thursday, while the U.S. military tightened restrictions on travel to the southeastern city of Daegu due to an outbreak in infections in the area.
Daegu also urged residents to stay home as the city of 2.5 million people and surrounding areas struggled to contain an outbreak of the pneumonia-like disease.
The Army garrison in Daegu also restricted access and announced that schools and nonessential business would be closed for a second day on Friday.
In an exception to policy, U.S. service members were authorized to wear face masks in uniform "regardless of air quality conditions," according to the garrison's Facebook page.
Fast-moving developments this week were a blow to South Korea's hope that the crisis was easing.
Instead, dozens of new cases were confirmed in recent days, with the total number of infections soaring to 104 on Thursday, according to the Korea Centers for Disease Control and Prevention
U.S. Forces Korea said, "there remains zero confirmed cases of USFK personnel with COVID-19."
The virus first appeared in December in Wuhan, China, and spread to nearly 30 countries. More than 2,000 people have died — most in mainland China.
A South Korean man in his 60s died Wednesday at a hospital in the southeastern city of Cheongdo and posthumously tested positive for the virus, the KCDC said Thursday. It was South Korea's first death from the virus.
USFK raised the risk level for the military community to moderate on Wednesday and banned all nonessential travel to Daegu due to an outbreak linked to a church near the Army garrison in the city.
On Thursday, USFK added that all travel by American troops to, from and around Daegu requires authorization from their leadership. The precaution was "highly encouraged" for all family members, civilians and contractors as well.
"All off-installation travel for all USFK populations should be minimized to reduce potential contamination," USFK announced on its website.
U.S. Army Garrison Daegu, about 200 miles southeast of Seoul, also said visitors not performing mission essential or official business would be denied access as it implemented health checks at the gates.
Nonessential personnel were not required to go to work on Friday and most activities would be suspended, including the schools, it said.
The garrison also recommended that members of the military community avoid public places and transportation in the city, including stores, restaurants and other heavily congested areas until the situation is brought under control.
Self-quarantine measures were ordered for any American troops who had visited the affected New World Church, but garrison commander Col. Edward Ballanco said earlier Thursday that no Americans were known to have done so.
He also urged Americans to avoid a local hospital where the woman believed to have been a carrier was treated.
The garrison also lifted limits on wearing face masks for American troops in uniform, who normally are only allowed to wear them on days with extreme pollution.
"The color of the masks can be black or white or a subdued color, such as gray," it said.
The USFK public affairs office said the exception only applied to service members in Daegu.
Meanwhile, the mayor of Daegu urged people to stay inside and pleaded for help from the central government amid fears that the city's health infrastructure would be overwhelmed.
"National quarantine efforts that are currently focused on blocking the inflow of the virus (from China) and stemming its spread are inadequate for preventing the illness from circulating in local communities," Mayor Kwon Young-jin was quoted as saying by The Associated Press.
USFK also has implemented self-quarantine measures for service members who recently traveled to mainland China "out of an abundance of caution."
The quarantine lasts for two weeks, which is believed to be the incubation period for the virus.
"So far, 65 persons within USFK populations have been self-quarantined with 61 medically cleared for duty," USFK spokesman Col. Lee Peters said Thursday in an email.
The military also urged people to exercise good hygiene, including thoroughly and frequently washing hands and avoiding contact with people who are sick, or staying home if ill themselves.
gamel.kim@stripes.com Twitter: @kimgamel
---
---
---
---