South Korea on alert following threats from the North two years after first Trump-Kim summit
by
Yoo Kyong Chang Kim Gamel
June 14, 2020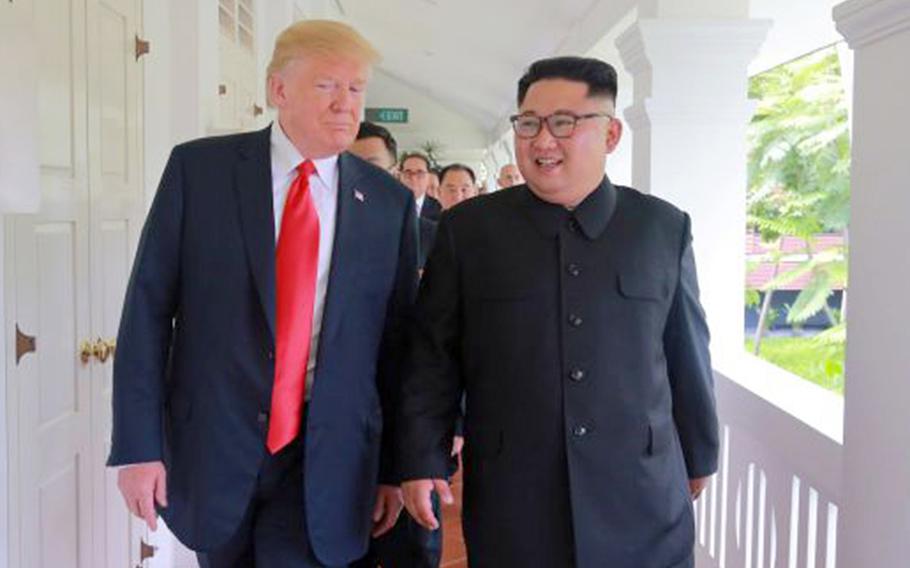 SEOUL, South Korea — South Korea held an emergency security meeting Sunday and said its military was on alert after a series of threats from the North as rising tensions replaced hopes for peace and denuclearization.
The moves came amid growing concern the divided peninsula faced a new crisis more than two years after President Donald Trump and North Korean leader Kim Jong Un held an unprecedented summit in Singapore.
Kim's influential sister warned Saturday that the North would destroy an inter-Korean liaison office and unleash the army against the South due to anger over Seoul's failure to stop activists from floating anti-regime leaflets across the border.
South Korea's national security director, Chung Eui-yong, convened a video conference with other top security officials Sunday morning to discuss the situation, which the government called "grave."
The defense ministry in Seoul said it was closely monitoring North Korean military moves and maintaining a defensive posture "in preparation for all eventualities." It also called on the North to stick to an inter-Korean military agreement aimed at restoring peace "and the prevention of accidental clashes."
On Saturday, Kim Yo Jong, the North Korean leader's sister who has recently been elevated in status as an official, said "it is high time to surely break with the South Korean authorities" and promised to "soon take a next action," according to the state-run Korean Central News Agency.
"Before long, a tragic scene of the useless north-south joint liaison office completely collapsed would be seen," she said, calling the South an "enemy."
"If I drop a hint of our next plan the South Korean authorities are anxious about, the right to taking the next action against the enemy will be entrusted to the General Staff of our army," she added.
"Our army, too, will determine something for cooling down our people's resentment and surely carry out it, I believe," she said. "Rubbish must be thrown into dustbin."
Kim didn't specify a military action, and the North has not carried out previous threats, including a December promise to unveil a new "strategic weapon" that many predicted would be an intercontinental ballistic weapon.
But experts speculated North Korea may conduct an artillery test or another action in the sea off the western coast, which would likely upset the South but stop short of provoking the United States.
Trump has been dismissive about a series of short-range missile tests in recent months but suggested the launch of an intercontinental ballistic missile or another nuclear test would be a red line.
The North Korean saber-rattling underscored the collapse of U.S.-led efforts to persuade the Kim regime to abandon its nuclear weapons, which reached a high point during the June 12, 2018, summit in Singapore.
The leaders made a vague promise to work toward the "denuclearization of the Korean Peninsula" during the highly symbolic summit, the first-ever between a U.S. and North Korean leader.
But expectations of a breakthrough were dashed when Trump and Kim failed to reach a new deal in a second summit in February 2019 due to disagreements over the extent of sanctions removal in exchange for the dismantling of an aging nuclear facility.
North Korea, meanwhile, has continued to make progress in its nuclear weapons program.
Trump has claimed the summits with Kim as a foreign policy success, saying they had prevented another war on the peninsula by ending months of long-range missile and nuclear tests by the North.
North Korean Foreign Minister Ri Son Gwon essentially declared diplomacy dead in a statement marking the anniversary of the summit on Friday.
Hopes for improved North Korean-U.S. relations have "now been shifted into despair" and "even a slim ray of optimism for peace and prosperity on the Korean Peninsula has faded away into a dark nightmare," Ri was quoted as saying by KCNA.
He also warned that the professed good relationship between Kim and Trump was at risk if Washington maintains economic pressure against the North.
"The question is whether there will be a need to keep holding hands shaken in Singapore, as we see that there is nothing of factual improvement to be made simply by maintaining personal relations" between the two leaders, Ri said.
gamel.kim@stripes.com Twitter: @kimgamelchang.kyong@stripes.com