South Korea-based soldier is first US service member to test positive for coronavirus
by
Yoo Kyong Chang Kim Gamel
February 26, 2020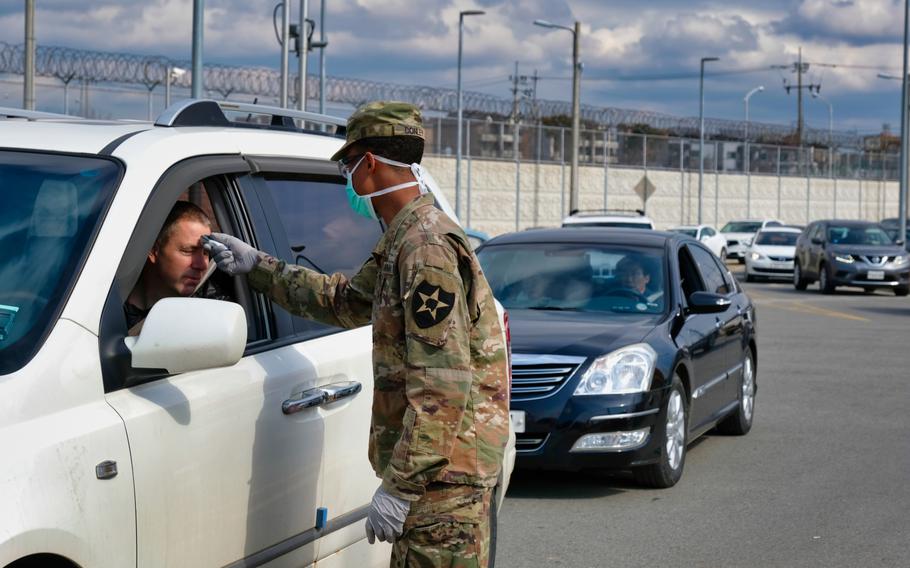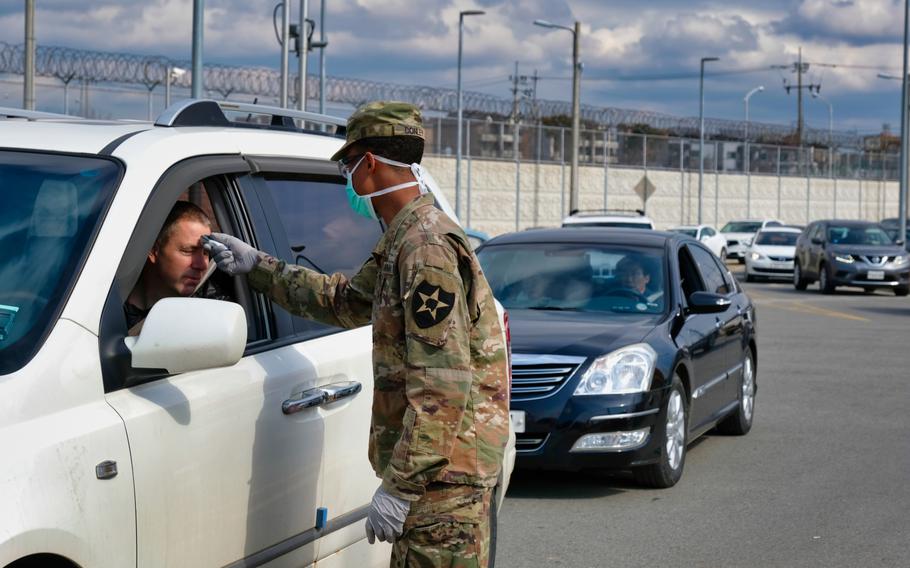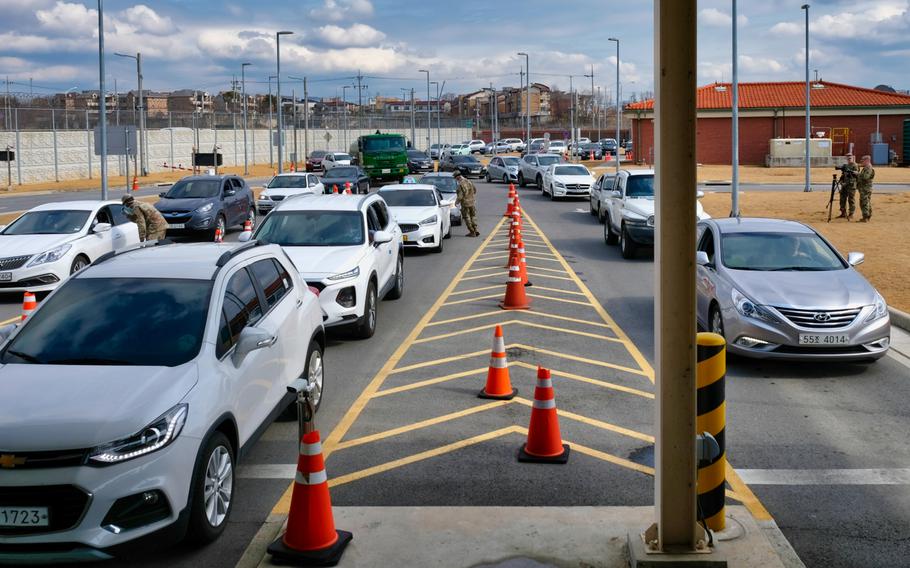 SEOUL, South Korea — An American soldier tested positive for the new coronavirus, the military said Wednesday as it tightened restrictions aimed at keeping the pneumonia-like illness off base.
The 23-year-old soldier, stationed at Camp Carroll, is the first U.S. service member infected with COVID-19, which has spread globally with alarming alacrity since it first appeared in China in December.
The widow of a military retiree who had base access also was reported to be infected earlier this week in the nearby city of Daegu, which is at the epicenter of the recent outbreak.
The two cases underscored the growing threat that has forced the military to increasingly focus attention and resources on fighting the virus.
"We are in this for the long haul, and it's going to take everyone's patience and cooperation," Col. Michael Tremblay, the garrison commander at Camp Humphreys, said amid frustration over long delays at access gates.
Several service members and others were quarantined at Humphreys and the garrison in Daegu as a protective measure.
South Korea has the largest number of confirmed cases outside China, with the number soaring past 1,200 and 12 deaths reported as of Wednesday, according to the Korea Centers for Disease Control and Prevention.
Twenty South Korean service members also have been infected, the defense ministry said.
Most of the infections have been in the southeastern part of the country as the outbreak is believed to have begun with an infected woman who attended services at a church run by a secretive religious movement.
The KCDC said 24 novel coronavirus patients had fully recovered and been released.
The American soldier who was infected was transferred in an ambulance to an isolation unit on Camp Humphreys, the main U.S. base on the divided peninsula.
"We are doing a very thorough trace history on this service member," said Col. Edward Ballanco, the Army garrison commander for the affected area. "We're going to know everywhere this service member and his family has been over the last week."
Meanwhile, long lines formed at access gates at other bases across the nation after USFK raised the threat level to high, began health screening measures and reduced the number of entry points.
Morning commuters waited as long as five hours Wednesday at the Camp Humphreys gates, where soldiers wearing gloves and filtering face masks asked drivers about possible exposure to the virus and took temperatures.
Some gates that had been closed will be reopened on a limited basis on Thursday to facilitate traffic, Tremblay said in an update on Facebook.
Yongsan Garrison in Seoul also limited access to installations in the capital and near the border with North Korea to "mission-required visitors."
The infected soldier is stationed at Camp Carroll, which is in the southeastern part of the country. The infected soldier also visited Camp Walker in Daegu.
Ballanco urged the 9,000-strong military community in Daegu and surrounding areas to remain calm.
"There's no reason to panic. We have the means to fight back against this virus and we're going to use those means," he said.
The garrison already had restricted access and implemented health screening measures at the gates.
On Wednesday, base restaurants began serving food as take-out only, bowling alleys and theaters were closed and the nine-hole golf course was shuttered to discourage unnecessary visitors, Ballanco said.
Service members also have been ordered to avoid restaurants and other nonessential travel off their installations peninsula-wide, while family members and civilian employees were highly encouraged to do the same.
Some 28,500 American troops are stationed in South Korea, which remains technically at war with the North after their 1950-53 conflict ended in an armistice instead of a peace treaty.
North Korea has not reported any confirmed cases, but the secretive nature of the regime makes that difficult to confirm.
"USFK is implementing all appropriate control measures to help control the spread of COVID-19 and remains at risk level 'high' for USFK peninsula-wide as a prudent measure to protect the force," the command said in a press release.
USFK commander Gen. Robert Abrams and South Korean Gen. Park Han-ki, chairman of the joint chiefs of staff, may scale back command post exercises scheduled next week, due to concerns over COVID-19, Defense Secretary Mark Esper told reporters earlier this week in Washington.
Officials stressed the best way to prevent the virus is to practice good hygiene, wash hands with soap and water thoroughly and frequently or use hand sanitizer and avoid shaking hands, large gatherings and other unnecessary contact.
gamel.kim@stripes.com Twitter: @kimgamel