Sometime adversaries Japan and China unite for rare naval drills south of Tokyo
By
Hana Kusumoto Caitlin Doornbos
October 23, 2019
---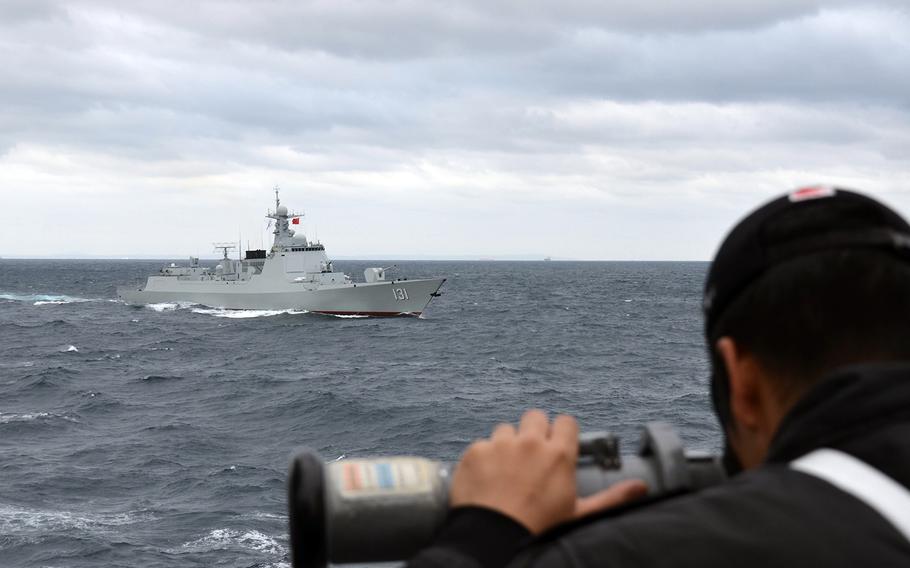 YOKOSUKA NAVAL BASE, Japan — For the first time in eight years, the Japan Maritime Self-Defense Force and the Chinese navy trained together at sea last week.
A JMSDF statement called the daylong action a "friendship exercise" in the waters south of Japan's Kanto region, where Tokyo and Yokosuka Naval Base are located.
JMSDF destroyer JS Samidare and Chinese destroyer Taiyuan on Oct. 16 practiced communications such as radio usage, the statement said.
With the exercise, the JMSDF aimed to improve tactical skills, strengthen cooperation and promote mutual understanding with the Chinese military, it said.
The Taiyuan arrived Oct. 11 in the Japanese port city of Yokosuka to participate in Japan's international fleet review the following week.
However, the event was canceled after Typhoon Hagibis ripped through the area Oct. 12, causing damage and major flooding in central Japan.
The two-nation exercise is a departure from recent posturing, including passage in June by the Chinese aircraft carrier Lioaning through the Miyako Strait in Okinawa prefecture and increased Chinese military overflights last year of contested islands.
China and Japan have for decades disputed ownership of the chain of oil-rich uninhabited islands – known in Japan as the Senkakus and in China as the Diaoyus – southwest of Japan and east of Taiwan.
The islands were "generally accepted as being Japanese-owned" until December 1970 when Beijing declared they were "part of 'China's sacred territory,'" according to a declassified CIA intelligence report.
Japan has also protested China's militarization of other islands and reefs in the South and East China seas, which China claims as its territorial waters.
In a report last month, Japan's Ministry of Defense accused China of trying to "change the status quo" in the two seas "by coercion to create a fait accompli."
Last week marked the third time the two countries conducted an exercise together, a JMSDF spokesman said. The last joint exercise was in 2011 off the coast of Qingdao, China.
JMSDF also conducted other exercises with various countries visiting Japan for the international fleet review over the past week, according to the JMSDF statement.
Stephen Nagy, a politics and international studies professor at Tokyo's International Christian University, said the "goodwill gesture" likely won't lead to sweeping changes in the way the countries interact.
"You have to look at cooperation in terms of what it actually is," he said. "This was not a joint military operation."
Nagy, a visiting fellow with the Japan Institute for International Affairs, said the exercise should help the countries communicate during crises but did not represent a military partnership.
"This was an olive branch with really one olive," he said. "Japan doesn't want to show its capabilities."
doornbos.caitlin@stripes.com Twitter: @CaitlinDoornbos
kusumoto.hana@stripes.com Twitter: @HanaKusumoto
---
---
---
---