gallery
Soldiers in South Korea break attendance record for 9/11 memorial ruck march
by
Matthew Keeler
September 11, 2019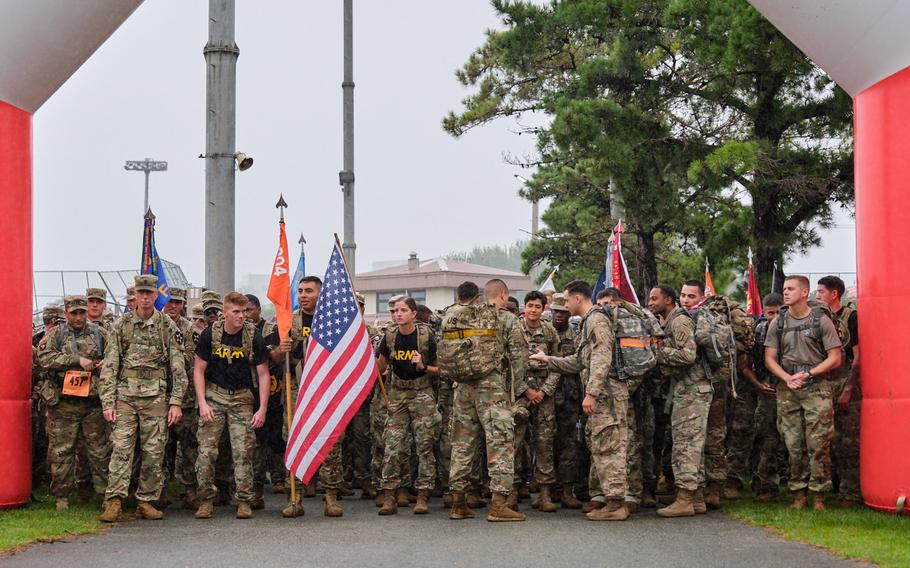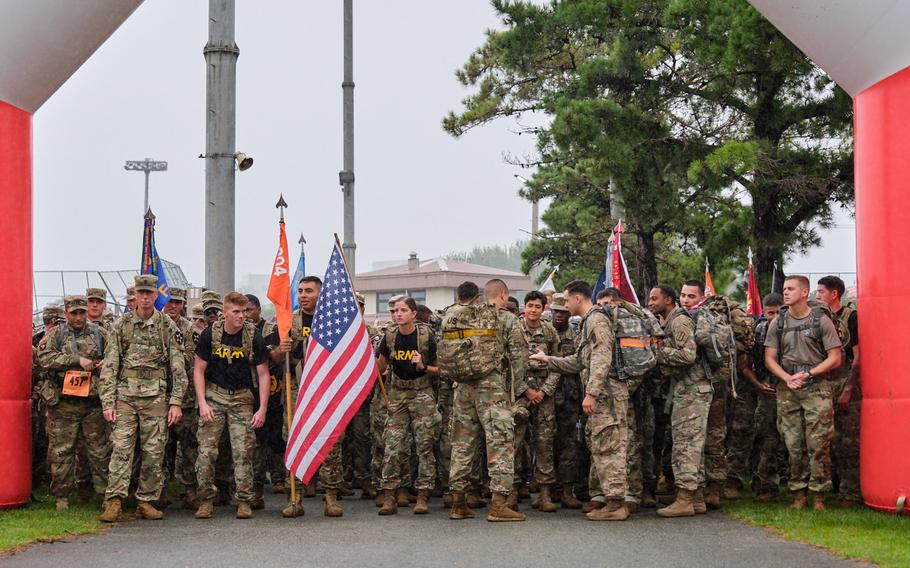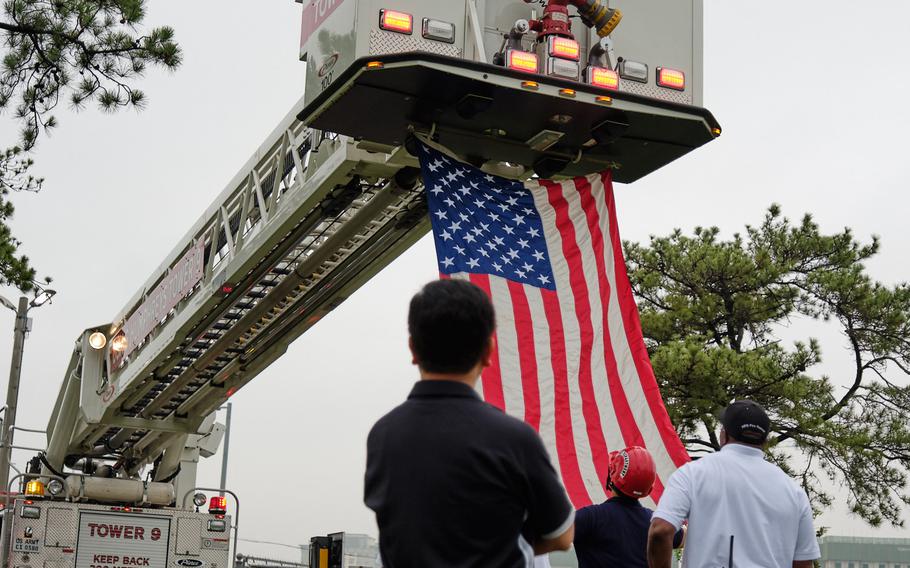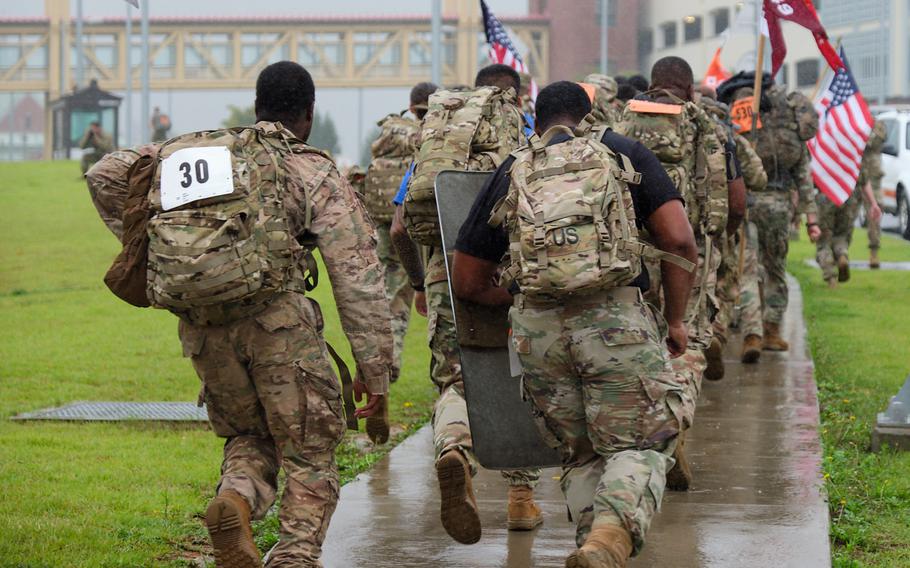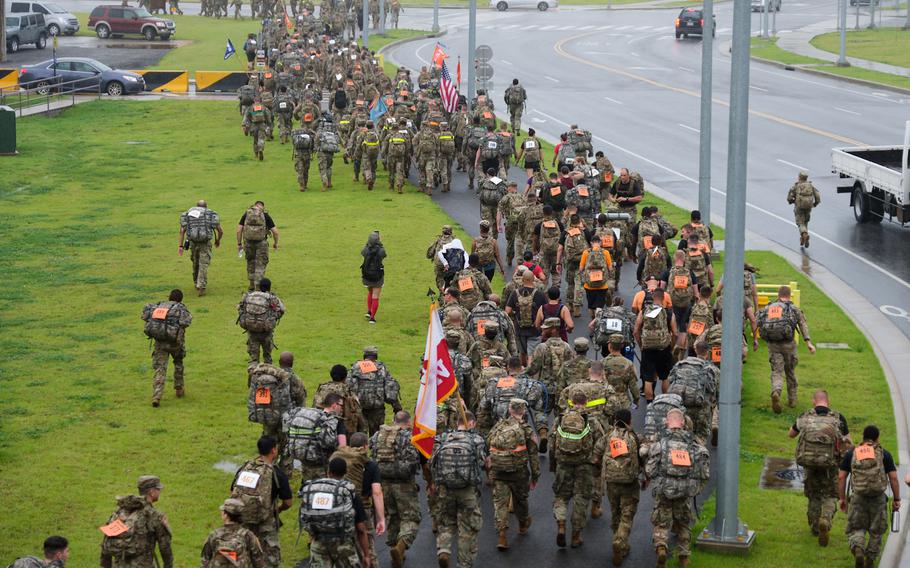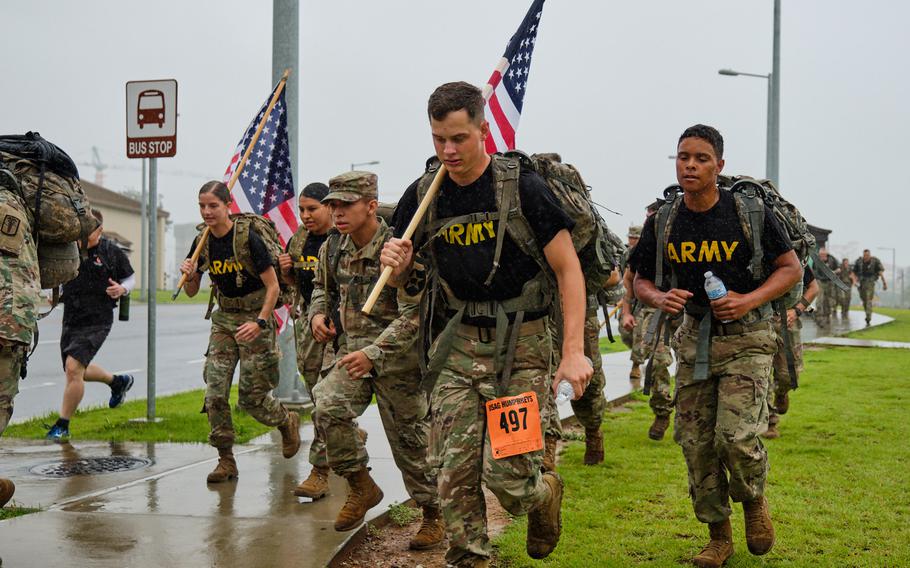 CAMP HUMPHREYS, South Korea — Servicemembers and civilians participated in the ninth annual 9/11 Memorial Ruck March at Camp Humphreys on Wednesday, marking 18 years since the worst attack on the U.S. since Pearl Harbor and the prelude to the nation's longest war.
An estimated 500 people signed up for the 9.11-mile memorial ruck, beating a record set in 2017 when 264 participants signed up and completed a slightly different route.
Many of the participants were mere toddlers on the morning of 9/11, more concerned with putting one foot in front of the other without falling over than shouldering a pack and moving out.
Pfc. Alison Malmborg, a supply specialist for the Eighth Army Wightman NCO Academy, was 2 years old when those tragic events unfolded.
"There are a few sergeants and people we work with that were in the military during 9/11, so it means a lot to spend this time with them and show that we are dedicated," she said. "Even though I was only 2, I am here today serving alongside them."
On the morning of Sept. 11, 2001, hijackers linked to al-Qaida took control of four U.S. jetliners. They crashed two into the World Trade Center in New York City and one into the Pentagon. Passengers aboard the fourth airliner rushed the hijackers, who crashed the plane into a field in Pennsylvania rather than continue onto their intended target in Washington, D.C. Thousands of innocent men, women and children lost their lives.
On Oct. 7, 2001, U.S. and British war planes bombed targets in Afghanistan, where the ruling Taliban had afforded al-Qaida safe haven. The bombings marked the beginning of Operation Enduring Freedom and counterterrorism operations still underway today.
"We are here to honor those 2,977 lives claimed by the brutal attacks of Sept. 11, 2001," said Col. Michael Tremblay, Camp Humphreys' garrison commander and the keynote speaker, during opening remarks. "Patriots from all backgrounds and all walks of life responded with speed, courage and compassion. In the aftermath of the attack, our servicemembers and nation rallied together as one."
Starting and finishing at the Collier Community Fitness Center, ruckers tackled the course carrying a minimum of 35 pounds on their backs around the airfield and into areas of the ongoing $10.7 billion base expansion and relocation project.
"This was probably a relatively small event here on Camp Humphreys when it first started nine years ago," said Capt. Anthony Friday, commander of Headquarters and Headquarters Company, 304th Expeditionary Signal Battalion. "As Camp Humphreys has continued to grow and become the largest overseas post in the world, the event has just continued to grow exponentially with it."
"A lot of people, especially our senior NCOs and officers, may have known someone that lost their life on 9/11," Friday said. "It's just one of those significant events that happen in people's lives when you still remember exactly where you were."
Eighteen years after the 9/11 attacks, teenagers are now joining military service knowing they may be called upon someday to sacrifice everything for a cause that took place before their own lives began.
"I have a lot of troops that are brand new, initial term soldiers, so many of them at this time weren't around for 9/11," said 1st Sgt. Shaun Molver, of F Company, 3rd General Support Aviation Battalion, 2nd Combat Aviation Brigade.
"When I was growing up in the Army, we said the Army only did two things, train to fight and fight to win," Molver told Stars and Stripes. "Having my troops come out here today, hopefully they remember where we came from, what happened and why it is important to train."
Awards for the event were donated by the local Veterans of Foreign Wars and the Buffalo Soldiers Motorcycle Club of Korea. Medals were awarded to the top three individual male and female participants, while streamers were awarded to the first three units to complete the course with 10 members.
keeler.matthew@stripes.com Twitter: @MattKeeler1231