Soldier testifies he was drunk when he accidentally started fire at South Korean establishment
by
Ashley Rowland
March 22, 2012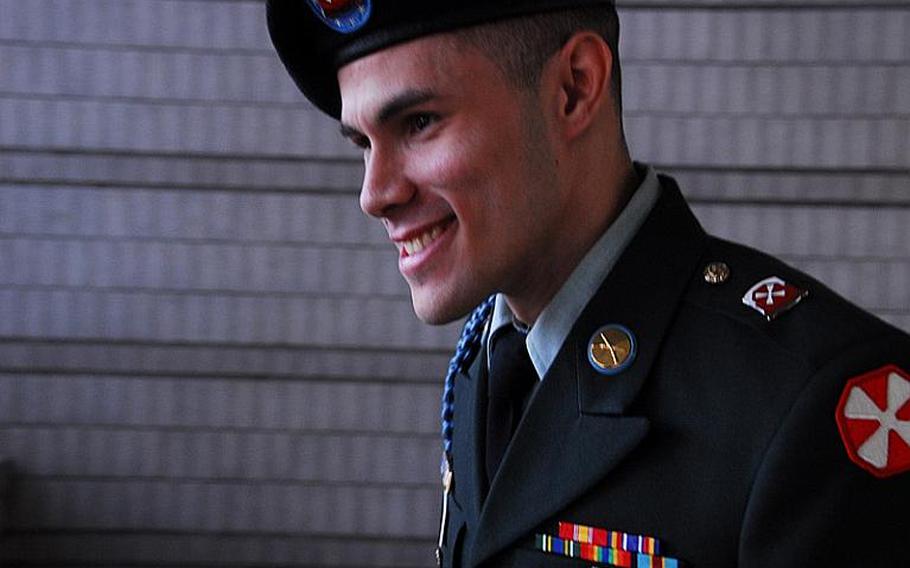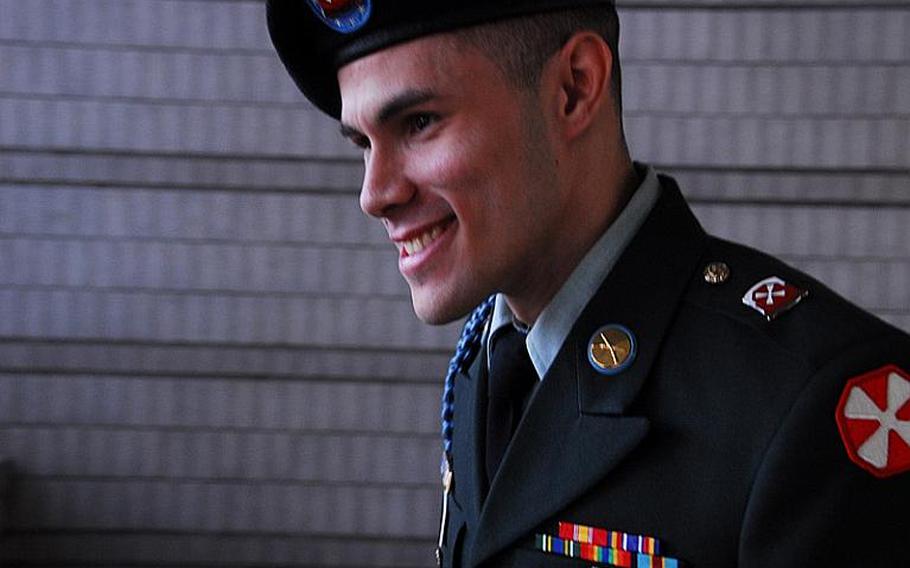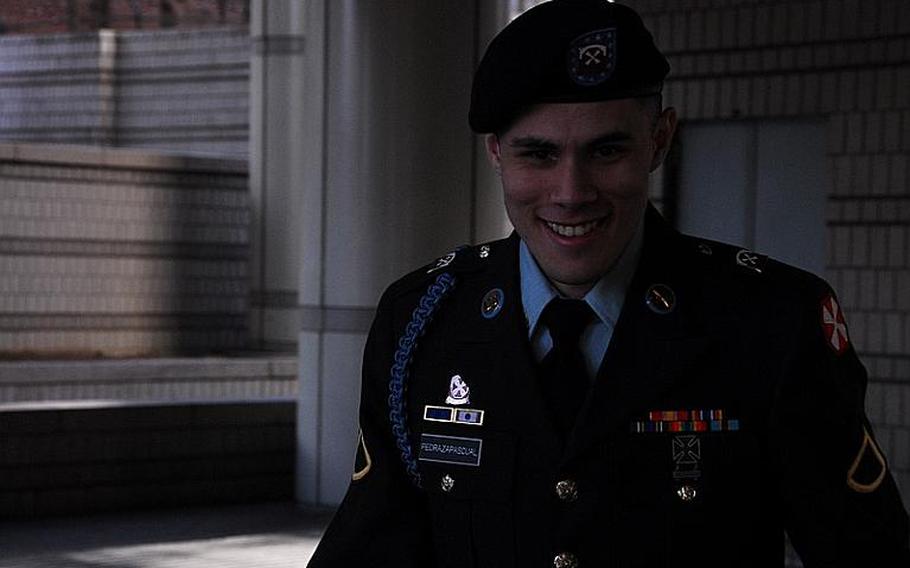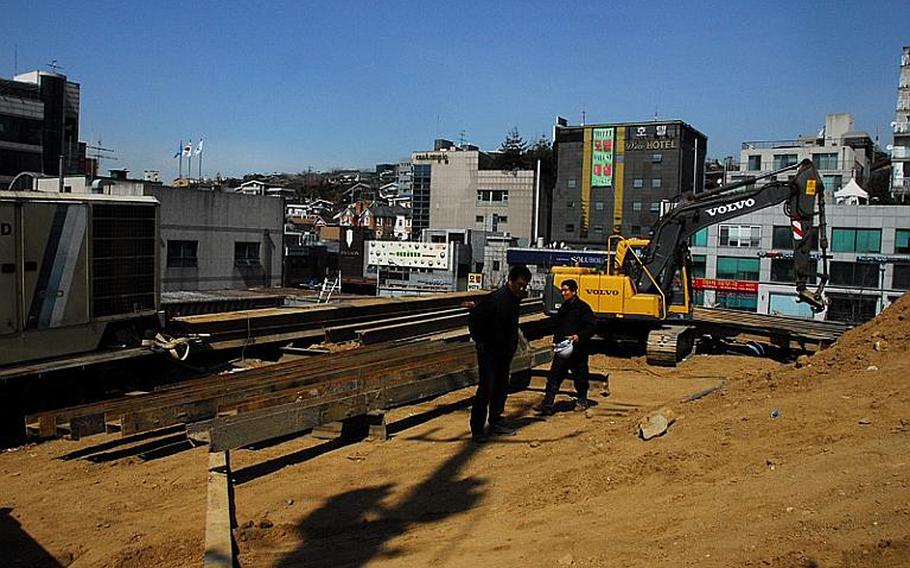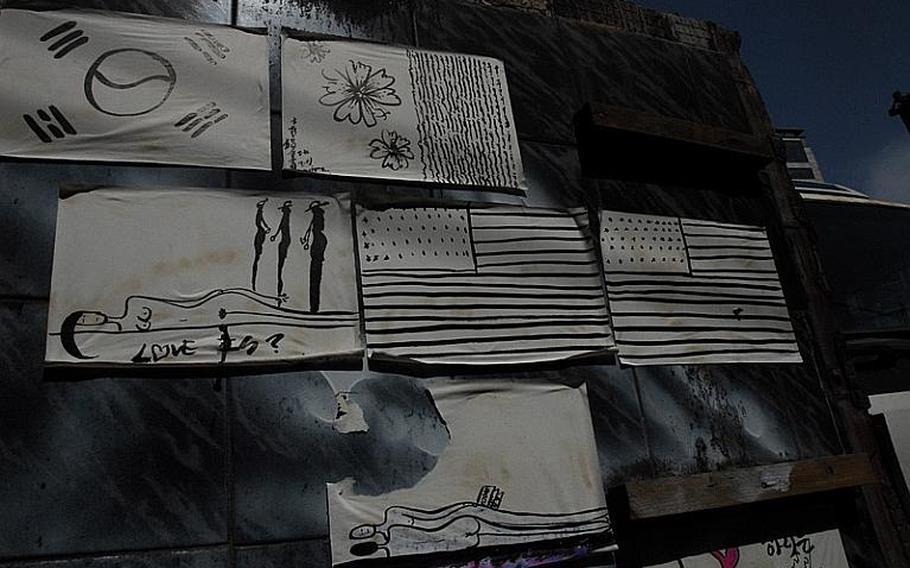 SEOUL — A U.S. soldier accused of burning down an Itaewon brothel testified in Korean court Wednesday that he had been binge drinking in his room in the hours before the fire so he could get drunk, go to off-base bars and return to his post in time to meet a 3 a.m. curfew imposed by military leaders.
Pfc. Marcos Pedraza-Pascual, 21, is accused of setting fire in November to the Tiger Tavern, a business that has been off limits to U.S. troops since 2003 because of its suspected involvement in prostitution and human trafficking. The fire caused almost $71,000 in damage to the Tiger Tavern and at least two other buildings on a street known as "Hooker Hill," police have said.
Pedraza-Pascual told the Seoul Central District Court during the hearing that he unintentionally started the fire after placing a lit candle on a bed.
His attorney told the court that Pedraza-Pascual was drunk and accidentally bumped into the bed, knocking the candle over, as he walked into the adjoining bathroom. Kim said his client had been ordered to leave the Tiger Tavern a few minutes earlier because it was closing.
Pedraza-Pascual told the court he left the building after the fire started to look for a fire extinguisher but couldn't find one because nearby businesses were closed. He soon heard sirens and tried to return to the tavern, he said, but found an ambulance blocking the street and left the area.
Pedraza-Pascual, of the 8th Army's Headquarters and Headquarters Battalion, said he drank six beers in his room at K-16 Air Base, located on the outskirts of Seoul, before making the 20-minute trip to Itaewon. There, he had one beer at a bar and three beers at the Tiger Tavern.
The fire — which started in the late hours of Nov. 14 or early the next morning — came about a month after U.S. Forces Korea commander Gen. James Thurman placed the military under an off-post curfew following several highly publicized crimes involving servicemembers.
The curfew has been applauded by many in South Korea, where anger and concern about USFK crime skyrocketed following the brutal September rape by Pvt. Kevin Lee Flippin of a South Korean teenager in her boarding house.
Park Sang Yung, chief of the Pyeongtaek police station and former chief of the Dongducheon station, said the quick enactment of a curfew helped quell anti-American sentiment following the Flippin rape.
"USFK is strictly controlling its members, so now people don't worry too much about USFK crime, especially sexual offenses or crimes against adolescents," he said, adding that he has seen servicemember crime drop since the curfew was put in place.
Witnesses to the fire are scheduled to testify at the next hearing on April 24.
Stars and Stripes' Yoo Kyong Chang contributed to this report.
---
---
---