Soldier asks for reduction of 10-year sentence for rape of Korean girl
By
Yoo Kyong Chang Jon Rabiroff
January 5, 2012
---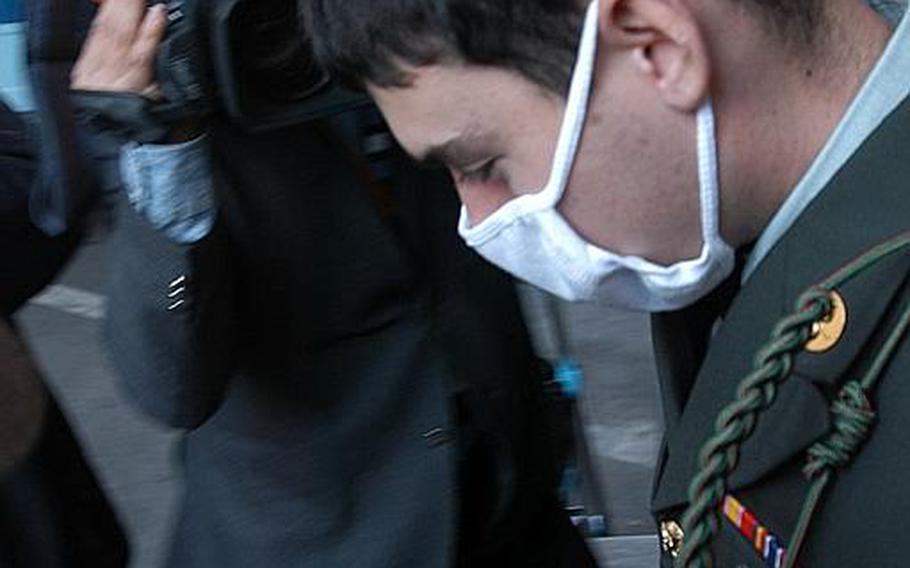 SEOUL - The U.S. soldier whose rape case was largely responsible for the reinstatement of a curfew for all American servicemembers in South Korea appeared before an appeals court Thursday asking that his 10-year prison sentence be reduced.
While taking full responsibility and apologizing for his actions in the Sept. 24 rape of a 17-year-old Korean girl, Pvt. Kevin Lee Flippin told a three-judge Seoul High Court panel, "I think 10 years is a little too much.
"I know that I did a very bad thing," he said during his brief statement. "This is the only time I did anything wrong to another human being."
Flippin's attorney, Noh Sucheol, said that while, "It goes without saying that the damage to the victim can't be compensated by money," she has been paid $20,000 in "compensation," and an unspecified amount more will be given to her in the future.
In addition, he said Flippin "acted out of impulse" while drunk, and he "could not control [his] urge to hurt such a young girl."
In South Korean courts, compensation paid to victims and a defendant's degree of intoxication are factors often considered in sentencings and appeals.
Noh added that Flippin "enlisted in the service with big dreams," and he served "diligently" prior to the attack.
The panel did not issue a decision on Flippin's request, saying it would rule on Jan. 19.
Flippin, 21, was a member of the 2nd Infantry Division's 6th Battalion, 37th Field Artillery Regiment, stationed at Camp Casey in Dongducheon at the time of the assault.
During his trial, he admitted raping and robbing the girl in a dormitory-style apartment building near the base. A closed-circuit video introduced as evidence in the case showed Flippin trying to open several doors before entering the victim's unlocked room.
Once inside, according to court testimony, he repeatedly raped and sodomized the victim over the course of four hours.
During that time, he also punched and slapped the victim in the face, stole a small amount of money from her wallet, dragged her across the room, threatened her with a knife and pair of scissors, and burned her breast with a lighter, among other things, according to court records and testimony.
After sobering up, Flippin begged for forgiveness before leaving the victim's room, according to testimony.
In the wake of Flippin's arrest, and a few other high-profile criminal cases involving U.S. soldiers, there were anti-American protests, with protesters and Korean media outlets calling for revisions to the U.S.-South Korea status of forces agreement to allow local authorities greater access to and control over American servicemembers charged with crimes.
In addition, U.S. military and government officials in Korea issued public apologies for the Flippin attack, and U.S. Forces Korea commander Gen. James Thurman reinstituted a curfew for all American servicemembers on the peninsula.
This week, USFK announced that the curfew will continue indefinitely and, starting Saturday, the hours will be revised to 1 to 5 a.m. every day.
Flippin's sentence was the most severe handed down for a U.S. servicemember in South Korea in nearly 20 years, prompting some to suggest the defendant was unfairly punished because of the attention his case received here and the fact that he is an American soldier.
Just 12 days before Flippin was sentenced, the same three-judge Uijeongbu District Court panel sentenced a Korean man to 3 1/2 years in prison for the rape of an 18-year-old U.S. soldier based at Camp Casey.
In that case, the 25-year-old defendant was found guilty of following the soldier as she left a nightclub on her way to a restroom and raping her in a stairwell.
At the time, Lee Sangyup, a Uijeongbu District Court judge and information officer, said the differences in the two sentences were a reflection of the details of the crimes.
"In [Flippin's] case, his crime was done for about four hours, but the Korean man did it less than one hour," Lee said. "Also, [Flippin] raped the victim several times. The Korean man raped the victim once for a moment. [Flippin] used a pen, a lighter, a knife and a pair of scissors. The Korean man used nothing."
After a hearing last month, a different Seoul High Court panel reduced the Korean defendant's sentence in the nightclub attack to three years, court records show.
Among the reasons cited in the judges' decision to reduce the sentence was that the defendant did not have a prior criminal record and he expressed remorse for his crime.
U.S. military officials have not publicly made an issue of the disparate sentences.
In November, 8th Army spokesman Col. Andrew Mutter said, "Eighth Army worked very closely with the Korean authorities in both cases. Each case has its unique set of circumstances, and the Korean legal system must look at each one on its own merit.
"U.S. officials do not intend to inquire into the difference in sentences," he said.
After Thursday's hearing in the Flippin case, 2nd Infantry Division spokesman Lt. Col. Joe Scrocca said, "Throughout this process, we have maintained our confidence in the SOFA process and the [South Korean] judicial system. We are confident in and standby the decision of the ... court."
Attempts to find out whether Flippin or the U.S. military paid the $20,000 in compensation to the victim in that case were unsuccessful.
---
---
---
---