Snow, gale force winds cripple Tokyo region
---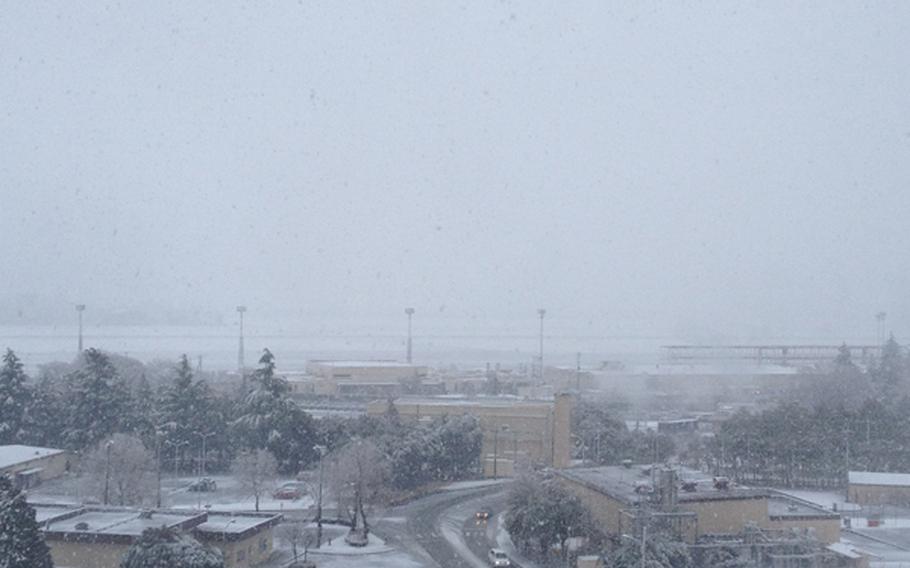 YOKOHAMA, Japan — A surprisingly strong snowstorm, driven by gale-force winds, covered the Tokyo metropolitan area Monday, closing non-essential functions at U.S. military bases in the Kanto region.
Navy weather officials were forecasting about six inches of snow at the Negishi housing area in Yokohama, and two to four inches between Ikego and Yokosuka Naval Base, about 40 miles south of central Tokyo.
Wind gusts up to 57 mph were reported at Yokosuka, with sustained winds reaching 43 mph as of 3 p.m., according to Yokosuka weather officials.
Commands at Yokota Air Base, Camp Zama, Naval Air Facility Atsugi and Yokosuka began releasing employees around midday. Schools at the bases closed between 12 p.m. and 1 p.m.
Traffic and trains were delayed several hours in some cases across the region Monday, which was a national holiday.
Most bases said they expected to resume operations Tuesday, although with some delays to services.
The Japan Meteorological Agency was expecting some of the heaviest snowfall in western Kanagawa Prefecture, which is closer to both Atsugi and Camp Zama.
The JMA expected the snow to stop by Monday evening, followed by clear skies Tuesday. However, a JMA official told Stars and Stripes that roads might remain icy during Tuesday's commute.
"The temperature will remain low tomorrow, so the snow should not melt [by morning]," the spokesman said.
Naval Air Facility Atsugi planned to update its schedule for Tuesday on its Facebook page and the commander's channel at 9 p.m. and 3 a.m., base spokesman Greg Kuntz said.
Stars and Stripes reporter Hana Kusumoto contributed to this report.
---
---
---
---