Six B-1 and B-2 bombers conduct simultaneous missions over Sea of Japan, Indian Ocean
by
James Bolinger Wyatt Olson
August 20, 2020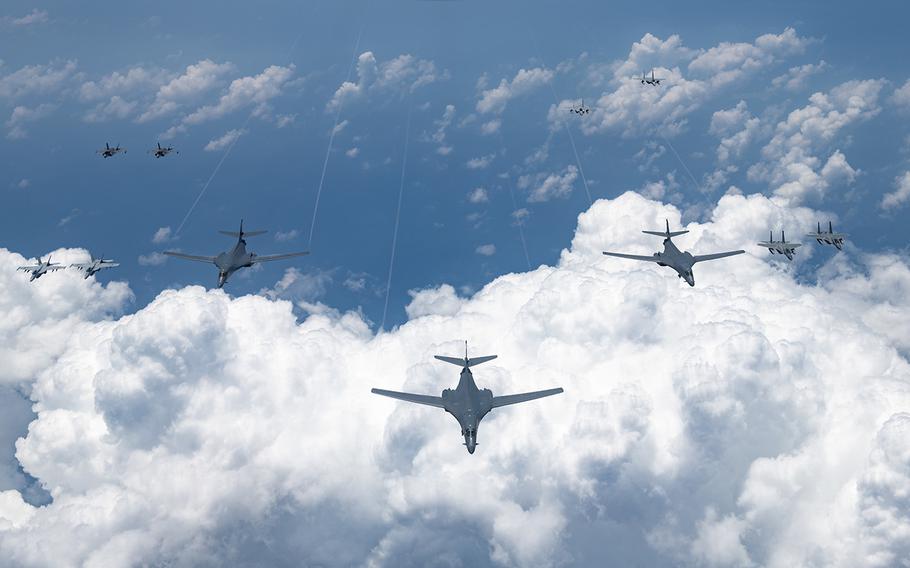 Pacific Air Forces orchestrated simultaneous missions involving six bombers over a 24-hour period Tuesday, with some aircraft coordinating with the USS Ronald Reagan Carrier Strike Group near Japan at one point.
Two B-1 Lancer bombers departed from Dyess Air Force Base, Texas, to the Sea of Japan, where they linked up with the Japan Air Self-Defense Force, the Air Force said in a statement Wednesday.
They were joined by another pair of B-1s that flew in from Andersen Air Force Base, Guam.
Meanwhile, two B-2 Spirit stealth bombers deployed to Naval Support Facility Diego Garcia flew on Tuesday to the Indian Ocean for joint tactical training, according to the statement, which did not specify the forces involved. The B-2s are home stationed at Whiteman Air Force Base, Mo.
"Our unique strength as an Air Force is our ability to generate integrated actions with our joint teammates and allies and partners to challenge competitors in a time and place of our choosing," Gen. Ken Wilsbach, who assumed command of Pacific Air Forces last month, said in the statement. "These simultaneous airpower missions demonstrated our capacity and readiness to deliver a wide range of proactive, scalable options to quickly deploy our forces to support our mission of ensuring a free and open Indo-Pacific theater."
During their flights, the B-1 bombers were joined by four F-15C Eagles from Kadena Air Base on Okinawa. Together, those aircraft rendezvoused with the USS Ronald Reagan strike group, F-35 Lightening IIs assigned to Marine Corps Air Station Iwakuni, Japan, and F-15J fighters from the JASDF to conduct large-scale training in the Sea of Japan, which is also known as the East Sea.
The fifth-generation F-35B stealth fighter "provides a mobile sensor package to the whole team," said Lt. Col. Richard Behrmann, operations officer for Marine Aircraft Group 12, in response Wednesday to emailed questions to the Marine Corps from Stars and Stripes.
Combined with aircraft from the Air Force, Navy and JASDF, the F-35 creates "a very strong capability," he said by email.
The F-35Bs provided escorts for the Lancers and trained in counter-air defense with the other fighters in the exercise, Berhmann said, according to the email.
"Staff members from each participating unit, including our Japanese allies, collaborated throughout the planning and execution phases of this event and continued to build upon our collective interoperability," according to the email.
Lt. Gen. Steven Rudder, commander of U. S. Marine Corps Forces, Pacific, in the Marines' email, said U.S. strategic bombers "project strength and deter regional threats" in the Indo-Pacific region.
"Marine tactical aircraft," he said, "allows us to demonstrate the advantages created by our own unique capabilities and support these important assets.
Coordinating two operations across thousands of miles of air and sea between three separate services and two nations demonstrates "our unwavering commitment to regional defense agreements with our allies and partners," Rear Adm. George Wikoff, commander of the Ronald Reagan Carrier Strike Group, said in the Air Force statement.
The combined exercise Tuesday, one of several like it this year, comes as military activity in the Western Pacific by the U.S. and its allies and by China continues to ratchet up.
The Chinese held recent exercises near the Taiwan Strait, along with a live-fire exercise Sunday by one of its warships in the South China Sea.
The U.S. on Tuesday sent a destroyer through the Taiwan Strait to demonstrate freedom of navigation and on Saturday conducted flight exercises off the aircraft carrier USS Ronald Reagan in the South China Sea.
In July, the Reagan and USS Nimitz conducted two dual-carrier exercises in the South China Sea. The Reagan also rendezvoused in the Sea of Japan, also called the East Sea, with 14 JASDF fighters and a B-1B Lancer bomber from Andersen on Aug. 7 and with a pair of Lancers in July 21 in the South China Sea.
olson.wyatt@stripes.com Twitter: @WyattWOlson
bolinger.james@stripes.com Twitter: @bolingerj2004