Signs point to North Korea rocket launch in near future
---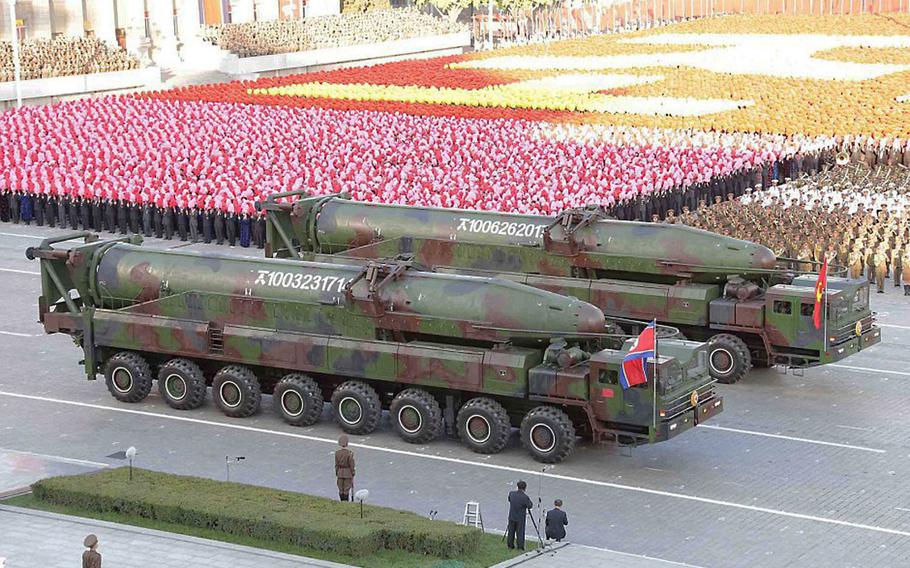 North Korea may be preparing to launch another rocket to test improvements in a program that already has been the target of U.N. sanctions.
Analysis of satellite imagery indicates the North is preparing for a launch at its Dongchang-ri site, according to a report by Japan's Kyodo news agency, which cited a Japanese government source.
The launch appears to be at least a week away.
The Yonhap news agency quoted South Korean Defense Ministry spokesman Kim Min-seok as saying officials are "keeping close tabs" on the situation. The North usually issues a "no-sail" warning — alerting ships to stay off its east coast — ahead of a launch but has yet to do so, Kim said.
It's unclear if the impoverished North is fomenting another crisis ahead of demands for aid and recognition as a nuclear state — which the U.S. has said it would never accept — or if youthful North Korean leader Kim Jong Un is still trying to consolidate power and rally support four years after taking power following the death of his father.
This month's nuclear test set off a quick escalation of tensions on the peninsula. The U.S. recently flew a nuclear-capable B-52 from Guam for a low-level pass over Osan Air Base in South Korea as a show of force. The two Koreas also have resumed using loudspeakers to blast propaganda at each other across the Demilitarized Zone, and the North has used balloons to drop an estimated 1 million leaflets in the South that slam Seoul and Washington.
Analysts widely predicted a rocket launch was likely after the North conducted its fourth underground nuclear test on Jan. 6. Pyongyang has traditionally paired a rocket test and a nuclear blast fairly closely together; it launched its last rocket in December 2012 and carried out a nuclear test the following February.
The 2012 launch involved a three-stage rocket that the North said successfully launched a satellite into orbit.
The rest of the world saw it as a test of Pyongyang's aggressive ballistic missile program, and the U.N. Security Council imposed another round of sanctions. The council currently is pondering new sanctions, given that past efforts have had little to no impact on curbing the North's provocations.
A recent military parade in Pyongyang showed off a new version of the rocket that experts say appears to have incorporated improvements to make it more accurate and more capable of surviving re-entry into the atmosphere.
Yonhap cited intelligence and military sources saying that North Korea completed a major upgrade of its launch site last year that included extending the height of the launcher so it could handle bigger missiles.
The North has said it is pursuing technology to reach the continental U.S. and that it is working on a miniaturized nuclear bomb that it could fit into a missile warhead. It claimed the nuclear test was of a hydrogen bomb, which is potentially much more powerful that the enriched uranium or plutonium weapons that it has tested in the past, but experts have questioned that.
The U.S. has been prodding China, Pyongyang's main ally and trade partner, to do more to curb the North's actions. But Beijing finds itself walking a tightrope — the last thing it wants is for North Korea to suddenly collapse, eliminating the buffer that it has with democratic South Korea and the U.S. troops stationed there.
---
---
---
---