Servicemembers aboard ships won't get extra hardship pay
by
Erik Slavin
April 5, 2011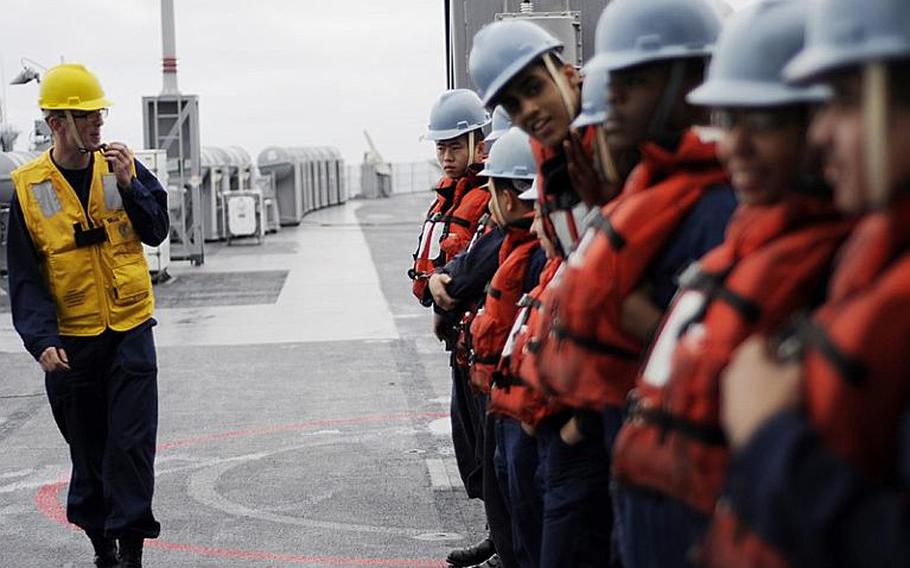 YOKOSUKA NAVAL BASE, Japan — U.S. troops assigned to ships will not receive the location-based hardship duty pay authorized Friday in 18 Japanese prefectures, defense officials said Monday.
The thousands of sailors and Marines assisting in relief efforts associated with the March 11 earthquake and tsunami will continue to receive their additional sea-duty pay, but only those assigned to shore commands will gain the extra $50 per month, officials said.
Meanwhile, State Department policies have effectively granted State and Defense department civilian employees hundreds of dollars, and in some cases, more than $1,000 per month for living in the same hardship duty locations. All locally hired Department of Defense employees in those areas of Japan are eligible, according to the State Department.
Defense Department policy only allows land areas to be designated as a hardship location, said Eileen Lainez, spokeswoman for the Office of the Secretary of Defense.
"Career sea pay is paid to members for enduring similar hardships … and is intended to recognize the greater than normal rigors of sea duty," Lainez said.
Sea pay varies but begins at $50 per month and increases to hundreds of dollars per month based on rank and experience, according to military pay charts.
If a sailor or Marine is assigned to a ship at Yokosuka Naval Base – which is in a hardship area – those servicemembers will not receive hardship pay, even when their ships return to the base.
Ship-based servicemembers will only receive the hardship pay if they receive temporary orders to a shore command for at least 30 days, defense officials said.
Federal civilian employees will earn an extra 10 percent of their base pay for working in the same areas. For example, a consular officer earning $60,000 per year in base pay will earn an extra $500 per month for as long as the 18 prefectures are deemed hardship locations. The hardship allowance will remain in effect until the end of the State Department's authorized departure program, according to a State Department memo.
Some sailors who spoke with Stars and Stripes on Tuesday said they thought the hardship pay was a waste of money, especially given the military's current budget shortfalls.
Congress' inability to pass a permanent 2011 federal budget bill has left billion-dollar holes in the Navy's budget, forcing it to delay orders and cancel ship maintenance projects, according to congressional testimony.
The disparity between civilian and military hardship pay also made little sense to anyone in uniform who had heard about it.
"I think it's kind of odd that civilians get 10 percent and [sailors] get $50," said Petty Officer 2nd Class Anthony Saucier, who served in the recovery efforts aboard the USS Fitzgerald.
The following 18 prefectures which are covered by the hardship differential: Aichi, Akita, Aomori, Chiba, Fukushima, Gunma, Ibaraki, Iwate, Kanagawa, Miyagi, Nagano, Niigita, Saitama, Shizuoka, Tochigi, Tokyo-to, Yamagata and Yamanashi.
Stars and Stripes reporter Jeff Schogol contributed to this report.