Sergeant Major of the Marine Corps visits Okinawa to talk readiness and lethality
by
Matthew M. Burke
January 15, 2020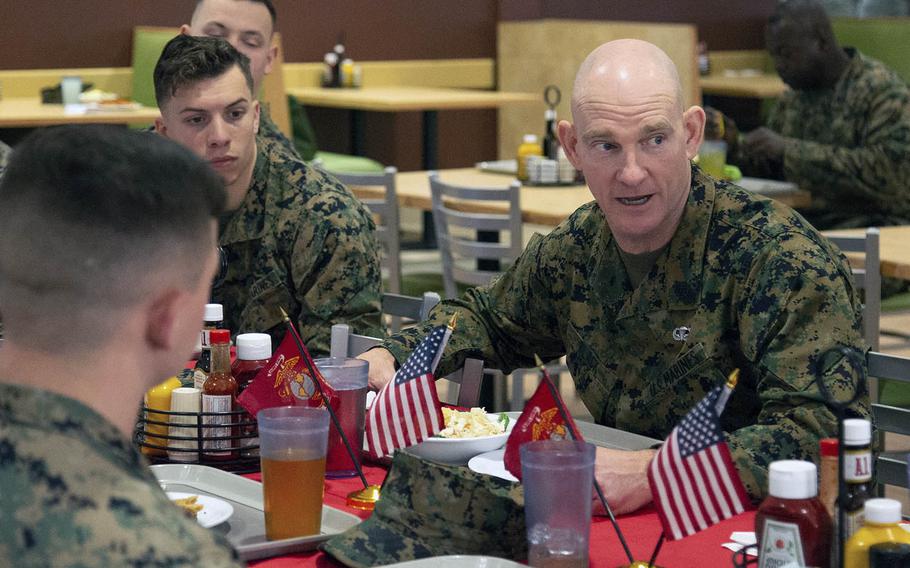 CAMP FOSTER, Okinawa — Sgt. Maj. of the Marine Corps Troy Black is in Okinawa this week to host the Sergeant Major of the Marine Corps Force Level Summit, which brings together sergeant majors from three- and four-star commands across the service to address readiness and the Corps' ability to inflict lethal force, Marine officials said.
Black chose Okinawa as the site for the quarterly conference — usually held in Washington, D.C. — because of the importance placed on the Indo-Pacific region by Marine Corps Commandant Gen. David Berger's Planning Guidance and the National Defense Strategy.
Black said the Corps remains focused on developing a force to meet "peer" threats in and around the region.
"Being able to bring these senior leaders from across the Marine Corps to here and have this conference, sort of gives them the opportunity to kind of feel what really is going on here close to the threat," Black said. "That's why we're here right now."
The Indo-Pacific remains a focus for the U.S. military, Black said.
Discussions thus far have revolved around dissecting higher retention rates in Okinawa and around III Marine Expeditionary Force and how these factors can be applied across the Corps.
"In a younger group of individuals that's because we're actually doing something," Black said. "We're not just sitting back, going to training yet again. We're actually engaged."
Black said expanding educational opportunities will also help the service retain its enlisted Marines.
The III Marine Expeditionary Force is the only permanently deployed MEF in the Marine Corps.
Black said findings this week will inform future summits dealing with health, wellness and fitness, recruiting and retention and military education.
burke.matt@stripes.com @MatthewMBurke1