Security, trade pact dominate Abe's US agenda
by
Erik Slavin
April 23, 2015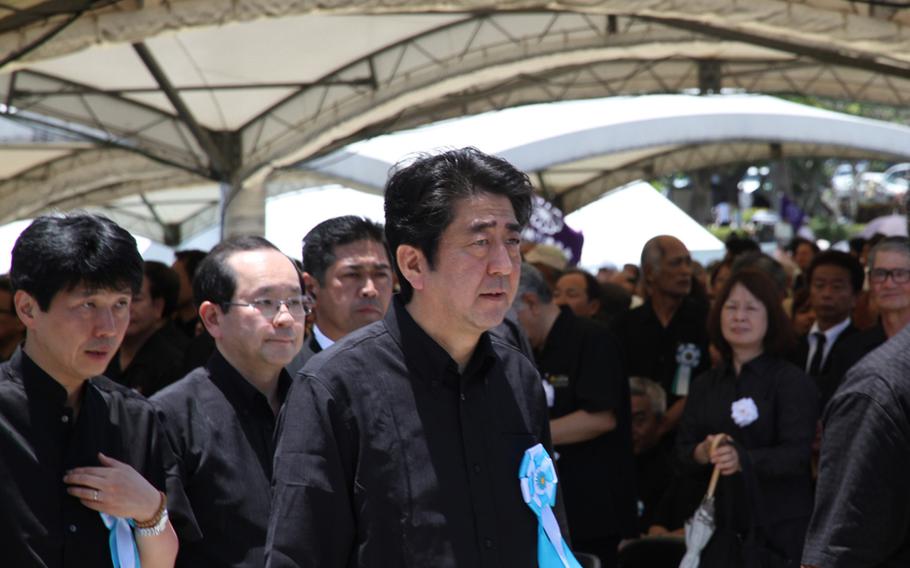 TOKYO — For Prime Minister Shinzo Abe, a successful visit to the United States means advancing a trade pact covering 40 percent of the world's economy and finalizing a defense framework that represents Japan's largest foray into regional security since World War II.
Fortunately for Japan's leader, President Barack Obama and top Republicans in Congress generally want the same things: an agreement on the 12-nation Trans-Pacific Partnership and a revision of U.S.-Japan security guidelines that would broaden the Japan Self-Defense Forces' role.
Abe's speech on Wednesday to both houses of Congress will be his introduction to most Americans; more than 7 in 10 said they'd never heard of him, according to a Pew Research Center poll taken earlier this year. However, U.S. policymakers view Abe as a critical partner in managing uncertainty over how China will wield its increasing economic and military power in the coming decades.
China claims the Japan-administered Senkaku Islands, the site of low-level ship standoffs and fighter jet scrambles between the two nations in recent years. The U.S. is sworn to defend the islands under its security agreement with Japan.
China has also been building airstrips and other fortifications on islands claimed by several other nations, according to recent satellite imagery. Although China has said its intentions are peaceful, Abe and U.S. officials view the actions as coercive.
"Speaking before the joint session of the Congress is a significant opportunity for Abe to widely disseminate the [security] message," said Kunihiko Miyake, a former diplomat and research director for the Canon Institute for Global Studies, a Tokyo think tank. "It is a very important opportunity for him."
The security guidelines revision, the first since 1997, will reflect "the global nature of the U.S.-Japan alliance," according to a preliminary bilateral report. The present guidelines focus on "situations in areas surrounding Japan."
Strengthening Japan's defense and giving its Self-Defense Forces the right to defend close allies in combat — a right currently barred by Japanese law — have been among Abe's longest-standing political goals.
Abe maintains a large majority in the national Diet and will likely get many of the changes he wants passed this year.
Top U.S. officials, including Defense Secretary Ash Carter and former secretary Chuck Hagel, have welcomed the potential changes.
Nevertheless, the Japanese public remains wary. In a Pew Research Center poll taken earlier this year, 68 percent want Japan to limit its role in maintaining peace in the Asia-Pacific region.
Abe's popular domestic support comes largely from his emphasis on the economy. Although Japan's economy ranks only behind China and the U.S., growth has stagnated for decades.
Abe and other supporters of the trade pact view it as a crucial step to sustainable growth. The wide-reaching accord would lower tariffs on agriculture, automobiles and other goods, while setting new standards for intellectual property and a host of other areas.
"It would be good if I could reach an agreement during my meeting with the president, but when you climb a mountain, the last step is always the hardest," Abe told the Wall Street Journal in an interview prior to leaving Japan.
If Abe and Obama can agree on a pact, it would still be up to the U.S. Congress to pass the accord, which thus far has been negotiated by trade officials behind closed doors.
Many Democrats are opposed to the deal, citing past trade deals, such as the North American Free Trade Agreement, as job killers.
The pact includes countries like Vietnam and Malaysia, where minimum wages remain far below those of TPP participants like the U.S., Japan and Australia. Other groups have raised questions over privacy and fair use of digital content, following leaks of earlier TPP draft provisions.
Meanwhile, top Republicans are in Obama's corner.
In February, Rep. Paul Ryan led a delegation to Tokyo in support of the pact.
Obama told MSNBC on April 21 that he wouldn't be supporting TPP if he "was not absolutely certain that this was going to be good for American workers."
During an April 17 White House press conference, Obama said that if the U.S. and some of its closest allies didn't pass trade rules in the world's largest trading region, Beijing would fill the vacuum.
"If we do not help to shape the rules so that our businesses and our workers can compete in those markets, then China will set up rules that advantage Chinese workers and Chinese businesses," Obama said.
Stars and Stripes reporter Chiyomi Sumida contributed to this report.
slavin.erik@stripes.com Twitter: @eslavin_stripes