GALLERY
Searchers find debris from three US bombers shot down in Micronesia during WWII
by
Wyatt Olson
February 28, 2020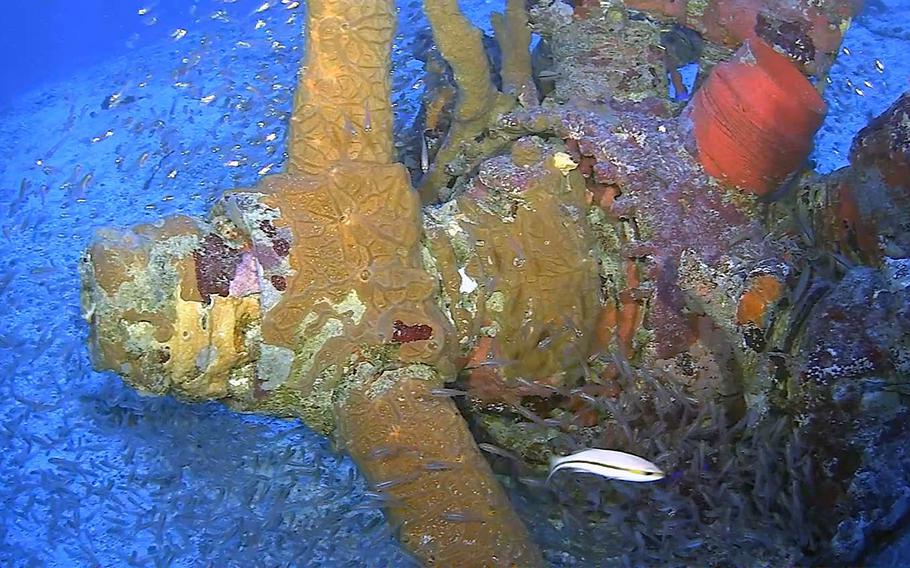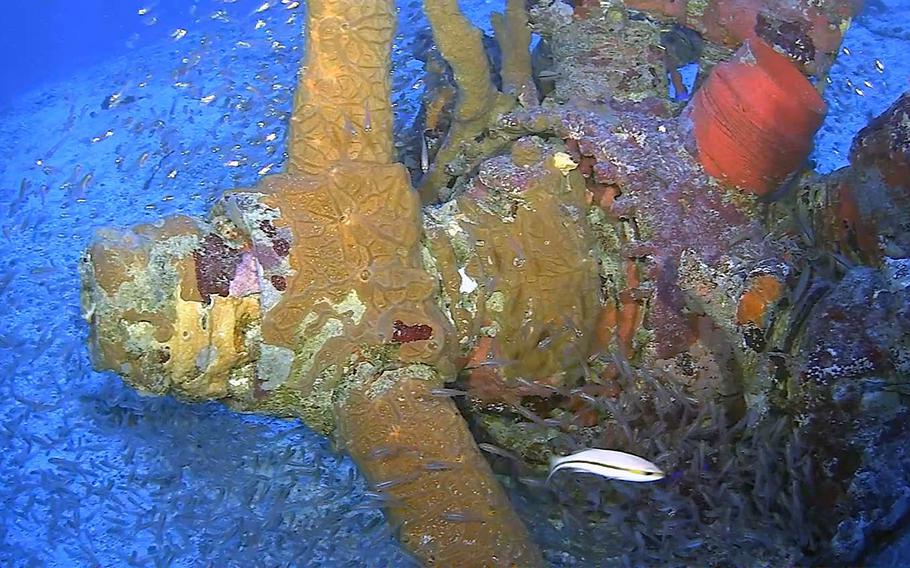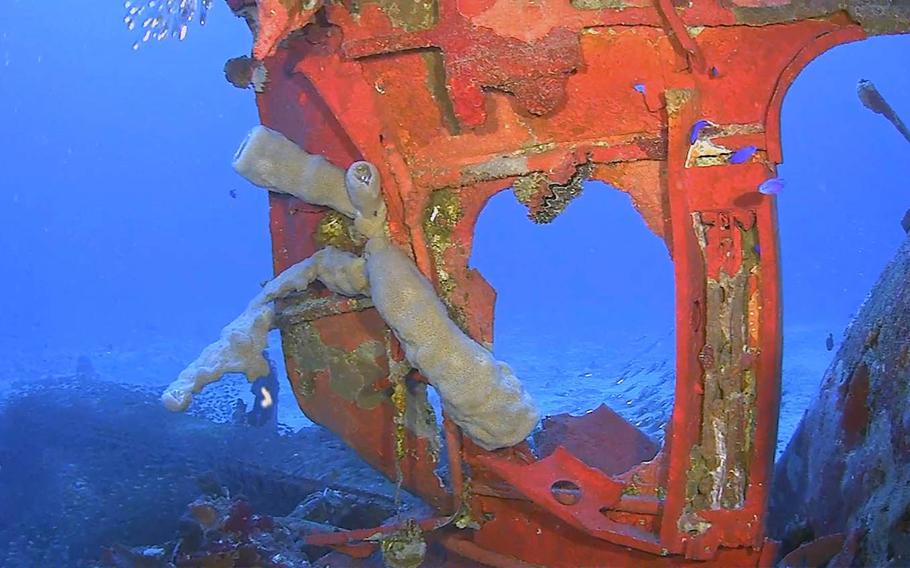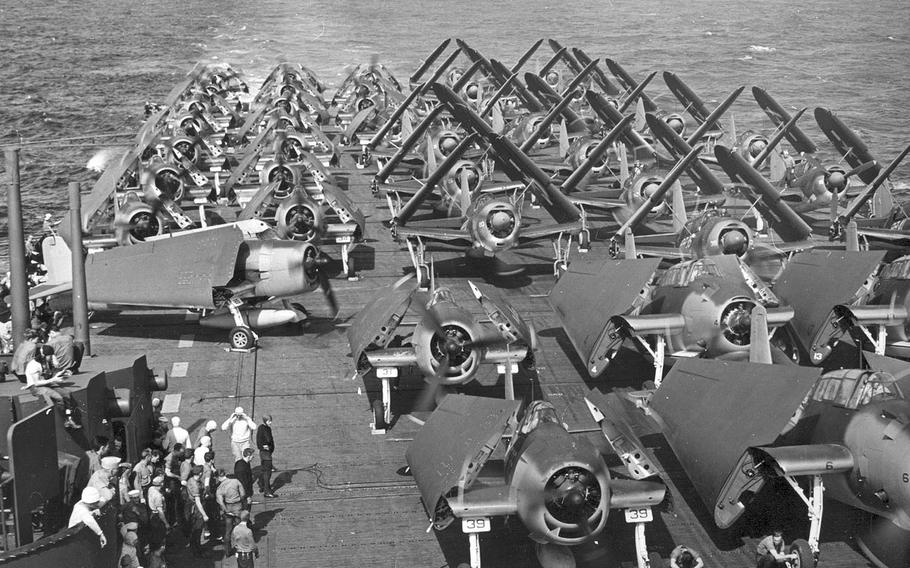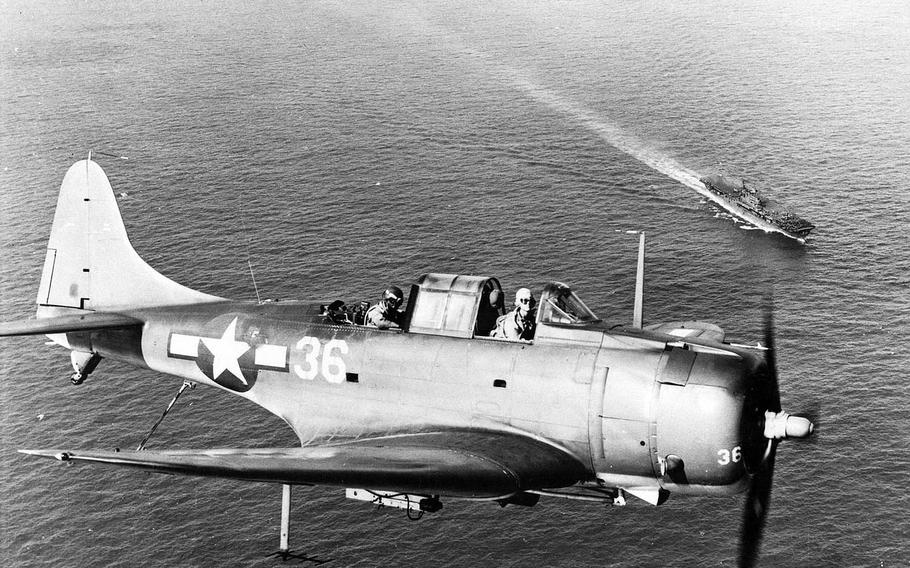 Wreckage from three U.S. aircraft lost during a February 1944 blitz against Japanese forces have been found in a vast lagoon in the Federated States of Micronesia.
Searchers with the nonprofit Project Recover discovered and identified the wrecks during a series of expeditions and analyses from October to December.
Debris from two SBD-5 Dauntless dive bombers and one TBM/F-1 Avenger torpedo bomber were found in Chuuk State, which was known as Truk Lagoon during World War II.
The wreckage, found at depths of 100 to 215 feet, included propellers, an entry hatch, tail section and dive brakes, said Mark Moline, co-founder of Project Recover and the expedition leader.
The group, which partners with the University of Delaware and Scripps Institution of Oceanography in San Diego, released underwater photos of the aircraft debris to coincide with the 76th anniversary of the two-day air assault that began Feb. 17, 1944, Moline said.
"These are basically debris piles," he said. "They don't look like aircraft. So, when we go down there, we're using high resolution side-scan sonar."
Based on loss history and the type of aircraft, searchers believe they know the specific identity of two of the planes – and hence the crew members who would have been aboard, Moline said.
That information is not being publicly released at this time, he said.
The expedition team is now preparing detailed reports for the Micronesia government and the U.S. Defense POW/MIA Accounting Agency, which is tasked with recovering and identifying American war dead missing overseas.
The bombers were among roughly 500 aircraft launched as part of Operation Hailstone from a U.S. strike force that included the aircraft carriers USS Enterprise and USS Intrepid. The attack achieved total surprise, giving Japanese pilots only minutes to man aircraft before bombing commenced.
The assault destroyed more than 200 Japanese aircraft and sank about 50 Japanese merchant ships.
American losses were far fewer, with 30 downed aircraft and 23 missing crew members.
As in most World War II sea battles, there was no time – and usually not the technology – to locate the underwater remains of missing service members.
It was well known that some number of aircraft from that operation lay at the bottom of the lagoon, and the area has long been a prime destination for "technical" divers, meaning those who go deeper than the roughly 130-foot cutoff point for recreational divers.
But the lagoon is a vast 770 square miles littered with wreckage from Japanese ships and planes.
The massive U.S. siege in 1944, however, offered a wealth of reports for corroborating where some of those U.S. planes went down, said Colin Colbourn, the expedition historian. He scoured carrier and air group reports, as well as the personnel files of aviators lost in the attack.
"It's a big puzzle to put together, and the more pieces of a puzzle I have, the better," he said. "We have mapped out the whole lagoon and – based on historical research – we have general areas based on eyewitness accounts where we think these planes have crashed."
Searchers conducted four expeditions from April 2018 through December 2019, surveying a relatively small 30 square miles to find the three aircraft.
Project Recover will continue to search the lagoon for missing Americans in the months and years to come, Moline said.
"It's interesting from a historical perspective to find these wrecks, but really our mission is the servicemen who were left there," Moline said of Project Recover, which was established in 2012 with support from the U.S. Office of Naval Research. "That's really the hallmark for our organization. We take 'leave nobody behind' seriously."
olson.wyatt@stripes.com Twitter: @WyattWOlson