Search underway after USS Shiloh sailor goes overboard near Okinawa
by
Tyler Hlavac
June 10, 2017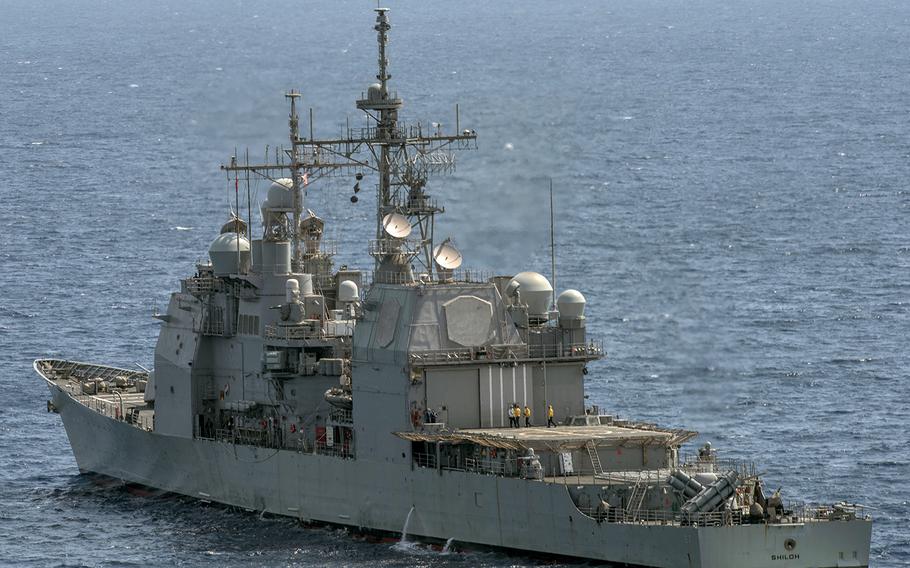 YOKOSUKA NAVAL BASE, Japan — U.S. and Japanese navy ships are searching for a USS Shiloh sailor who went overboard Friday during routine operations near Okinawa.
The incident happened about 9:30 p.m., a Navy statement said. The guided-missile cruiser's crew members conducted multiple searches of the ship but were unable to find the missing sailor, whose name is being withheld during the search.
The ship was roughly 180 miles east of Okinawa when the sailor went missing, the statement said.
Aircraft from the USS Ronald Reagan Strike Group are conducting air searches while the Shiloh, Reagan, USS McCampbell and the USS John S. McCain are conducting surface searches, the statement said.
Japan Self-Defense Force and Japan Coast Guard ships are assisting with search efforts, it added.
This is the second Navy sailor to go overboard this week. On Tuesday, Petty Officer Christopher Clavin of the USS Normandy was reported missing while the ship trained off the North Carolina coast.
Navy and Coast Guard ships spent nearly 76 hours and covered 6,300 square miles of ocean looking for Clavin before calling off the search on Friday, a separate Navy statement said.
The Shiloh is homeported at Yokosuka Naval Base, Japan.