School staff, volunteers at Humphreys scramble to prep classrooms
By
Ashley Rowland rowland.ashley@stripes.com
August 23, 2013
---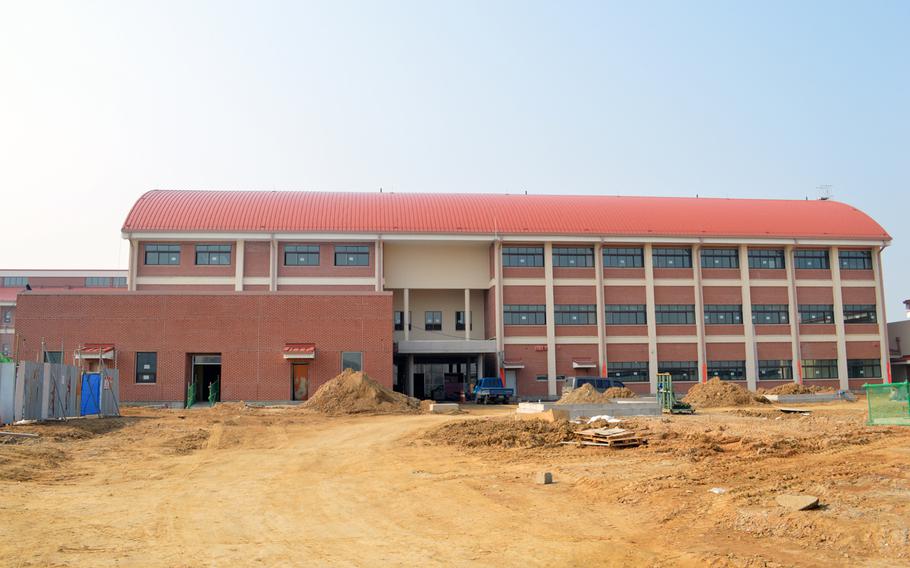 SEOUL — The South Korean company that was unable to finish construction of a new high school at Camp Humphreys on time was also two months late wrapping up work on a new elementary school, leaving education officials to lean on staff and volunteers to get facilities functional in time for the start of school on Monday.
Samsung C&T Corp. was supposed to hand over both the Humphreys Central Elementary School and Humphreys High School to the Department of Defense Education Activity on June 7. But because of construction delays, the elementary school was not turned over to DODEA until Aug. 8, and officials announced eight days later that the high school would not open in time and could be delayed for months.
That left school officials just five workdays to move the high school into another facility — the former elementary school building at Humphreys. Teachers, administrators and staff spent much of the past week trying to get it ready, and a lot of work still remained Friday afternoon with only half the school's computers connected to the Internet.
Lingering evidence of the late handover to DODEA was also evident at the new Humphreys Central Elementary School, where the playground had not yet passed its final safety inspection and likely will not be ready for use by Monday.
"It's not enough time (to prepare the interim high school), but we've made it enough time," said Wayne Montes de Oca, administrative officer and safety officer for the Humphreys schools complex.
He said more than 100 volunteers, including military personnel, parents and teachers, helped at both schools with tasks including receiving supply shipments, unpacking textbooks, putting name signs on doors, arranging furniture and stocking supply rooms.
South Korea is paying for and constructing the $81.3 million schools, and the South Korean government agency overseeing the project – the Ministry of National Defense-U.S. Forces Korea Relocation Office (MURO) – has refused to give specifics on what construction problems caused the delay. A MURO spokesman on Friday was unable to answer questions about the late handover of both schools, including whether Samsung was being fined for the delays.
U.S. Forces Korea has said it cannot comment on the construction deficiencies because it is not responsible for the building projects.
Montes de Oca said winter weather delays and importing construction materials from outside South Korea contributed to the delays.
"We're building a building to our specifications in a foreign country," he said. "Some materials have to come from offshore because our standards are different."
He said there are no safety concerns at the elementary school.
DODEA Pacific spokesman Charly Hoff said that "throughout the construction process, all indications were that both schools would be ready on time for the new school year. Our recent experience with opening other new schools is that construction delays are normal but that in the end, the contractors were able to come through."
After the delays became apparent, DODEA authorized extensive overtime work so the schools would be ready to open.
"It's tough right now because we're in a sequestration environment, but that's how important this is," Hoff said.
Ground was broken for both schools in September 2011. Because the schools will allow more families to be stationed at Humphreys, they are considered a key piece of the military's eventual relocation to the Pyeongtaek-area base.
Military officials have insisted that the relocation will take place in 2016, after being delayed from 2008 and then to 2012.
"We are moving out of this place, alright?" Gen. James Thurman told a community meeting earlier this year at Yongsan Garrison in Seoul. "Everybody (is) thinking they're going to be here for years and years to come, I think that's not going to be true."
The delayed opening of the high school has frustrated educators, who did not learn of the move to the interim facility until Aug. 16 when Korea District Superintendent Dr. Irby Miller posted a letter on the Internet to parents, students, sponsors and staff.
Teachers have also been kept in the dark about the reasons for the delayed opening of the high school, said one Humphreys teacher who spoke on condition of anonymity and who said the relocated high school would be ready to open on Monday only because of the extensive volunteer help.
The teacher said many at the school were assigned classrooms midweek and at end of the week were still unpacking textbooks. There were few working printers and no Internet connectivity for most of the week, the teacher said, which meant educators couldn't perform routine tasks such as printing syllabuses.
"There's a lot of frustration, but there's a lot of professionalism, too. You do what needs to be done," the teacher said. "It's not about us, it's about the kids."
---
---
---
---