'Scary' tattoo ban passed at popular beach for servicemembers in Japan
By
Hana Kusumoto Erik Slavin kusumoto.hana@stripes.com slavin.erik@stripes.com
February 27, 2014
---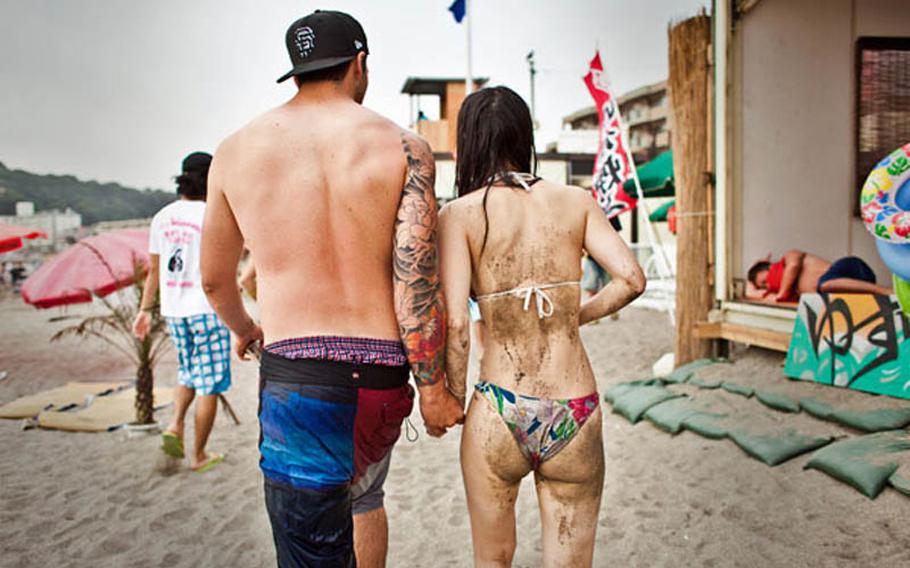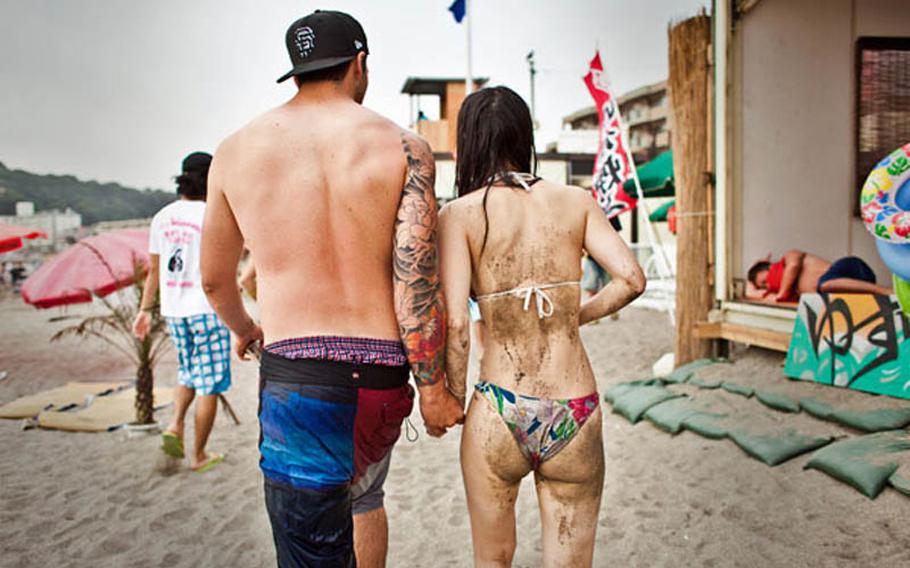 YOKOSUKA NAVAL BASE, Japan — The party is about to slow down for patrons of one of Japan's most popular beaches, and it may be over altogether for servicemembers here displaying "scary" tattoos.
The Zushi city council passed an ordinance that includes a host of restrictions at its beach, which is regularly packed on weekends with young adults from the Tokyo region during summer. Zushi is a 10-minute train ride from Yokosuka Naval Base, making its beach one of the most accessible for sailors.
The restrictions also include a ban on barbecues and alcoholic drinks outside of the restaurants and wooden structures that line the beach during summer, city official Masashi Koizumi told Stars and Stripes on Thursday.
Perhaps the biggest issue for servicemembers is the part of the ordinance that bans the display of tattoos that, in Koizumi's words, scare other beachgoers.
A single, small tattoo would be acceptable, while full body tattoos would not, city officials said. It remains unclear exactly how a scary tattoo display will be defined.
Tattoos are traditionally associated with yakuza organized crime in Japan, though that is changing among young people, particularly those who have traveled abroad.
Irezumi — the elaborate tattoos found on the bodies of many yakuza members — are generally distinguishable from other tattoos. Despite that, many traditional hot springs and other businesses in Japan either ban people with tattoos or require patrons to cover them up.
The city is establishing a committee to come up with more specific rules for the law, which will take effect in late March.
The ordinance will ban loud music and is expected to require beach houses, which operate temporarily on the sand each summer, to close by 6:30 p.m., Koizumi said.
Zushi Beach lies across the street from an affluent neighborhood populated by many retirees. The city has received complaints from residents for about 10 years, but those complaints have markedly increased recently, Koizumi said.
The low point for many in the community was when two men were stabbed at night on the beach last July. Japanese media later reported that one of the victims died and that yakuza involvement was suspected.
"Public morals [at Zushi Beach] have worsened every year," Koizumi said. "The residents have said that they wished for the summer to pass quickly and that they just have to endure it."
Zushi Mayor Ryuichi Hirai said on the city's website that he "will do everything he can to bring back Zushi beach that is safe and pleasant."
City officials said there won't be a punishment or fine for breaking the rules, but security guards and other officials posted at the beach could order violators to either stop or leave the beach.
U.S. Navy officials said Thursday that they could not comment because they had not yet spoken with Zushi officials about the ordinance.
The city plans to notify the military after the specifics of the new ordinance are agreed upon, Koizumi said.
slavin.erik@stripes.comTwitter: @eslavin_stripes
---
---
---
---