Satellite photos show large Chinese fleet in South China Sea for drills
by
Wyatt Olson
March 28, 2018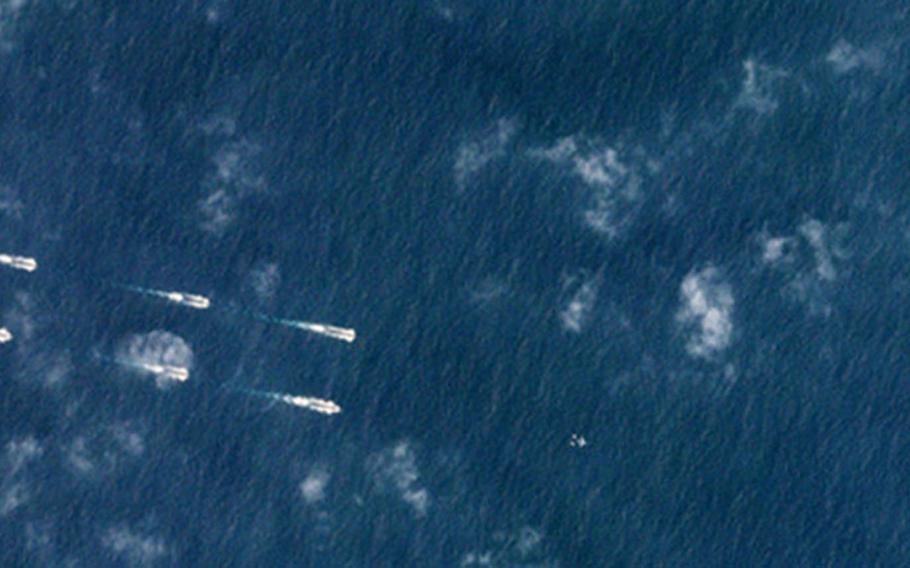 Satellite images taken Monday show a huge carrier-led fleet of Chinese ships in formation for spring exercises off the coast of Hainan Province in the South China Sea.
One of the images, gathered by the company Planet Labs, shows almost 40 ships sailing two abreast in a row, with China's first aircraft carrier, the Russian-built Type 001 Liaoning, near the center.
The Chinese navy recently announced that it would be holding spring training exercises in the South China Sea to test its combat readiness.
"The South China Sea and East China Sea will be primary battlegrounds," Song Zhongping, a military expert and TV commentator, told the state-run Global Times newspaper on Sunday. "The [People's Liberation Army] is committed to be battle-ready through simulated combat training."
Song said that unlike previous years in which exercises have been held in spring and fall, navy drills will be held each month in 2018.
Much of the South China Sea is generally regarded as international waters, but China has laid claim to a huge swath of it. It has spent the past few years building artificial islands in some disputed areas and then constructing military-type facilities and airstrips on them.
China has also long maintained it has sovereignty over Taiwan, which broke away from the mainland after the nation's long civil war ended in 1949.
Gregory Poling, director of the Asia Maritime Transparency Initiative at the Center for Strategic and International Studies, said the resolution of the photos, first reported by Reuters, is too low to draw many conclusions about the spring exercise.
"You can tell one of them is an aircraft carrier because it's the only boat that's possibly big enough, but what the rest of those are is anybody's guess," he said.
The Liaoning has been involved in previous Chinese naval exercises.
The recent movement of Chinese aircraft south of the mainland alarmed Taiwan enough to scramble fighter jets Monday, according to a statement from the Defense Ministry of Taiwan.
The jets were responding to Chinese H-6K bombers, Su-30 fighters and Shaanxi Y-8 transportation aircraft flying over the Bashi Channel, which runs south of Taiwan and north of the Philippines.
The Defense Ministry also complained of an aircraft formation from the Liaoning entering Taiwan's air defense zone on March 20.
Poling said the photos reveal that the exercise fleet is large, but nothing about the total number of ships or much else about the nature of the training.
"I think we should err on the side of saying, so what?" he said. "The Chinese have every right to exercise in international waters."
China's second aircraft carrier, built domestically, is being prepared for its first sea trial, the Global Times reported Tuesday.
China's first aircraft carrier was intended to be used primarily for training and collecting data, while the second is "made for combat missions," an unidentified military expert told the Global Times.
olson.wyatt@stripes.com Twitter: @WyattWOlson