Sasebo sailor's superheroes reunite to aid tsunami victims
by
Matthew M. Burke
November 16, 2011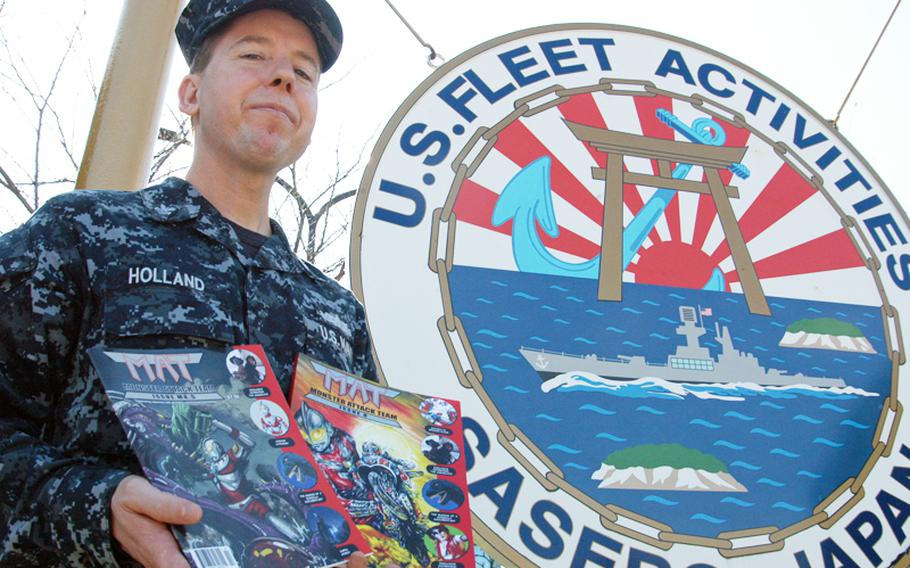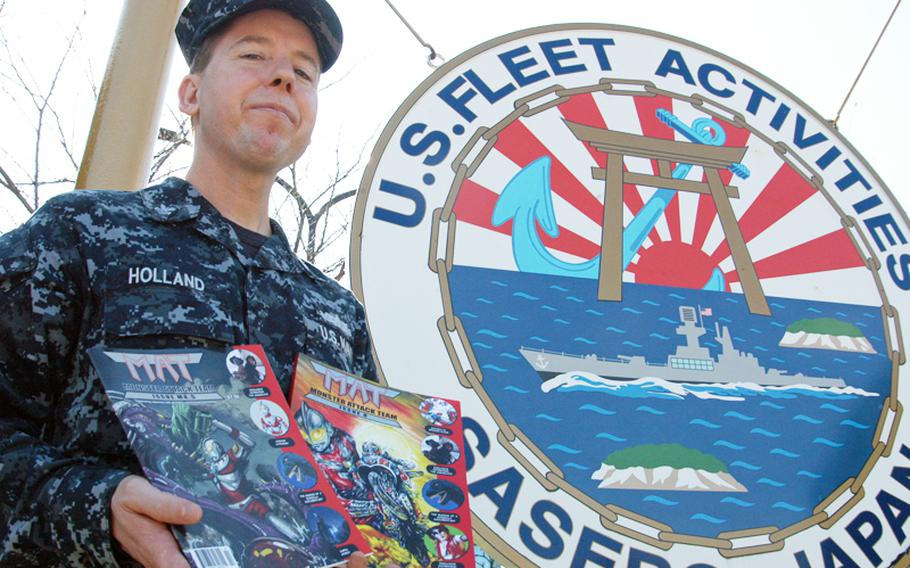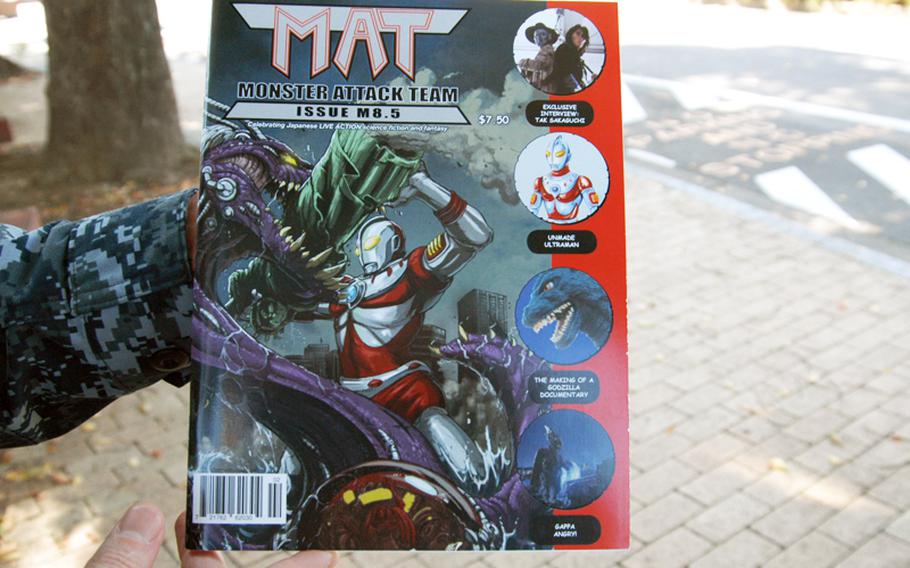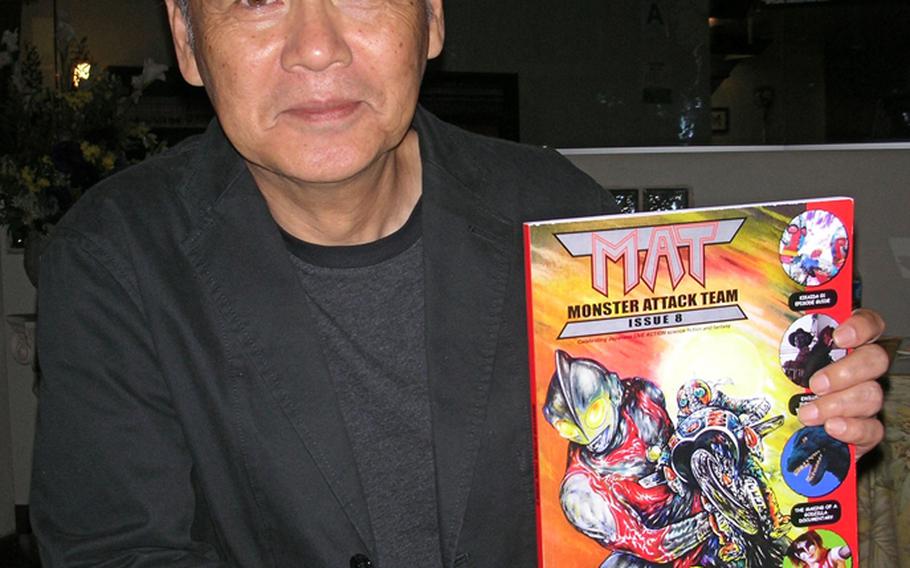 SASEBO NAVAL BASE, Japan — Like the superheroes he follows avidly, Petty Officer 1st Class Edward Holland leads a double life.
However, he won't be donning a cape in a phone booth or emerging from an underground lair to save the day any time soon.
When he isn't providing legal assistance to sailors and their dependents, Sasebo's leading enlisted legal office manager produces a magazine called "Monster Attack Team," which chronicles the deeds of Japanese superheroes and monsters and has a small but devoted following around the world.
With all of the magazine's proceeds going to aid victims of the March 11 earthquake and tsunami, Holland and his contributing writers have become real-life superheroes of sorts. He has sold about 400 copies of the most recent issues and donated $2,000 to JapanSociety.org this year to aid in relief efforts.
"It's a labor of love," Holland said earlier this month. "We don't make any money off of the magazine."
Holland grew up alongside Japanese friends in Ingleside, Texas, and together they were enthralled by the original Godzilla and the superheroes Ultraman, Kamen Rider, and others from the tokusatsu genre, or Japanese live action drama relying heavily on special effects. The television show "Mighty Morphin Power Rangers" is a prime example of its influence in mainstream America, Holland said.
"I love the genre's limitless creativity," said Holland, 46. "The culture of Japan is seamlessly blended in and supports the whole ushering of world peace, community, compassion and doing something for the betterment of society. All heavy ideas for kids' programming then. As adults many of us grew up with these ideals and still incorporate them into our daily lives."
As the years passed, Holland never lost this passion, amassing collectibles and studying films and TV shows from the genre, he said. Holland and a friend started Monster Attack Team in 1991 as a tokusatsu fan club; it morphed into a Dallas cable-access TV show and into the magazine. The name came from the 1971 series "Return of Ultraman," Holland said.
The niche magazine produced seven issues between 1991 and 1997, selling about 300 copies total. This dedicated effort didn't go unnoticed by the genre's small yet rabid fan base at conventions and in comic book stores across the U.S.
"I appreciate the efforts and knowledge of the Monster Attack Team in keeping the tokusatsu genre alive in the U.S.," said Ban Daisuke, an actor from the show "Kikaida" and the Japanese version of "The Ring," on which the American film was based.
After Holland joined the Navy in 1998, he no longer had time to spend on the publication, working first as a photographer then as a legalman after obtaining a degree and switching rates. He was stationed on ships stateside and in Yokosuka, Japan, where he met his wife, and also served in Baghdad's Green Zone in 2006-07.
In 2010, his friend and former magazine partner Michael Keller reached out to him. With his two young children showing interest in his collectibles and the shows he loves, Holland began to talk with Keller about restarting the magazine. After one issue and a reissue with several added features, Issue 9 will be headed to comic book shops from Georgia to Hollywood to Osaka, Japan, next month, Holland said.
"A lot of people have taken interest in us since we've come back," Keller said. "We have rekindled old relationships, and forged new ones, including some with people who work in the industry … We are doing as much as we can to spread awareness and assistance to help out our brothers in Japan."
Holland's fellow sailors have no idea that he uses his off hours to raise money for relief efforts so he can try to save the day like the heroes he idolizes. But don't call his hobby childish.
"I could point you in the direction of a berthing on a ship where all the guys from aviation are playing video games or they're watching 'South Park.' which is animation," he said. "It's hard to take the boy out of the man."
For more information about Monster Attack Team, go to http://monsterattackteam.com/.